This post may contains affiliate links for your convenience. If you make a purchase after clicking a link we may earn a small commission but it won't cost you a penny more! Read our full disclosure policy here.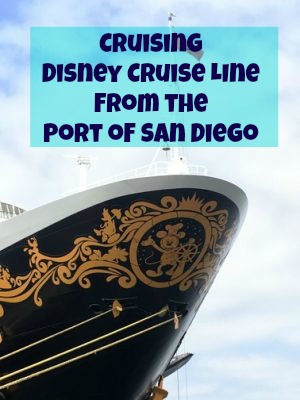 We had been on several Disney Cruises out of Port Canaveral, but the Eastbound Panama Canal cruise was leaving from the Port of San Diego.  The fear of the unknown reared its ugly head, and we weren't sure what to expect from this new port or city.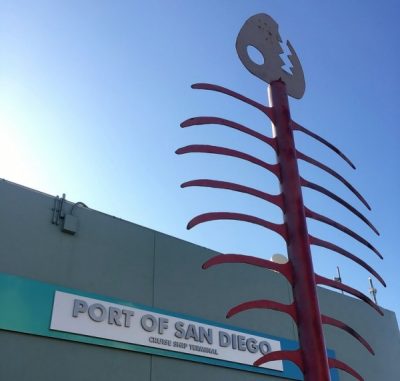 As with any new situation, I armed myself with knowledge.  I asked lots of questions on The Mouse for Less Facebook page, where I got some great tips and suggestions.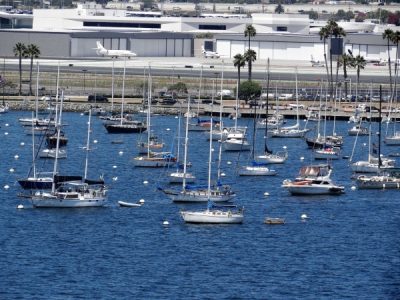 I read all of the information that Disney Cruise Line had available about the Port of San Diego and found that we would be cruising from the B Street Pier.
B Street Pier
I also found a Facebook page created specifically for our cruise, which was a great resource for hotel recommendations, joining a fish exchange (FE), learning about opportunities for our cruise, and getting to know some of our fellow passengers before the trip.  Most cruises have a facebook group, so if you are booked on an upcoming cruise, check to see if one exists for your adventure.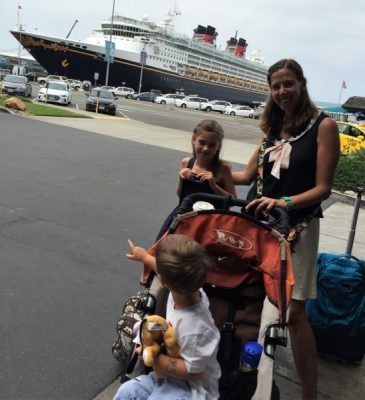 Distance to the Disney Wonder from the sidewalk in front of the Wyndham San Diego Bayside.
We booked a hotel room at the Wyndham San Diego Bayside.  It was a great location, we couldn't have been closer to the port. From our hotel, we could easily walk to the cruise terminal and explore restaurants, attractions, and entertainment.  We happily could have spent a few days here prior to the cruise.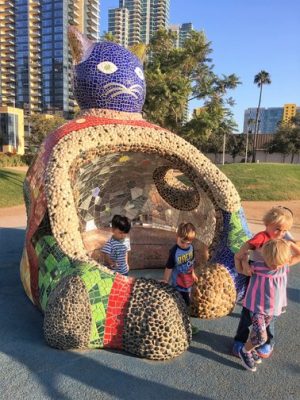 Waterfront Park
Directly across the street from the hotel to the north was an amazing playground.  Waterfront Park is child-centered, with tons of interactive play structures, fountains, and a spacious design.  This free public park was a great place to spend our evening before the cruise.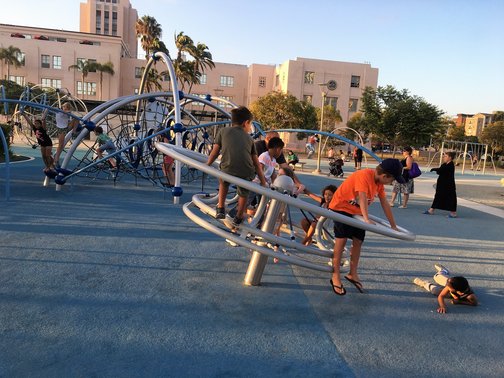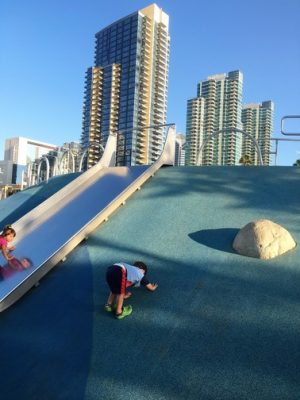 The morning of the cruise we were excited to hear the infamous Disney Wonder horn playing from our hotel room.  We stepped out onto the balcony and could see her from our room.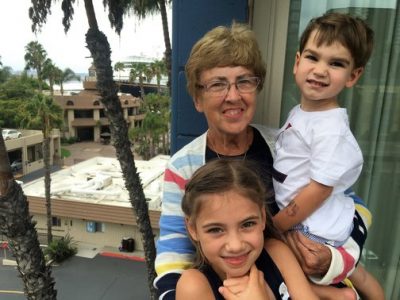 We had quite a bit of luggage for this two week adventure (you can't have too many princess dresses, right?), so we decided the best plan would be for me to walk our suitcases over and drop them off at the port, then come back for the rest of the family and our carry-ons.  We talked with other families who were taking shuttles or taxis to get their luggage to the port from the hotel.  I felt that the taxi would have been more of a hassle.  The port was directly across the street from the hotel, an easy walk, even dragging suitcases.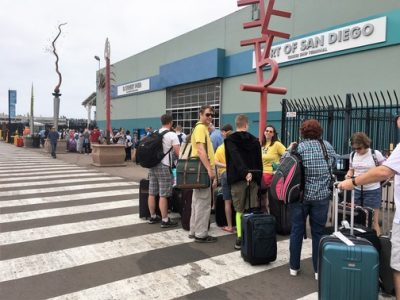 I was rather surprised when I crossed the street and found a long line of cruisers waiting to drop off their luggage.  The line moved quickly though, and I was able to get back to the hotel in just a few minutes.  Unlike Port Canaveral, where there are several different drop offs with porters ready to take your luggage, in San Diego there was just one drop off, with many porters ready to take your suitcases to the assigned storage area for your section of the ship (Forward/Mid/Aft).  Your DCL provided luggage tags let them know where to deliver your luggage, so make sure you add those to your suitcases prior to arrival.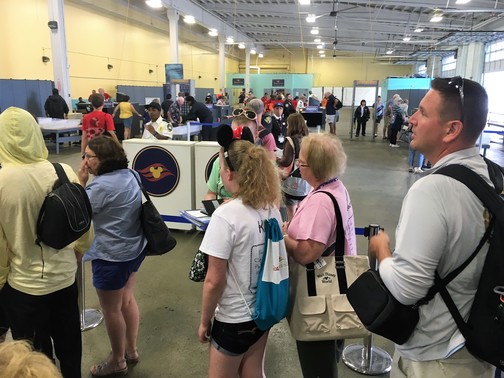 The setup inside was similar to Port Canaveral.  We went through security, and then entered check-in lines for Platinum/Concierge, Silver/Gold Castaway Club Members, and new cruisers.  The new cruiser line was actually the shortest, as most new cruisers probably don't choose a 14-night cruise for a first adventure.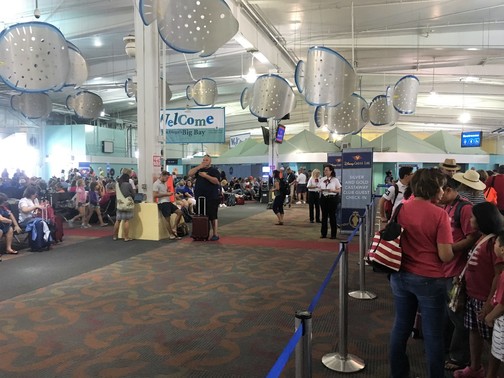 The cruise terminal is shared by many different cruise lines, unlike Port Canaveral where the cruise terminal is dedicated specifically to DCL.  It was missing some of the magical touches of Port Canaveral – no huge Mickey ears to walk through as you board or Disney-themed decorations, but it was clean and organized.
The option was available in the terminal to register for the kids clubs.  We saved the hassle of standing in this line by registering for the kids clubs online prior to arriving. There was a section where you could meet one of the characters, and plenty of seating was available while you waited for your boarding number to be called.   
Although we were nervous about trying a new port, in the end we had nothing to worry about.  The magic of Disney is in the details, and even in a shared port space, DCL works tirelessly to make sure that cruisers have an amazing experience.  The 14 nights through the Panama Canal that followed our San Diego port experience were pure heaven.

Have you ever cruised out of San Diego?  Any tips or suggestions you would like to pass along? Share them in the comments!

Did you like this article? Make sure to share it with your friends! Check below for easy ways to share!