This post may contains affiliate links for your convenience. If you make a purchase after clicking a link we may earn a small commission but it won't cost you a penny more! Read our full disclosure policy here.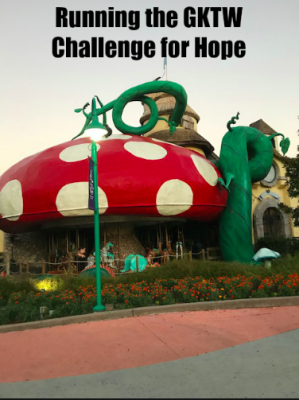 I recently flew from New York City to Orlando to participate in one of my very favorite activities at my favorite place on earth! The Challenge for Hope (which used to be called the Gingerbread Run) at Give Kids the World is a fun walk/run 5k to benefit Give Kids the World (GKTW). Being that GKTW is my favorite organization on earth, I naturally had to take the trip down to participate!
ABOUT GKTW
If you're unfamiliar with GKTW, I strongly urge you to go check them out at gtkw.org; you won't be disappointed! Very briefly, GKTW Village describes itself as "an 84-acre, nonprofit "storybook" resort in Central Florida. Here, children with life-threatening illnesses and their families are treated to weeklong, cost-free vacations." The village is completely funded by donations, and the vast majority of work is done by volunteers! Being a huge Disney fan, I found out about GKTW when I was in college, and I've been hooked on their mission ever since!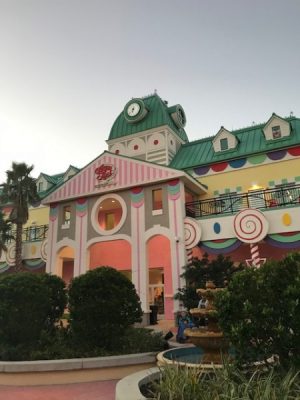 This is my second time running a fun run at GKTW, and if you're a runner (or walker, or love to volunteer, or have a few free hours on your Disney vacation!), this experience is for you! I consider myself a casual runner; I'm not out there running marathons (maybe one day…), but I do enjoy the energy on a race day! This fun run had participants riding in strollers and those crossing the finish line at a sprint! All ages and abilities are welcome to join in the fun.
THE PRE-RUN ACTIVITIES
We arrived bright and early to get ready to run. Off-site parking and free shuttle buses are included, so we parked at Medieval Times and hopped on the coach bus; in no time, we arrived at GKTW. The energy was great! Music was blasting, free snacks were being handed out, and the emcee had people up and dancing! GKTW is big on "ice cream for breakfast," and I was excited to see Klondike bars being passed out to runners at 7:30 AM. I don't have a strong enough stomach for jogging post-ice cream, so I opted for a banana and water bottle! We enjoyed the music, walked around The Village and checked out the buildings open to runners, and waited for the run to begin!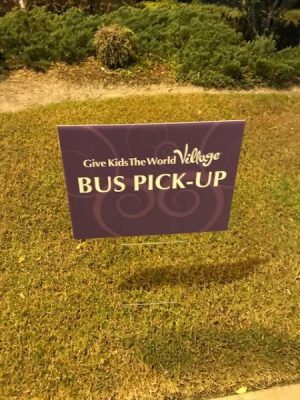 THE CHALLENGE FOR HOPE
We wandered over to the starting line and waited for the event to start! The energy was great; everyone was excited to participate, and many runners came in great costumes. When the race began, the crowd moved through The Village as music blasted! Many bands and choirs lined the race path, and volunteers cheered runners on throughout the course. Families staying at The Village even came out to cheer us on!
The first mile of the course weaved through the many streets of The Village, keeping participants entertained and energized! Snapchat filters were available along the route, along with selfie backdrops and special character appearances (we spotted Ghostbusters and Star Wars characters!). We jogged along the course and had a blast, almost sad when we approached the finish line.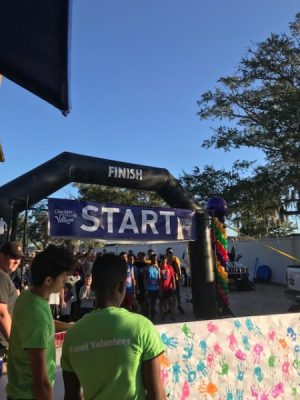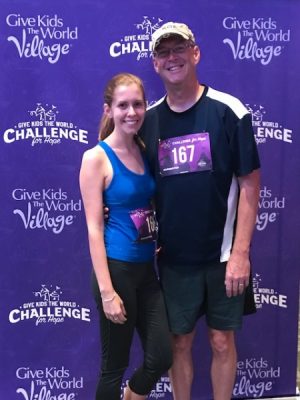 THE POST-RACE ACTIVITIES
After the run, we received our medals and wandered back into The Village to enjoy the post-run festivities. We grabbed some snacks and took a seat to watch others cross the finish line! Face painting, balloon animals, dancing, and character meet and greets were also available. We enjoyed the festive vibes, and eventually boarded the bus back to our car.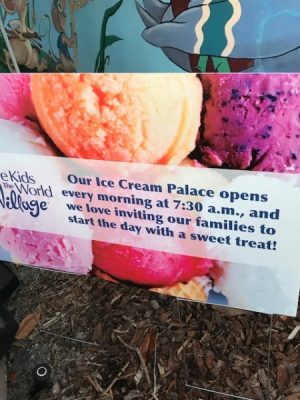 SUMMARY
If you like to walk, run, or contribute to a fantastic organization, the GKTW Challenge for Hope is definitely for you! We enjoyed every minute of the event, from fundraising beforehand, to jogging through The Village, to sitting back and enjoying the post-event festivities! I highly recommend this experience to anybody who is in the Orlando area over Veterans Day weekend!
Have you participated in a Give Kids the World race? What were your thoughts? Share them in the comments.
Did you like this article? Make sure to share it with your friends! Check below for easy ways to share!