This post may contains affiliate links for your convenience. If you make a purchase after clicking a link we may earn a small commission but it won't cost you a penny more! Read our full disclosure policy here.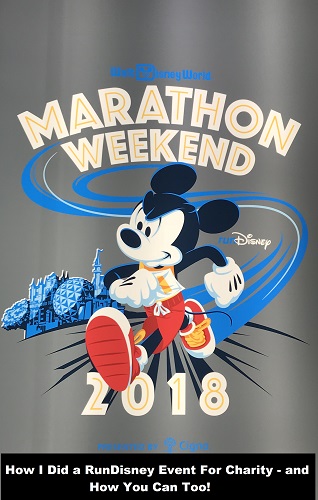 I used to run kind of a lot.  I started before my husband and I were married, took some time off when we were having babies, and got back into it in earnest when those babies were small.  I did bunches of 5k races, a 10K, a 10 miler, and a few half marathons, all locally.  I had friends who had done some runDisney events, which seemed fun but expensive and I never managed to get there back then.  While I was never very fast, I could go long and at one time I was pretty proud that I could jump into a race at a moment's notice and feel I had "trained" enough to do well.  I fell out of running around 2013 due to some health issues I encountered and then, once those were resolved, finishing earning a degree.  Being out for so long, it was hard to get back into it and I had a lot of false starts.  Until one hot summer day in July 2017, a day that has come to be known as "The Day My Husband Tried To Kill Me With Running."
We were on a vacation together and he asked me to bring my running things and go for a short run together.  However, while he knew the route we were going to take he never actually looked at the mileage for that route.  And we wound up going over 3.5 miles.  In July.  In the heat and humidity and full afternoon sun.  Needless to say, I was a little unhappy with him.
But in the end, that was the push I needed to get back to it.  Once I got over being exhausted and angry, I realized how good it had felt and I was inspired to get back on the horse and BUILD UP to that 3.5 miles we had just done.  I dug out my running books with all the training plans and decided on one and mapped out a plan to get back to comfortably running more than a mile.
To be honest, I was disheartened over the idea of starting over.  And I knew I was going to need a carrot to dangle in front of me and keep me going.  Some friends I have made over the years in the Disney community had been asking me to join them for a runDisney event for some time and it occurred to me that registering would be a huge motivator.  Marathon Weekend 2018 lined up perfectly with my training plan – I could work through the 5K plan and then move right into the 10K plan and be ready to run the 10K just in time.
The only problem was, the race was already sold out.  RunDisney events sell out, and fast.  Many people register within the first hours of the event registration opening and if you're not fast enough you miss out.  But there are other options if you're jumping in "late in the game".
Your first option is to register through a travel agency.  Many travel agencies will sell WDW vacation packages based around the runDisney events. Packages come with many various combination of room, bib, and tickets and are available with lodging at many different resorts, depending on the agency.  This is one way you can buy a bib for a race that is already sold out, since many agencies secure bibs in order to promote guests making overall vacation plans through them.
Another way is to run on a charity bib.  For Marathon Weekend 2018 over 30 different charities were registered with runDisney.  Individuals wanting to raise money for those charities and/or individuals wanting to secure race entry into a sold out race register with the charity and agree to raise funds in exchange for the bib.  The terms of the agreement between the runner and the charity are as widely varied as the charities themselves, with various required fundraising expectations as well as various other perks and benefits the runner experiences for registering with a given organization.
This way of entering the sold out WDW 10K on Marathon Weekend was most appealing to me – not only would I get to run the race, but I would help a worthy cause in so doing.  I scrolled through all of the charities to find one that was meaningful to me and which had terms that seemed reasonable and within my reach given that I was stepping into the game relatively late.
My research culminated with my choosing to apply to run in support of Alex's Lemonade Stand Foundation (ALSF).  ALSF's mission is "To change the lives of children with cancer through funding impactful research, raising awareness, supporting families, and empowering everyone to help cure childhood cancer."  This was a mission I could get on board with, 100%.  I remembered seeing Alex Scott, a very young childhood cancer patient, on TV years before, literally running a lemonade stand to raise funds to support research into finding a cure for cancer.  I remember then thinking I wanted to help with that, too; well here was my chance!
I contacted ALSF through the link provided on the runDisney site and crossed my fingers that I would be accepted on to the team.  Meanwhile, I got down to training.  I'll never forget that first official training run on August 1st, which barely took me 2 miles, thinking how far I had to go to make the goal of running 6.2 miles.  It was overwhelming to think about, so I focused on hitting the smaller goals one at a time.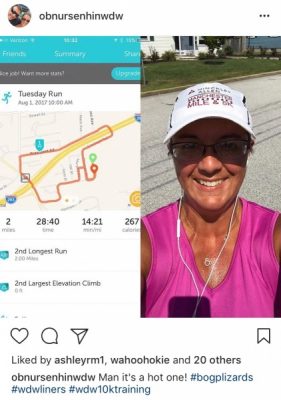 Soon I heard back from ALSF: I was invited to join TeamLemon at the WDW 10K!  Moments after I received the email, I set up my Fundraising Page and spread the word across all of social media, to everyone I know.  My goal was to raise $800; if I fell short of that, my agreement with ALSF was that I would put the remaining funds in myself.  If I didn't raise enough money, this could get expensive for me, and I felt a bit of fear around that. I got the fundraising started by putting in $50 of my own money.  Donations started rolling in immediately and the fundraising goal began to seem less daunting in the same way that the race training did.
You might notice the #bogplizards in my First Training Run photo above.  This refers to a running group affiliated with the Disney trip planning podcast, the Be Our Guest Podcast, that is known as the Lizards.  A super-supportive running community, the Lizard tagline is, "You'll never run alone!"  Runners of all abilities make up this large family and support one another and cheer one another on as each member strives to achieve his or her own fitness goals.  As an avid listener of the Be Our Guest Podcast I heard host Mike Rahlmann refer to this group numerous times, and eventually I decided to dip my toe in and join.  It was one of my best fitness decisions ever, as the group warmly welcomed me and I found a new home as a runner embarking on my first runDisney event.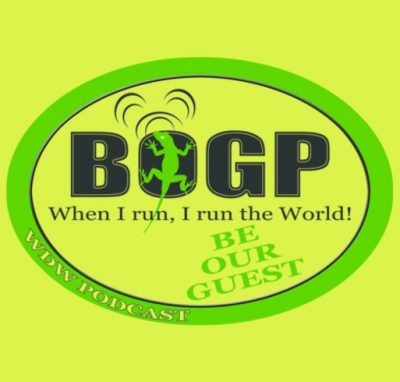 As I trained and raised funds over the next weeks and months, I kept my donors – and potential donors! – informed of my progress.  I posted every training run to my Instagram account, and about monthly I posted an update through Facebook.
The fundraising that started off so strong in the beginning naturally petered out some in the middle, so like I was focusing in small training goals, I kept potential donors focused on the small fundraising goals too: "Who can help me reach XX% of my goal?" and "Who can help me hit XXX dollars before the end of the month?" were typical ways I got my audience to see the small ways they could help.  And it worked!  Little by little I chipped away at my goals: my mileage grew longer and my fundraising total got higher!  By the time Christmas rolled around I was ready on both fronts, and feeling excited to travel!
I'll tell you all about my experience at Walt Disney World Marathon Weekend in my next blog post.  While you're waiting for that post,  get started booking your own RunDisney vacation at Walt Disney World by visiting our partners at The Magic For Less Travel. Agents there can provide you with a free quote and help you plan all the details from lodging to dining to everything else in the World!
Did you run during the Walt Disney World Marathon Weekend? What was your experience like? Share it in the comments.
Did you like this article? Make sure to share it with your friends! Check below for easy ways to share!
Incoming search terms:
https://www themouseforless com/blog_world/running-rundisney-event-charity-part-1/