This post may contains affiliate links for your convenience. If you make a purchase after clicking a link we may earn a small commission but it won't cost you a penny more! Read our full disclosure policy here.
By: Rikki Niblett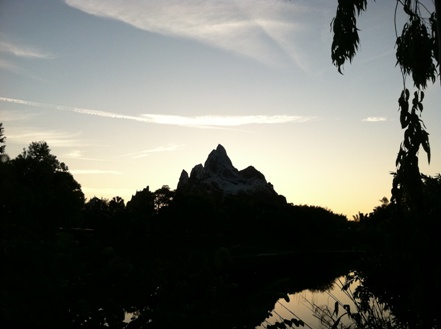 Run, Rikki, Run!
I'm not a runner. Let's make that perfectly clear. My husband is the runner in the family. He does 5ks for fun on evening runs and just this year he ran the St. Louis Half Marathon. Me? I get winded thinking of running! My joke when people have asked if I was ever going to run a race has always been, I only run if someone's chasing me!
However, over the past few years a few of my trips to Walt Disney World have been centered around race weekends. I have gone to support friends who've run in both the January Weekend Half Marathon and also the Wine and Dine Half Marathon Weekend. I love being able to support my friends as they run! It's win-win. They run and I just get to watch! Cheering on your loved ones (and even strangers) is one of the most awesome things to do. It's such a rush knowing that you are helping give them a shot of adrenaline in a time when they potentially need it. I have been a good supporter!
This year all of that changed. You see I was the one people were cheering for! How's that, you ask? Well, this year I ended up running the Halloween 5k on October 1, during the Wine and Dine Race Weekend.
It all happened because a friend of mine came down for the race weekend without his daughter. She had signed up for the race, but it turned out Homecoming was that same weekend. So, she opted to skip the race. This meant that my friend had paid for a spot in the race with no runner to fill it.
Out of all my friends down there for the weekend, I was the only one who was not already signed up  for the 5k and somewhat open to the idea. I knew it would surprise a lot of people if I said "yes" to running so, in one of those weird moments in my life, I said I would run in her place.
Like I said, I don't run…so this means that I had done no training whatsoever. The farthest I'd ever run/walked at this point was a mile and a half on the treadmill when I sporadically worked out. I honestly didn't know how well I was going to do in this race. I didn't even know how long it would take me to complete the race. I was just hoping I wouldn't come in last.
On Oct. 1, I got up at 5 am (I managed to get a decent night's sleep. This was going to be one long day to begin with. I was expecting to stay up until 3 am for the Wine and Dine After Party that night!) and I got ready. I put on the tennis shoes I thankfully brought with me and the shorts I ended up having to buy at the Wide World of Sports Expo and ventured out in the dark to meet my friend with whom I was running the race.
This year the race took place at Disney's Animal Kingdom. When we got to the parking lot we were floored! There was a huge line of cars all waiting to park. I couldn't believe all of these people were going to be running!
Finally, I made my way up to the corral in my time slot (I picked the slowest one; the 13:00-15:00 mile) and was ready to go. The National Anthem played and then the next thing I knew, BOOM the fireworks exploded and the race had begun! All of a sudden it was my turn to run. My friends and I took off!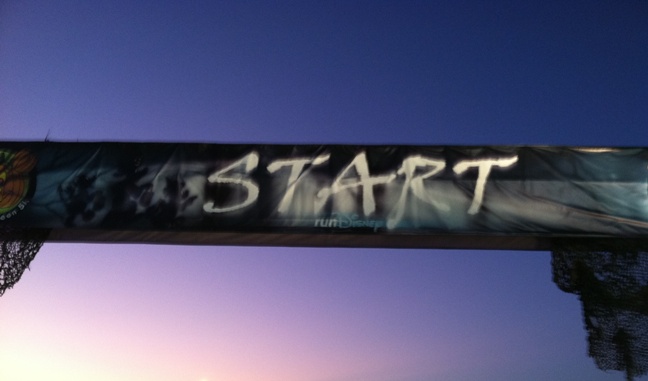 We ran through the parking lot of Disney's Animal Kingdom and made our way through the front entrance. It was really neat run through and see the Tree of Life show up in my field of vision. It was also great to see characters lined up so you could meet and greet them. I didn't do that this run though; I was concentrating on not finishing last!
My friend was keeping track of how far we had run and when we checked, we'd already gone a little over a mile! Wow…ok…this isn't so bad. I couldn't believe I'd already run that far without much trouble.
Then we went backstage. This became the long part of the race. Backstage had to have been at least a mile, though while running it, it felt like it was about 5! We just kept running and running without seeing the turnaround anywhere. Finally, after what seemed like forever (because there wasn't really anything exciting to look at backstage) we came upon the turnaround point! After that, the run became a little easier because I knew where I was heading. I was on my way to the finish line. (I guess I should specify that my friends and I ended up walking/running this race, mostly walking though due to high crowds, as well as fatigue but I did run a good portion of the race!)
Once we came back onstage at Animal Kingdom the run became easier again. We ran past Expedition Everest, Finding Nemo, and Dinoland U.S.A. We then went through another backstage area as the sun was coming up over the horizon. Finally, we heard a Cast Member say, "Just around this corner is the Finish Line!" As soon as I saw it, my legs suddenly shifted into high gear. I took off running faster than I've ever run before! There was my end! It was in sight!
As soon as I crossed the Finish Line…I did something I wasn't expecting. I had to fight back the tears. I was SO proud of my accomplishment! I had done it! I had done what I thought was impossible. With the help of my friends, I had run a 5k! 3.1 miles in just about 49:00!
So, where am I going with all of this? If you've ever thought of running a Disney race, and even if you haven't…do it! There is something so amazing about the accomplishment. I am so proud to say that my first race was a Disney one.
The question is, will this non-runner run do it again? I'm not sure. I am still not a runner. I still am not a huge fan of running in general. However, I will tell you I'm not counting the idea out. Disney makes the races seem so easy. You never know. I may just decide to sign up next time! Maybe I did catch the running bug.