This post may contains affiliate links for your convenience. If you make a purchase after clicking a link we may earn a small commission but it won't cost you a penny more! Read our full disclosure policy here.
The picture below is me in my costume from the 2015 runDisney Princess Half marathon. You might notice the scowl on my face and say "he looks miserable" and sure, maybe you're right, but running 13.1 miles in that get-up was the most fun I've ever had running. Unfortunately this costume has been retired due to the new runDisney guidelines from January that have put a damper on some of the more elaborate costumes you might find on the runDisney race courses.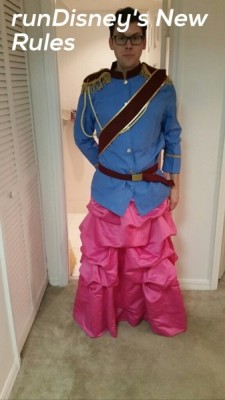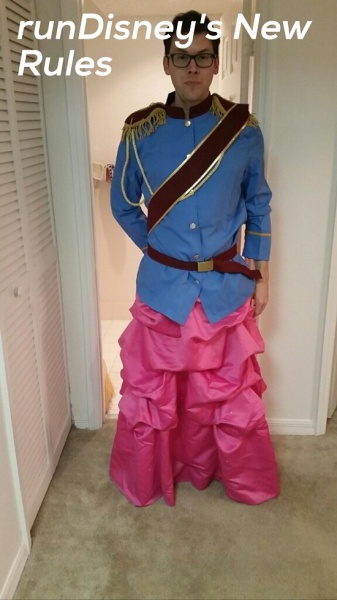 What better costume for a prince-ess half?
Early this year and just days before Walt Disney World marathon weekend, runDisney put out new costume and safety guidelines for those running in upcoming events. These rules follow on the heels of similar guidelines pertaining to the Disney parks put in place in December, both of which are to keep not only guests, but cast members safe and allow everyone to make the most out of their time at the happiest place on earth. Unfortunately some of these new rules might have you racing around trying to find a costume deemed appropriate.  But before we dive into things let me say one thing, Disney has the final say on what's appropriate and what's not so even if your costume fits the parameters below cast members can still deny entry, so please keep that in mind.
Rules for the Masses
Rules regarding costume attire have been broken down by age group: thirteen and under, and fourteen and older. The rules are a little more lenient for the younger crowd, but there are a few requirements that everyone will need to follow regardless of age. Some of these all-encompassing requirements will not allow anything resembling or which could be misconstrued as a real weapon into the event. "Obstructive, offensive, objectionable or violent" costumes are also not permitted which sounds a little vague so if you have any concern about your costume I would suggest having a backup ready just in case. And lastly, items which can harm other guests are prohibited as well.
Thirteen and Under
Here's where the runners age comes into play. As I mentioned earlier guests thirteen and under have much more freedom with regards to costumes. In fact, the only rule specific to this age group is in regards to face masks. As long as the child's eyes are visible and the mask doesn't cover the entire face you should be okay; simple.
Fourteen and Older
Anyone fourteen and older has a laundry list of prohibited items which include: no layered costumes (ex. Jedi robes), no costumes that could conceal prohibited items, no full body costume props (ex. Death Star), nothing that drags on the ground (ex. see the above ball gown), no long capes but ones that drop to your waist are okay, and finally no masks whatsoever.
Acceptable Attire
If the above has you pitching your costume already, runDisney does give a list of acceptable garb, albeit a little on the pedestrian side. Guests can wear hats, sweatshirts, themed t-shirts, and blouses. Certain accessories like transparent wings, headwear (no masks), toy swords as long as they are clearly toys, plastic light sabers (leave the glass ones at home), and of course tutus are allowed as well.
All of these rules seem to jive with the Disney parks rules so if you can't wear it during runs chances are you won't be able to wear it into the parks either.
Safety Precautions
In addition to the costume regulations there are a few safety precautions that runDisney mentions as well. "Selfie sticks, baby joggers, strollers, baby carriers, baby backpacks, skates, scooters, bicycles, skateboards, canes, crutches, walkers, walking sticks, and animals" will not be allowed on the course. If a cast member sees you with any of these items they could remove you from the race. They also mention that headphones can be used but are discouraged because of the safety messages that play throughout the course. However, typically the messages are loud enough to be heard even with headphones on, so this isn't enforced.
My Favorite Rule
There is one last rule that prohibits anyone dressed like a character from signing autographs or posing for pictures as that character, but you should be fine if someone admiring your costume wants a picture.
All of this can be found on the runDisney website here and park specific rules can be found in the links below. Now get out there and get running!
Will these new rules impact your costume choices during runDisney events?
Incoming search terms:
https://www themouseforless com/blog_world/rundisneys-new-costume-safety-guidelines/
https://www themouseforless com/blog_world/rundisneys-new-costume-safety-guidelines/#:~:text="Selfie sticks, baby joggers, remove you from the race