This post may contains affiliate links for your convenience. If you make a purchase after clicking a link we may earn a small commission but it won't cost you a penny more! Read our full disclosure policy here.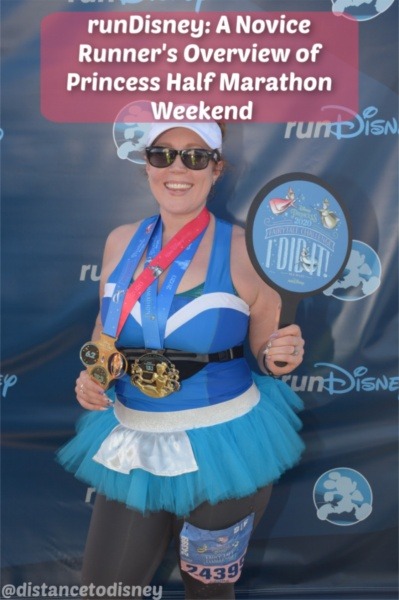 As I begin this review of the runDisney 2020 Princess Half Marathon Weekend, I want to be very clear about who I am as a runner and my experience with racing and training for runs. None. I have ZERO experience with training for racing outside of the runDisney 2020 Princess Half Marathon Weekend I just participated in. My running journey started in April of 2019, when a workout instructor encouraged me to begin running. My first response was one very typical for me: "nope, I don't run". Fast forward to me having a lightbulb moment. I realized that Disney hosted races several times a year, then realized they hosted a Disney Princess race weekend, and lastly I realized the 2020 runDisney Princess Half Marathon weekend coincided perfectly with my 30th birthday weekend. So the stars aligned and I began running April 16th, 2019.
Training for runDisney
Now that you have a very honest idea of my running abilities lets talk training. For the runDisney half marathon weekends (hosted four times a year) there are a variety of training plans ranging from 13 weeks to 19 weeks. Jeff Galloway is the lead trainer for these plans. Each one comes with written instructions on how to utilize them in order to avoid injury and meet your goals. The training plans are mapped out by race distance; all you have to do is to find the one that matches the race you are running and follow it. The best part of the programs is they only require you to run three times a week. For the most part I found this super manageable and easy to mesh into my other workout routines.
For the runDisney Princess Half Marathon weekend I chose to run the Fairy Tale Challenge. This involved running the 10k followed by the half marathon the next day. Hey, two races for three medals seems like a bargain to me! This training plan involved 19 weeks of training and my best piece of advice is to start early. I started my training well before the 19 week mark. I did this to leave room for any injuries or illness that may have struck myself or my family. Unfortunately I did get a minor foot injury that put me in physical therapy and I did have to back off from running for a few months. But because of the cushion I gave myself I was able to jump right back into training and still feel prepared on race day.

runDisney Expo
Something important to note about the runDisney expo and packet pick up: each person has to pick up their own packet with a valid I.D. No Exceptions. Another thing to note is that any person may enter the expo and buy merchandise. Yes, even if they are not participating in the races. Why is this important? Because some people chose to buy up merchandise from special events and then sell them on online for double the price. So, even though I attended the expo on opening day, I was not able to grab the coveted themed spirit jersey. Besides that, our expo experience was great.
Because of flights we did not get to the expo until dinner time. This worked out well because lines were super short and most merchandise was still in stock. Additionally there were different photo opportunities and snacks throughout the arena. The expo is a place where you can expect to spend several hours, so be sure to plan accordingly.
(For more tips on how to properly experience the expo check this article out.)

Race Day
Race day came with a flush of emotions and loads of tiredness. If it is your first runDisney experience don't expect to sleep well. The stress of having to wake up early and be on a bus anywhere from 3:00 a.m. to 3:30 a.m. will keep you up tossing. Of course there is also the excitement and anticipation for the race, but mostly stress about sleeping through your alarm. But not to worry, most people feel this way as well so you are not alone. And by the next night, when I was resting for the half marathon, I was no longer as stressed and slept much better.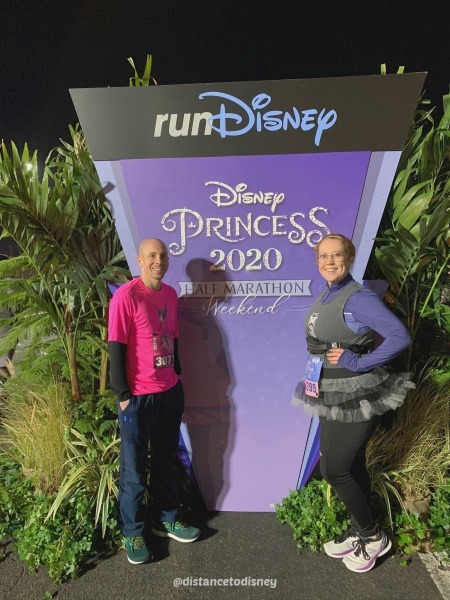 Pre-Race
Pre-race you have a few options. There are photo opportunities with characters that are rarely seen, or only seen at certain races. There is some food options for purchase, however, I highly suggest purchasing a "runners box" from your Walt Disney World Resort the night before. This box consists of a bagel, banana, peanut butter, a healthy bar, and a water. Its the perfect pre-race meal. Be sure to stagger your eating as you will be waiting anywhere from two to three hours before the race actually starts.
For the 10k, Sean and I ran into friends and all stood in line to meet Princess Minnie. So worth it. Once you hit your corrals, and I would suggest doing that thirty minutes to an hour pre-start time, be sure to use the restrooms to try and avoid having to use them along the route.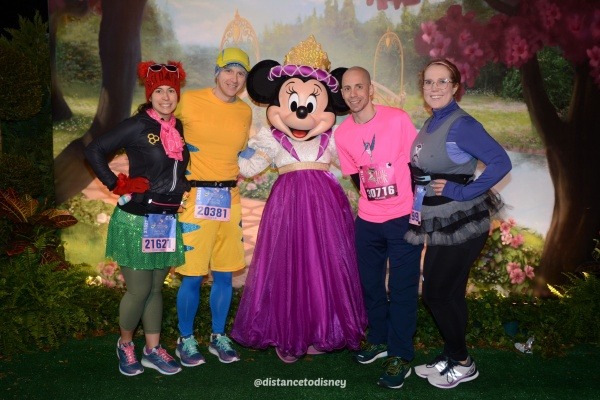 Running runDisney Alone
When I signed myself up for these races Sean was kind enough to offer to run the 10k with me as a birthday present. I was ecstatic to have him by my side, but knew I would be on my own for the half marathon. At the time I just signed up and moved along with my day. But if you know me you know this is 100% out of my comfort zone. I honestly think the Disney overlords were soothing my soul, because so many magical things happened along the way!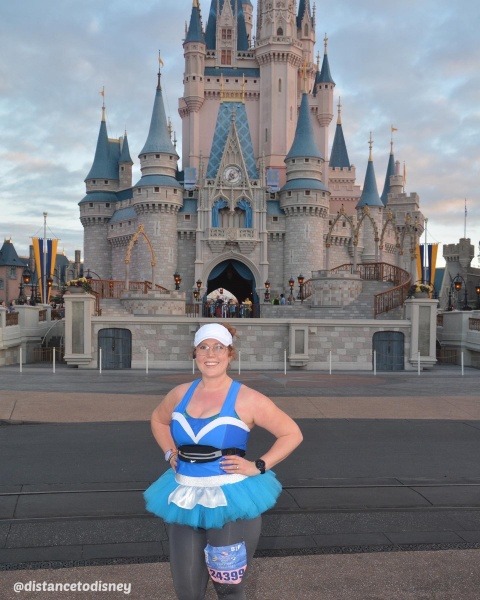 Making New Friends Pre Race
I started a running instagram devoted to my training. I met so many awesome people through that instagram, and it was really cool because we were all on the same journey together. We may have never met in person, but they always made me feel like I wasn't on this journey alone.
Making New Friends at the Race
The morning of the half marathon I randomly started chatting with a lovely women named Heather. We stuck together all morning until we had to go into our separate corrals. We were both running alone and both running our first runDisney half marathon. I think we're simply happy to find each other to discuss our jitters, excitement, and to help the time pass quickly.
Meeting Up with Old (New) Friends
I mentioned that Sean and I had met up with friends at the 10k. Well those friends were ones I had initially met on my running Instagram. We had first ran into them at the expo, which was our first time meeting in real life. Then we hung out at the 10k together, which was a great way to spend a cold morning. But the icing on the cake was when they found me in Magic Kingdom. There I was, alone and taking selfies with the castle when they spotted me. By the kindness of their hearts, they run a much faster pace than me, we ran the rest of the race together, and and crossed the finish line as a trio!
I say all of this simply to encourage you. If you are looking to run a runDisney event but don't have anyone to do it with you, do it. Disney magic works in mysterious ways when you let it.
Hydration and Fuel
Water stops are available at many points throughout the races. I brought my own water bottle and found great success having it filled up along the route. Some volunteers will hand out cups of water while others will refill your water bottle for you.
As far as fuel I would highly suggest bringing your own. runDisney does provide fuel during that half marathon. However you need fuel more frequently and more abundantly than runDisney provides it.
ChEAR Squad
runDisney offers options to spectators for designated chEAR areas. ChEAR Squads packages range in pricing and vary by race. Initially we were going to purchase a package for Sean and Belle to utilize during that half marathon, but we waited too long and they sold out.
Perks of being in the ChEAR squad (specifically for the half marathon) include: designated port-o-lets, fleece blanket, fan, cow bell, non-alcoholic drinks, reserved seating at Cinderella Castle, and reserved grandstand seating at the finish line. All seating is on a first come first serve basis.
Our reasoning for wanting to purchase a ChEAR Squad package was to make it easier for Sean to manage getting a two year old to multiple stops along the route to ChEAR me on. I can't speak to if it would have helpful, especially with seating being first come first serve because our goal was for her to not have to be up at 5 a.m., but I think it may be something we look into in the future.
Success of Spectating Sans ChEAR Squad
Without purchasing the ChEAR Squad package Sean and Belle were still able to find me twice along the route. Once at the Polynesian and at the finish line. It did seem to be quite an organization effort to get Belle around, but nothing beyond the normal whoas of traveling with a two year old. I think their biggest struggle was that we planned my start run time based on when we started running the 10k. That way, Belle would sleep in and they could start their travels when I started running. However the corrals went out much quicker for the half marathon which threw them into a bit of a rush. It all worked out, but it's worth it to be over prepared as a spectator as far as travel times. Especially because roads throughout Walt Disney World are closed for the races.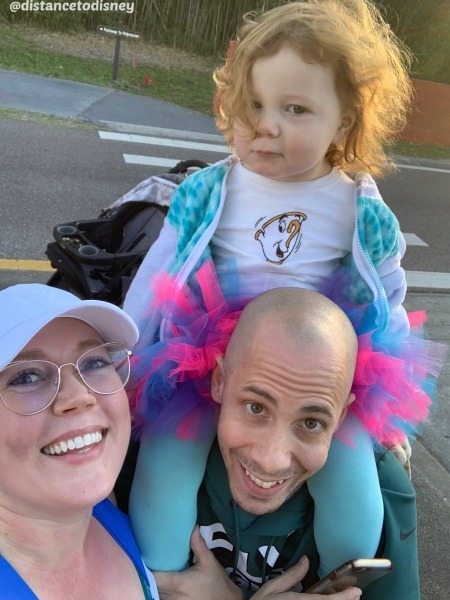 PhotoPass
Photos are a huge draw for why people run races in Walt Disney World. Scattered across social media are the character spot and in-motion pictures from the race route. Never fear Disney PhotoPass is there to help. Along the race route there are photographers set up in green tents, to make them easy to spot, taking action shots while you run. There are also photographers standing at all character stops. Taking pictures during the race is super easy; you stand, smile, and literally run away. Post race you go to the Disney PhotoPass website and the specific race coded, once photos are uploaded to the system they will begin to show up on your Walt Disney World app or online account.
Future Runs
One run weekend under my belt and I'm pretty much hooked. If you are debating signing up for a run I highly recommend it. runDisney runs race weekends four times a year, but keep in mind sign ups start several months earlier. Walt Disney World Annual Passholders have options to sign up a week or so early, so be sure to check out specific sign up dates as races (especially the 5k) meet capacity quickly.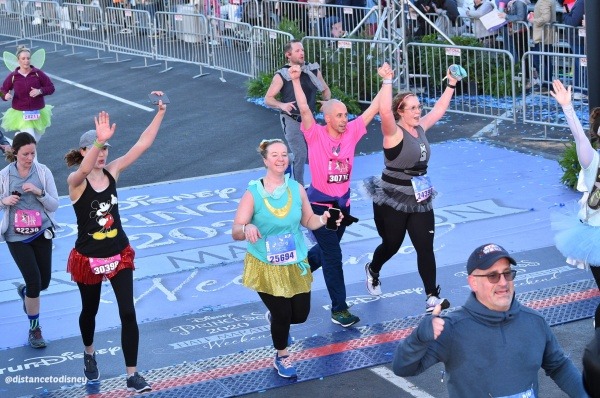 Have you run runDisney's Princess Half Marathon Weekend before? What tips do you have? Share yours in the comments, or on Facebook or Twitter!
Did you like this article? Make sure to share it with your friends! Check below for easy ways to share!
Want to visit a Disney Destination? Contact The Magic for Less Travel for more information and a free, no-obligation quote.

Incoming search terms:
https://www themouseforless com/blog_world/rundisney-novice-runners-overview-princess-half-marathon-weekend/
2019 princess half marathon
disney princess half marathon review