This post may contains affiliate links for your convenience. If you make a purchase after clicking a link we may earn a small commission but it won't cost you a penny more! Read our full disclosure policy here.
By Teresa Pitman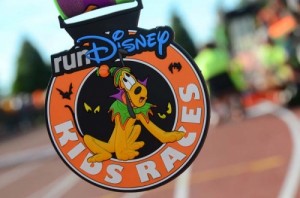 You probably know about the Princess Half-Marathon, The Tower of Terror 10 Miler and the other races around Disney theme parks – they've become very popular in recent years. You may not know that on the same days as those races, Disney also hosts races for children. And they just might be a great addition to your vacation – if you keep a few of these tips in mind.
First, know the categories. Generally, the races for kids have been divided up this way:
Diaper dash for infant crawlers (under 12 months old)
100 meter run for kids one to three years
200 meter run for kids four to six years
400 meter run for kids seven to eight years
and a one mile race for any child 13 years old or under.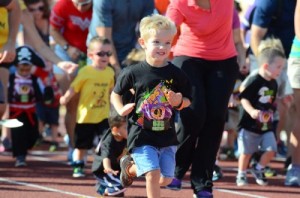 The fee for all races is the same ($15, but that is subject to change). Every child who enters will get a little goody bag with a T-shirt, as well as a few other items and every child who finishes will get a medal. (The medals are generally pretty nice and much appreciated by the young runners!)
Why enter? If mom or dad is running at a longer distance, the kids will usually love the idea of competing in their own events. Even if you are not running, the race can be a great incentive to a child to do a little training and improve his or her fitness. Who knows, you may start a lifelong love of running!
Now for the tips: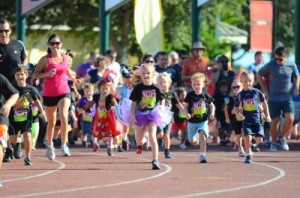 –  You need to pick up the race packet the day before the race at ESPN Wide World of Sports, in the Race Expo. This can be quite time-consuming and easily use up half a day when you factor in transportation as well, since there are often long lines just to get in to the Expo. You may want to make this a non-park day, or plan your pick-up in the morning then do parks in the afternoon and evening.
–  Race day will also not be very conducive to touring the theme parks. The kids' races are typically planned for the middle of the day (either 11:00 am or 1:00 pm) but by the time it's all over, much of the afternoon is gone. So consider how this will fit into your other vacation plans.
–  Some resorts are designated as race resorts and will transport you to ESPN Wide World of Sports for the races. You can also drive if you like, but parking may be at quite a distance from the race track.
–  Plan for a LOT of time standing around. I've been generally a bit disappointed in the organization of these races for kids as they seem to put the kids in their groups and then expect them to wait for long periods of time – as much as 45 minutes or an hour – before the races begin. The result: a lot of crankiness.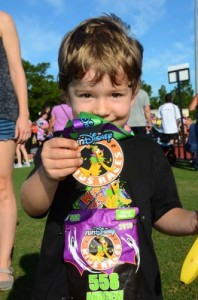 –  Bring plenty of water – the waiting areas for the kids are not shaded – and make sure your child has a hat and sunscreen if the weather is sunny. Bring snacks too in case the wait is long. There will be some pre-race entertainment, often with Mickey or Goofy, that can help them get through the wait.
–  With younger children, try to have an adult run alongside the child during the race (but not on the track). I've seen some of those little ones get overwhelmed or confused and run off to the side; it's better if there is a familiar adult around to point them in the right direction!
–  More than one child running? Try to have some other adults (or older children) to help you out. They sometimes do the races one after another without leaving enough time for a parent to retrieve a child who has just completed one race and get to the next one.
–  The highlight of the race for most kids is crossing the finish line and getting a "high five" from Mickey or Minnie. Keep your camera handy to capture this moment and stay close to help them make their way through the crowds.
–  Water and a snack at the end of the race is important too. Four hundred meters may not seem long to you, but it's quite a distance for your child's little legs and he'll be ready for some refreshment.
Race day can add a fun challenge to your Disney vacation for both the big and little runners in your family. And those medals will be a source of pride and an inspiration to keep on training for the next race.