This post may contains affiliate links for your convenience. If you make a purchase after clicking a link we may earn a small commission but it won't cost you a penny more! Read our full disclosure policy here.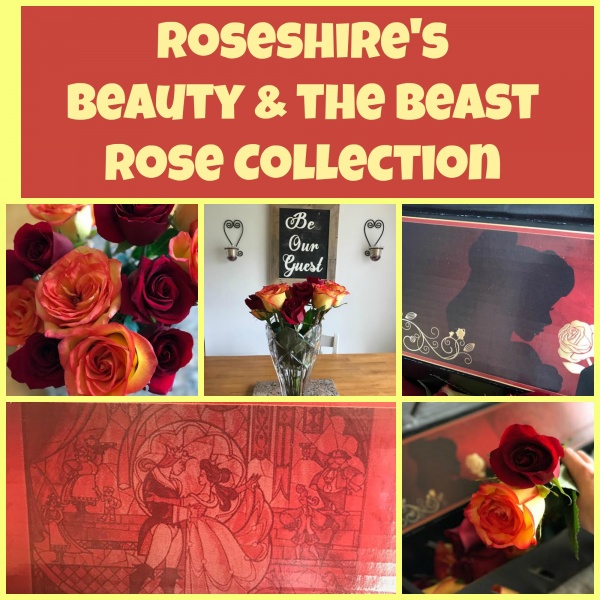 We all have fallen back in love with the film Beauty and the Beast, I think. (Of course, for some of us, we never fell out of love with it.) After seeing the recent live action version of the movie in theaters, I was immediately taken back to my childhood where I wanted to be Belle. I wanted to read lots of books, dance with a beast (I guess my husband will do), and be enamored by a gorgeous rose.
Well, I think that the company Roseshire, a luxury rose company, has been listening to all that chatter! (Do they read minds?!) You see, they have partnered with Disney to create a beautiful line of flowers that are inspired by the hit live action film. This exclusive line is a limited edition collection that celebrates one of the most timeless love stories.
The Beauty and the Beast rose collection draws its influence from the "enchanted rose" from the film. You can choose to have a dozen or two dozen of these luxury roses delivered right to your doorstep in a beautiful and ornately themed box.
Opening the roses is like an event onto itself! (Trust me! I even filmed an unboxing video for you to see!) From the beauty of the box's outside packaging which includes a gold rose sticker to seal the box, to the beautiful scroll artwork on the lid, it is clear right from the get go…this is an elegant and certainly opulent display. This isn't a dozen roses you get from your local flower shop. This ups the ante!
Once the box is open, you will see a note indicating who sent the flowers, as well as how to properly care for this impressive delivery. Roseshire takes their flower delivery very seriously, so they indicate that if your flowers aren't perfect when you receive them, that you should let them know; simply put, they guarantee the overall  freshness of your rose delivery.
I was most impressed by the artwork found inside the box. Here, you will see images of Belle and Beast, as well as touches of the famous rose.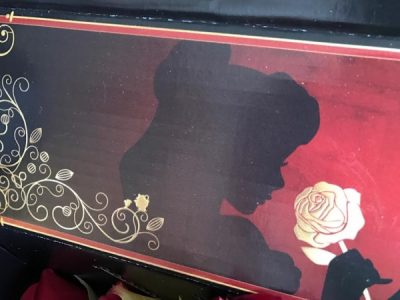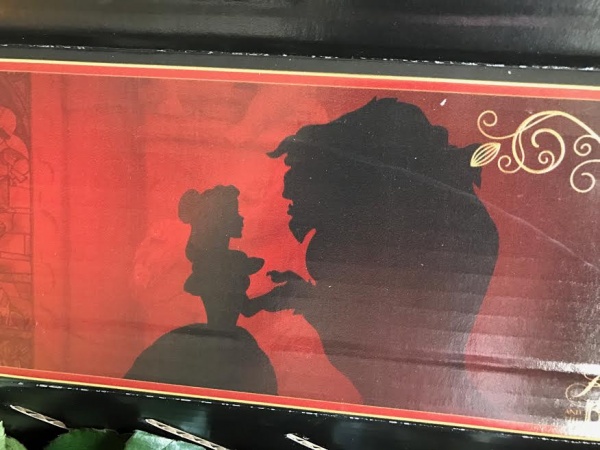 Nestled inside the box were some of the most gorgeous roses I had ever seen. The Beauty and the Beast collection includes a beautiful Belle-inspired yellow rose, as well as the more traditional red rose, reminiscent of the enchanted red rose that is featured so prominently in the movie.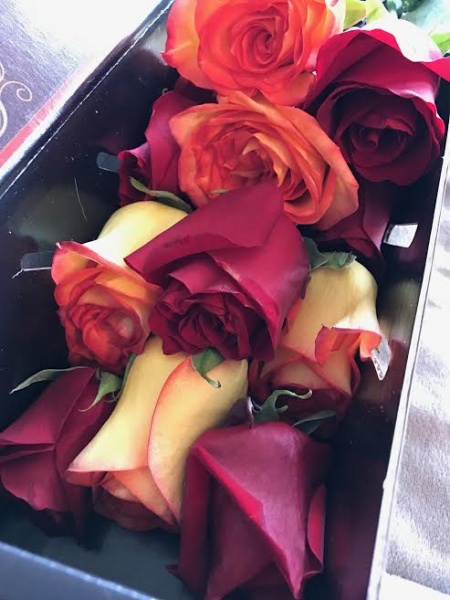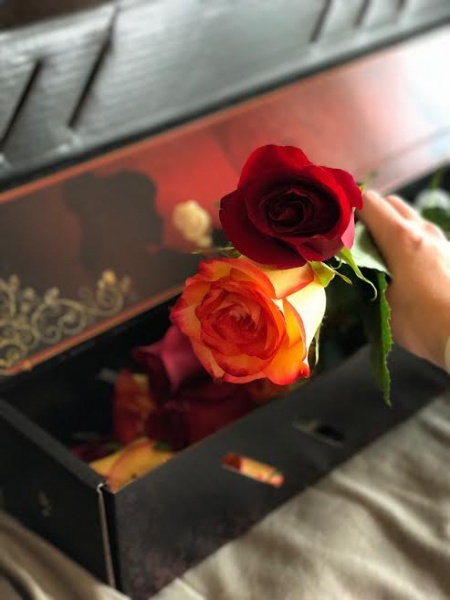 Roseshire ships their hand-selected products overnight nationwide. Each rose carefully chosen, and to ensure their perfect condition, each rose comes with an individual water tube to make certain your flowers are as fresh as possible. Make sure you follow the instructions on keeping your roses! They are imperative to the roses' health.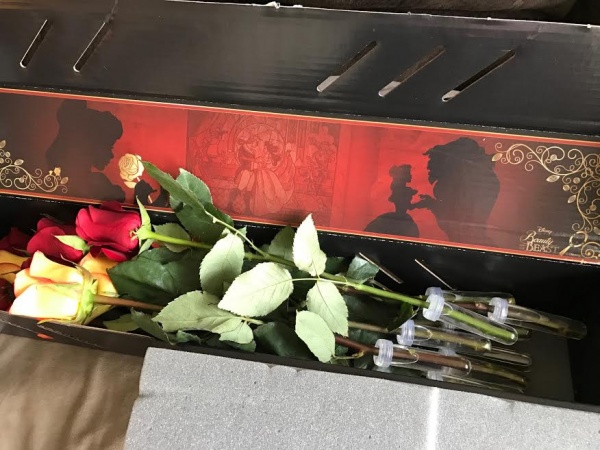 I have displayed these roses in my kitchen for the past week and I have to say that they have held up extremely well and they were some of the most fragrant flowers I've ever received.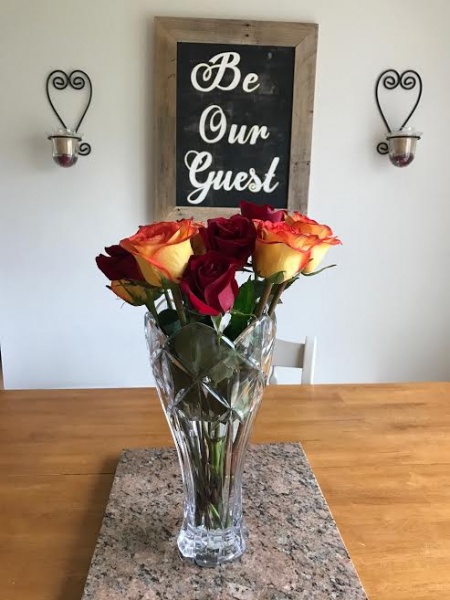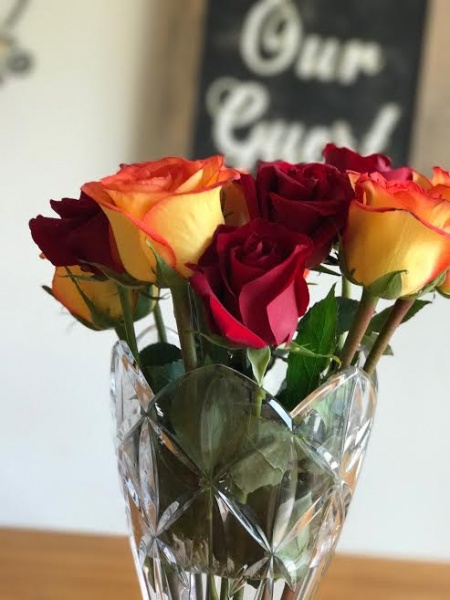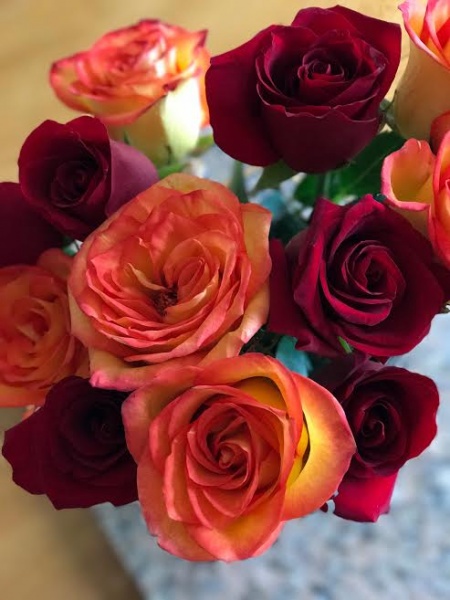 Of course, is should be noted that these roses do come at a luxurious price. (Makes sense….with such a superior product such as this.) For one dozen roses, the cost is $109.00. For two dozen roses, it's $189.00. You do have the option of choose all red roses, all yellow roses, or the mix of the two.  I strongly suggest the mix of the two, as it creates more of a statement, in my opinion.
If you are looking for an incredibly extravagant and exquisite gift, especially one for someone who is as in love with Beauty and the Beast as I am, consider sending this collection to your loved one.
To learn more information, visit Roseshire's website. They do offer other roses in their Disney collection, including Frozen, as well as a few others.
Disclaimer:  I received my Beauty and the Beast Rose Collection for the purpose of this review.  The opinion stated above is my own.
Did you like this article? Make sure to share it with your friends! Check below for easy ways to share!
Incoming search terms:
roseshire beauty and the beast
https://www themouseforless com/blog_world/roseshire-beauty-and-the-beast-roses/