This post may contains affiliate links for your convenience. If you make a purchase after clicking a link we may earn a small commission but it won't cost you a penny more! Read our full disclosure policy here.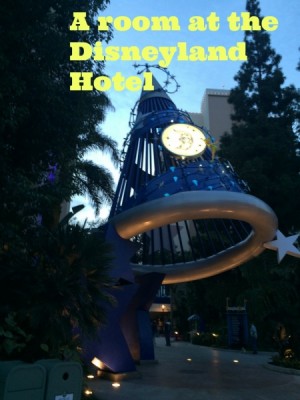 the entrance to the Disneyland Hotel from Downtown Disney
The Disneyland Hotel is one of my favorite places to stay on Disneyland property. The dining, the theming, the lobbies, the rooms, the service, one of the best bars anywhere, and the location are hard to beat.
I've stayed here three times: twice in what is now the Adventureland Tower, and most recently in the Fantasty Tower. All three times, we were thrilled with our rooms.
This year, my sister was lucky enough to go to a conference at the Disneyland Hotel, and my parents came along as well. My sister got a room at the hotel for $199, which is extraordinary since rooms at this hotel can be as high as $400 a night. In addition, her conference paid for parking, which is generally $18.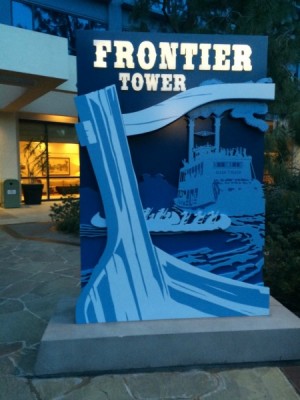 Welcome to the Frontier Tower!
I met up with her during her conference and asked if I could peek in her room and take a few photos. She stayed in the Frontierland Tower, which has this fantastic mock up of Big Thunder Mountain Railroad in the lobby:
Model of Big Thunder Mountain Railroad in the Frontier Tower Lobby
She was checked into room #2393. The first thing I noticed when I walked into the room was that it seemed smaller than the previous rooms I've stayed in at this hotel. Either it actually was smaller or was laid out differently; it was hard to tell. At any rate, both beds were very close to their respective walls.
Ooooh, look at the fireworks!
The headboards that light up at the touch of a switch worked beautifully. However, the music box that plays music to go along with it sounded as if it was slowing down. Perhaps it needed repair.
The bathroom seemed comparable to other rooms I've stayed in, and we all enjoyed the adorable touches like the Mickey glove sconce: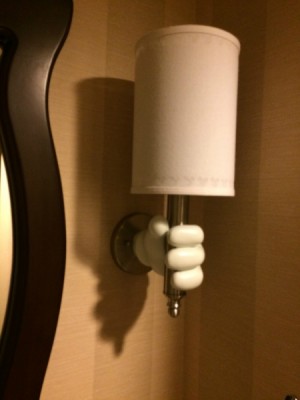 I wish I had this light sconce in my house!
There appeared to be ample closet and drawer space. The view was less than thrilling. The room overlooked the parking lot. However, this is fairly typical at the Disneyland Hotel and the nearby Paradise Pier Hotel. Both these hotels are high rises and are almost completely surrounded by the city of Anaheim. You could pay a premium price for a gorgeous view of the theme parks, or you can luck out and get one even if you pay for a standard view. (This has happened to me on more than one occasion.) Otherwise, you could be looking at anything from the hotel landscaping, Downtown Disneyland, a parking lot, or city rooftops.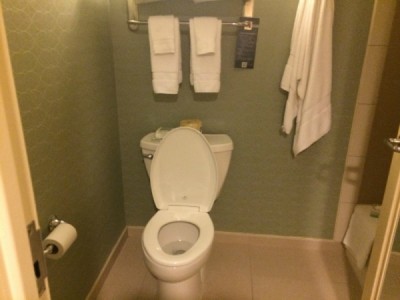 The bathroom.  The shower is to the right.
I commented that the room felt warm. My family informed me that they tried to set the temperature to 68 but it didn't seem to be working. One very important point: no one in my family called to report this. It's hard to know what Disney would have done if they were alerted to the problem. Perhaps they would have sent someone to fix or, or offered to move them to another room. There's no way to tell.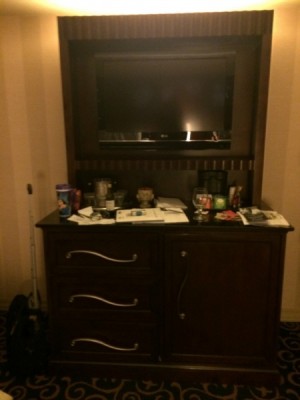 Dresser and television
So, what does all this mean? It could be that Disney put the conference guests, who were paying a lower price, in the less than desirable rooms. Or, it could be that this room was the first one available when my sister checked in. It's also possible that there were problems with this room, but no one complained about them, so Disney didn't know.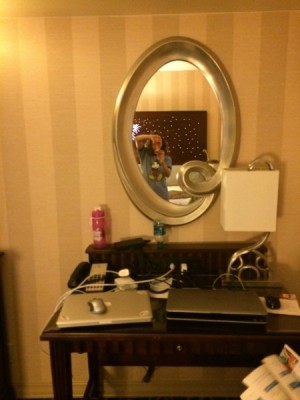 Desk (with unintended selfie)
I think this brings up an important point for anyone staying at any hotel: even the best hotels might have a few rooms with problems in them. If you find yourself in one of these rooms, and find that it is less than was advertised, call the front desk to get the problem resolved, or ask to be moved to another room. It's your vacation, and you probably didn't get it for free. Make sure you get what you paid for.
All in all, I would not hesitate to stay at the Disneyland Hotel again. If I encountered any problems with my room, I would report it politely and see how Disney could fix it. In my experience, politeness and honesty will get you results at Disneyland.
Incoming search terms:
https://www themouseforless com/blog_world/room-2393-disneyland-hotel/