This post may contains affiliate links for your convenience. If you make a purchase after clicking a link we may earn a small commission but it won't cost you a penny more! Read our full disclosure policy here.
By Michelle Leifur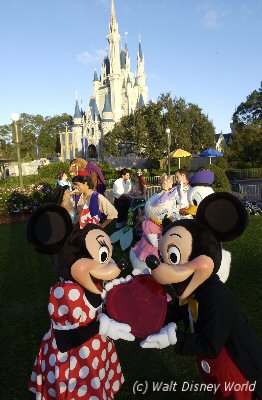 Tomorrow is Valentine's Day and all across the world people will be trading red lacy hearts with romantic sentiments, sending flowers to their beloveds at work, and planning romantic dinners for just the two love birds. And while that is all well and good, there is more to a romance than just February 14th and that includes having a little cooing while on your vacation. But can you really find romance when surrounded by giant mice in red polka dot dresses and eight-foot-tall ants? But of course, you can!
Let's start with the obvious. Holding hands. How much more romantic can it get than holding hands with your sweetheart while walking through an African village? Snuggle up to your cutie pie while watching Fantasmic. Or maybe sway with your beloved while watching Cinderellabration. Who cares if everyone sees you are in love! You never know. You could inspire someone else to pick up their partner's hand and hold it like they did when they were first dating! These are free moments that can bring a huge connection between you and your loved one.
Plan a romantic dinner for just the two of you. There are many reputable babysitting services available as well as resort child care at many deluxe resorts. If you happen to be vacationing with extended family or a good friend, you could always trade nights to allow each couple the opportunity for a night out alone. How about watching Illuminations from the Rose and Crown? Maybe a quiet meal at Jiko's or another resort dining option is the touch your romantic connection needs. Let your servers know that you plan on lingering over a romantic dinner. They will know not to rush you and may even be able to suggest something to enhance your dining experience. Don't just grab a quick bite at Pecos Bill while running between Big Thunder and Space Mountain. You can do that tomorrow with the kids. Plan a meal at Cinderella's Royal Table or ask for a quiet table at Restaurant Marrakesh.
Sneak a kiss on Small World or on Haunted Mansion. Just don't get carried away! There are cameras watching and you may just hear a quiet serious voice telling you to knock it off! Buss your partner at the stroke of midnight at Pleasure Island. Or better yet at the grand finale of Wishes. You won't ever be able to say that there weren't fireworks when you were kissed!
Are you planning an anniversary or second honeymoon trip (or even a first honeymoon trip)? How about donning a pair of wedding ears? These cute ears come in white with veils or black with top hats. Let everyone know it is your honeymoon or anniversary. Cast Members have a habit of surprising or treating guests to special events happening while on vacation. Also, let your travel agent know. They sometimes can assist you in planning something special and romantic.
Want to do something sneaky yet romantic? Have roses or chocolates or wine (or all three) sent to your room. Many florists and gift services can assist with creating a special amorous basket or gift package sent to your room. And don't forget about the ultimate in romance, the cute and cuddly plush animal. Despite its sappiness, it always seems to be a hit (for her or him).
Take a carriage ride. Several resorts, such as the Boardwalk and Port Orleans, offer carriage rides for a nominal fee (usually around $35) in the evenings. Reservations can be made at the front desk or you can simply wait for an opening at the carriage depot. It doesn't get much more romantic than that! If you are more for activity, there is always a surrey bike for rent which you can take for your own twilight tour of your resort or the Boardwalk. This would be especially romantic if your loved one's name was Daisy (not that she hasn't heard that before).
We asked our readers to share some of their ideas of how they have found a little moment of romance while on a Disney vacation. We were thrilled with some of the unexpected responses!
Ginger wrote saying, "On our Disney World trip in 2003, we took our children, then 4 and 6, and my parents joined us. We never have alone time with just each other. My parents were eager to take the kids and let my husband and I have a "date night". We went to Pleasure Island for the night. As we walked around and saw all of the dance clubs, it looked like fun, but not for us that night. We wanted something where we could just sit and enjoy each other's company. We found it at the movie theater! The theater is wonderful there. And to top it off, Pirates of the Caribbean had just come out. It felt very Disney watching Pirates at Disney World. The next day we rode the ride by the same name with our kids. It felt like we had made a special memory for just the two of us."
And Mic's husband shared a secret with her on a romantic boat ride. She wrote to us, "Riding the boat from Downtown Disney to Port Orleans Riverside at night, it was a quiet night and my husband and I were snuggled up against the chilly breeze when he informed me that he could use his hotel experience to maybe get a job at Disney. This was the first time he admitted that we weren't going to WDW just for the kids. Maybe it was the atmosphere, floating down the river past the much fantasized about treehouse villas, into the bayou that was our home for the week, but it was a very romantic setting after dark."
Bethany and Brendan vowed to keep their regular "date night" even while on vacation. This is what they had to say, "My husband and I try to make Friday evenings 'date night' each week, so when we were on vacation at WDW we kept our tradition. Brendan has taken several trips to England before we were married, and he has always said that someday he wants to take me to England and show me all of his favorite places. So on our WDW date night, he surprised me by taking me back to Epcot and heading to, you guessed it, England in the World Showcase. We strolled around and he told me stories of his trips, making it seem like we really were overseas and he was showing me the different cities he'd visited. We bought fish & chips and found a bench back in the garden by the gazebo and sat and ate and talked. When the group The British Invasion came out, Brendan asked me to dance with him – I was a little embarrassed with all of the people around, but then I figured, 'what the heck, no one here knows us,' and we danced together in a corner of the garden. After a few songs, we wandered away and found a place to watch Illuminations. We took our time walking back to the park entrance after the fireworks, then made our way back to Wilderness Lodge for a late soak in the hot tub before bed. It was a lovely, slow-paced, intimate evening in the midst of a busy, crowded vacation!"
And speaking of Wilderness Lodge, Chris S. wrote to us telling how she found romance by staying at the resort for an evening. "Our favorite romantic moment at WDW was at the Wilderness Lodge, although this will work at some of the other resorts as well. It was later in the evening and we strolled on the beach together. There have the canopies on the beach there. We snuggled in one and just listened to the evening sounds."
So whether you plan something truly romantic or just find something spontaneous to surprise your love (and yourself) you will be sure to find something that sparks romance if you just take a moment to look for it.
Don't forget to memorialize your trip. You could get your portraits painted or drawn by one of the many artists stands throughout Disney. Or maybe do something silly like caricatures! Another option would be to collect as many Photopass opportunities as possible and then pick out your favorites. Don't be shy about asking the photographer to take several shots of different poses. Disney has found that if you have more options you are more likely to find a pose you like. If you don't want to purchase Photopass pictures, ask strangers to take your picture for you! Most are more than willing, especially if you offer to reciprocate. A more permanent "keepsake" of your trip would be to purchase a Leave a Legacy image at Epcot. Nothing says, "I love you" like you and your sweetie engraved for all times on a giant monolith. At least each year you can come back and visit yourselves and remember your special trip!
Magically Speaking Featured Article
Library of Congress ISSN:1556-3863