This post may contains affiliate links for your convenience. If you make a purchase after clicking a link we may earn a small commission but it won't cost you a penny more! Read our full disclosure policy here.
Who Framed Roger Rabbit was arguably one of the biggest films of 1988. With its combination of live action and animation, director Robert Zemeckis created a classic film that was not only critically acclaimed, but also won the hearts of audiences around the world. Disney first obtained the film rights in 1981, based on the book Who Censored Roger Rabbit by Gary K. Wolf. Shortly after, Roger Rabbit was set to become the face of their upcoming theme park, Disney's MGM Studios. Sadly, even after the giant success of the film, he vanished from the theme parks almost completely. Let's explore what exactly happened, where you can still find references and Easter eggs to the film, and what attractions almost appeared in the parks.
Lets go back in time to the first few years of Disney-MGM Studios when guests had the opportunity to see live productions being filmed inside the gates of the park. In addition, at this time you could still find Roger Rabbit's presence in the park as well.
The main area of the park that was themed to Roger Rabbit was a portion of the former Backlot Tour. It was designed to be similar to the finale scene of the Roger Rabbit film. This was where Judge Doom had broken through the wall of ACME studios and is planning to dip all of Toontown to make way for the freeway. This area was known as the Loony Bin, and it was where guests exited the Backlot Tour. This area was chock full of references to the film and Roger Rabbit himself. The coolest of which (to me anyway) was the Dip Machine where Guests could actually get under the wheel and pose for a picture as if you were going to get rolled over like Judge Doom.
There were also little effects that were similar to the ones seen in the movie, such as boxes that when opened would make noise. The Toon Patrol car driven by the Weasels in the film also made an appearance. Here guests could take pictures next to the car with standees of the Weasels. Speaking of pictures, one of the most popular photo opportunities was a life sized standee of Jessica Rabbit. There were two different versions of the Jessica Rabbit photo. Guests could pose next to the car with her, or they could be super imposed with her or Benny The Cab. This technique was very similar to what the Disney PhotoPass photographers use today for characters like Olaf or Tinkerbell.
Above the Guest area there were anvils, rockets, and a "ton of bricks" hanging. There were also crates around the room with a simple ACME logo stamped on them. These crates had visual gags from the movie. For instance, ACME Portable Holes and Eye Balls.
Guests could also see Eddie Valiant's car as well as a few of the Red Car Trolleys from Who Framed Roger Rabbit. One thing of note here, was that all of the props were not behind a rope, or behind glass, guests could actually touch and walk around them.
As Disney fans, we sometimes romanticize things that were never made, and this one is no exception. Sunset Blvd, a land on the right hand side of MGM Studios entrance, eventually gave us two of the park's most notable attractions. These of course would be The Tower of Terror and Rock'n Roller-coaster. Originally, this entire area was planned to be a mini Roger Rabbit land consisting of three attractions. The first one Guests can actually visit today at Toontown in Disneyland, Roger Rabbit's Cartoon Spin.
Not much was known about the second attraction other than that guests were going to be Baby Herman's stunt double and film a sequence in his place. This was going to center around the short entitled "Tummy Trouble" where Guests would wiz down the halls and into hospital rooms in a over-sized buggy all while wearing a baby bonnet. And no that is not a typo.
The last of the three attractions was going to be called "The Toontown Trolley". Here guests would board a simulator ride, similar in size and scale to that of Star Tours. The main difference in this experience was that guests would be surrounded by screens instead of just looking forward. From what I can gather,  Roger Rabbit was going to be your driver through this zany Toontown attraction.
Now all of this sounds cool, right? So what a happened? Why is Roger Rabbit almost completely gone from Walt Disney World? Well, like I mentioned at the beginning of this article, Roger Rabbit was only partially owned by Disney. He was also owned by Amblin Entertainment; yes Steven Spielberg's company. At the time, Steven and Disney's CEO Michael Eisner didn't see eye to eye as to who owned these beloved characters as far as theme parks go. Steven Spielberg didn't have a giant resort in which to throw Roger Rabbit and his friends into as Disney does. So in a moment of corporate greed, Disney stopped putting Roger and his pals into the Disney Parks. What a shame it was to see that none of this would ever come to be.
Now he isn't completely removed from Walt Disney World, in fact I will let you in on some places you can still see Roger Rabbit references. The most obvious one being a three story statue of Roger standing on a container of Dip at Disney's Pop Century Resort.
Next, let's head back to Disney's Hollywood Studios and look at a few things that survived. First thing of note is in the Echo Lake area of the park. The Maroon Studios sign featuring Baby Herman, Roger and Jessica Rabbit, is still standing above a gift shop at the end of Hollywood Blvd.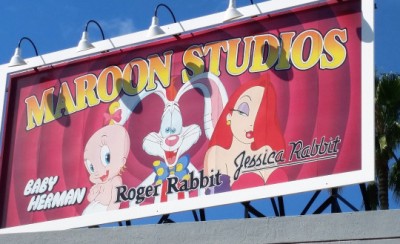 If you're facing the Maroon Studios sign, and turn around to face Hollywood and Vine, you will see two Roger Rabbit references. The first one is on your right and it simply says "Eddie Vailiant Private Investigations: All crime, Surveillance, Missing Persons." Just to the left of his window, is the silhouette of Roger Rabbit jumping out of the window in the classic scene from the movie.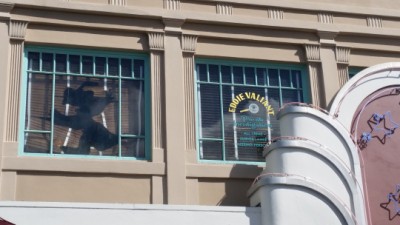 Now lets go onto the counter service restaurant, Backlot Express, which is themed around movie making departments like paint, stunts, models and sculptures. If you're walking toward thefront entrance, you'll notice on the left hand side is a car right before you walk in. This is actually the same car that was used for the Weasels car in the Loony Bin. However, that is not the only prop from the film in this restaurant.
If you head to the back left hand room, you will see a black go-kart looking chair. This is the actual seat that Bob Hoskins sat in during the filming of Who Framed Roger Rabbit. That seat was the real life Benny the Cab. Back in those days before computer animation, they would film the actor on the prop and then cover the prop with animation.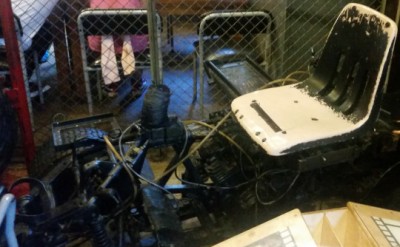 Finally, the last thing that made it through at Disney's Hollywood Studios, is Roger Rabbit's hand and foot print in front of The Great Movie Ride.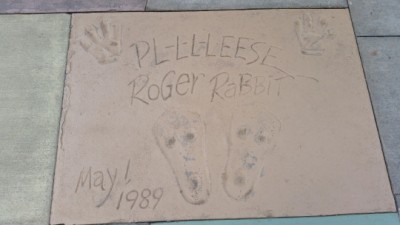 As a side note, Roger Rabbit was also a walk around character in the parks, and for character dining. I saw him, and got his autograph from Cape May Cafe. And yes that is me from like 1996 or 1997.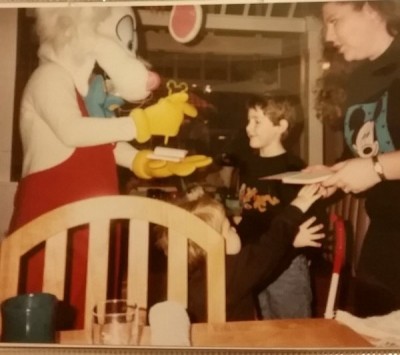 The next time you're at Disney's Hollywood Studios, look around for these hidden gems and as you stroll your way down Sunset boulevard towards the Tower of Terror, look around and think of what could of been.
Do you love Roger Rabbit? What do you wish would have been built in the park? Which hidden gem is your favorite? Share your memories of Roger in the comments section!
Incoming search terms:
https://www themouseforless com/blog_world/roger-rabbit-disney-mgm-studios-history-possibilities-reality/
https://www themouseforless com/blog_world/roger-rabbit-disney-mgm-studios-history-possibilities-reality/#:~:text=Disney first obtained the film the theme parks almost completely
roger rabbit disney world
roger rabbit at disney world
Jessica rabbit pose print
is roger rabbit at disney
who framed roger rabbit disney world props
hollywood disney studio studio roger rabbit
former disney attractions roger rabbit
disneyworld roger rabbit