This post may contains affiliate links for your convenience. If you make a purchase after clicking a link we may earn a small commission but it won't cost you a penny more! Read our full disclosure policy here.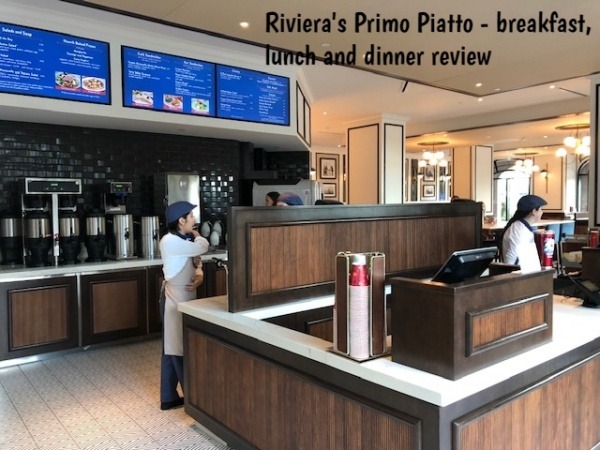 This past trip we stayed at the new Riviera resort, and ate at the quick service restaurant Primo Piatto for breakfast, lunch and dinner. I have to eat gluten free, while my husband does not, which gave us the opportunity to order the same items and see how different the gluten free versions would be. On two occasions the regular beat out the gluten free (albeit not by much), but on one occasion the gluten free won!
This is a quick service restaurant, where you order at the register, but then they bring your meal out to you. There were plenty of servers around, and people to ask to clean tables if needed. We felt that the restaurant itself could use more seating, but if the weather is nice there is seating outside as well. Its overall size was comparable to Capt Cook's at the Polynesian or Gasparilla Island Grill at the Grand Floridian.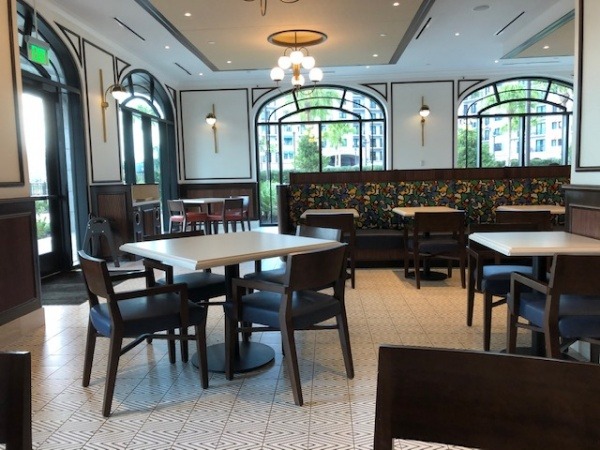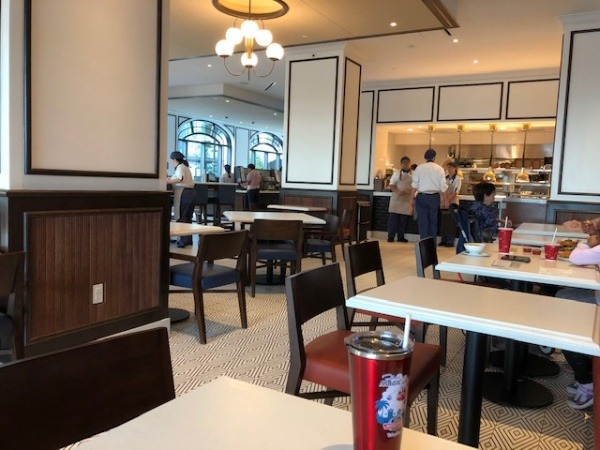 Breakfast
The menu was pretty extensive, and offered a good variety of choices for every meal. At breakfast we both ordered the Ham and Egg Artisnal flatbread pizza, at $10.29 each. The gluten free flatbread was an Udi's pizza crust (top photo), while the regular flatbread was formed from a ball of dough (bottom photo). While the regular one looked tasty, the gluten free was about twice the size! My husband said that he'd consider getting the gluten free next time, to get more for his money. Pizzas came with a fruit cup. Both were very tasty, and we both agreed that we'd go back to Primo Piatto for breakfast on future trips.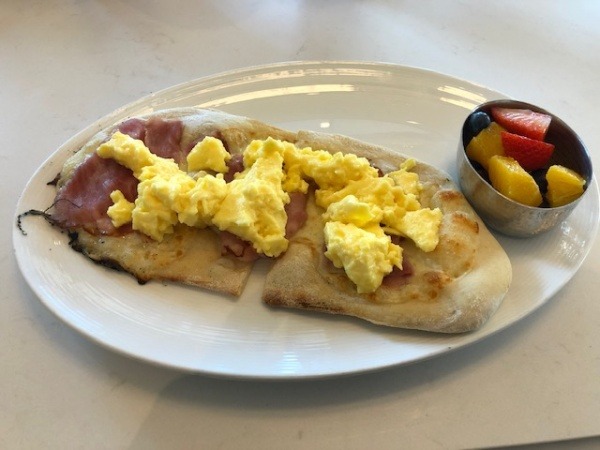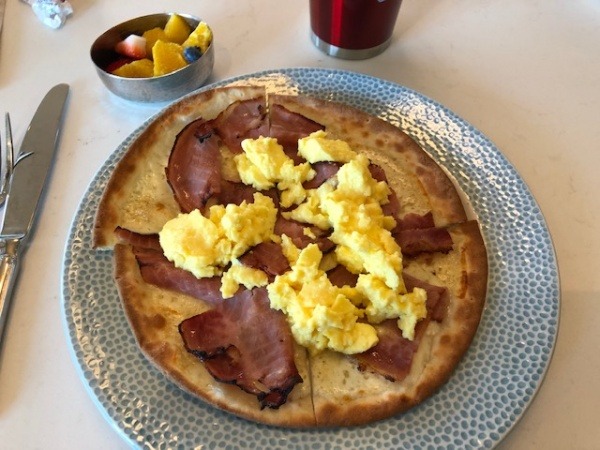 Lunch
For lunch we both opted for the Croque Monsieur, which is a ham sandwich, topped with swiss cheese (regular on the left, gluten free on the right). We both got the romano and herb fries as our side. Each meal was $12.99. This sandwich was devine, and to be honest, we ate it for lunch another day on our trip as well! The first time I ordered it I didn't get the romano cheese and herbs on my fries for some reason. I asked the server and she brought some cheese out to me to sprinkle on top of the fries. This sandwich is simple, but incredibly tasty and worth your money.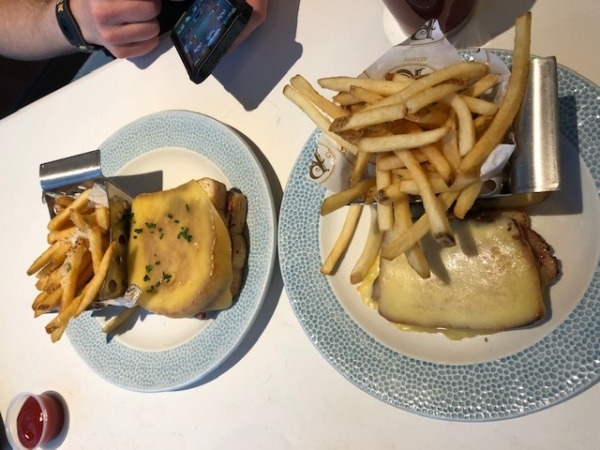 Dinner
Riviera's Primo Piatto has similar selections at lunch and dinner, with a few more choices at dinner. We chose to try the Bacon Cheddar Burger for $14.49 each. My gluten free burger was essentially the same except for the bun. Both burgers were delicious! I will note that the original listing for this burger said that it included brisket on top. At the beginning of our weeklong stay at the Riviera the brisket was listed as part of the burger. By the end of our trip, when we ate this meal, the listing had changed. It was still a really good burger, and we would highly recommend it. The meat was juicy, the bacon was thick cut, and the slice of cheese was delicious. I chose the romano and herb fries, while my husband had the fruit cup. By this meal we'd eaten at Primo Piatto several times, and one Cast Member in particular greeted us warmly, remembering us from previous visits.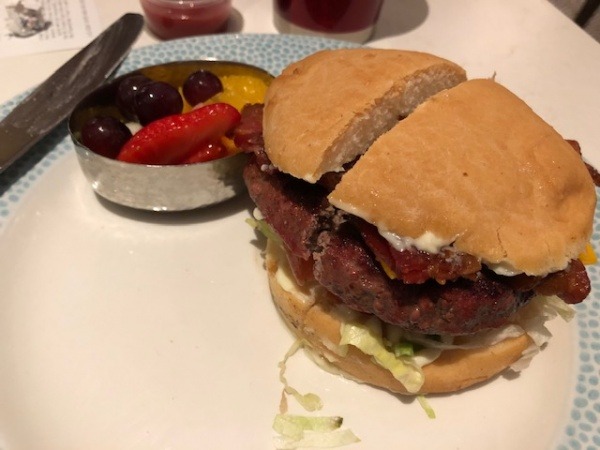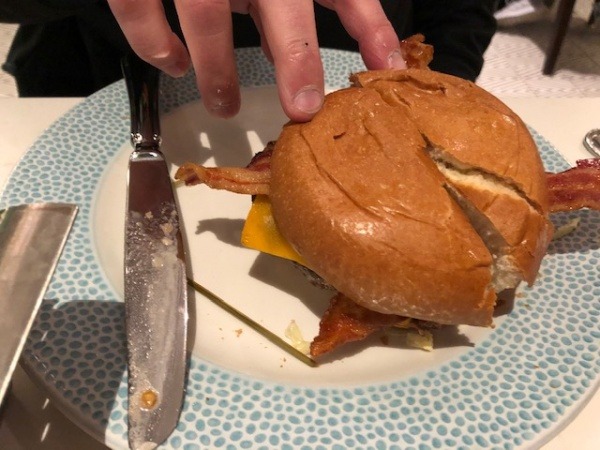 Overall, we really enjoyed eating at Riviera's Primo Piatto. For a quick service restaurant they had some tasty choices, and great service. Whether you're staying at the Riviera, or stop by via Skyliner for a visit, plan a meal at Primo Piatto. I don't think you'll be disappointed.
Have you been able to try Primo Piatto? Let us know your thoughts in the comments, or on Facebook or Twitter!
Did you like this article? Make sure to share it with your friends! Check below for easy ways to share!
Want to visit a Disney Destination? Contact The Magic for Less Travel for more information and a free, no-obligation quote.