The Rivers of America: Disneyland's Busy, Quiet Place
|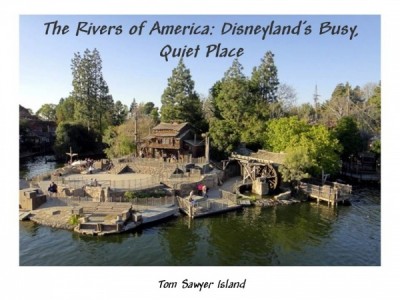 We're embarking on a steam-powered journey along the Rivers of America. On our trip, we'll visit the magnificent Columbia in the great Northwest, the powerful Potomac in the mid-Atlantic, and the rugged Rio Grande along the border of Texas and Mexico. We'll hear the voices of the pioneers, the native peoples, and a mischievous character or two, telling the unique stories and legends of life along America's great rivers. We begin our trip on the mighty Mississippi, headin' south, and ending up down in New Orleans. ~ The Captain, The Mark Twain Riverboat
One of the greatest often overlooked pleasures at Disneyland is watching the activity of the Rivers of America.  This small body of water has some relaxing ways to sit out the heat of the day, cool off, and burn off a bit of extra energy.  If you haven't had the pleasure of idling away an afternoon along the river's shore, now is the time to do it.  The Rivers of America and all of its associated attractions will be closed for refurbishment as of January 2016.  No reopening date has been released but it looks like it will be many months to accommodate the building of the new Star Wars Land that is taking place in the region.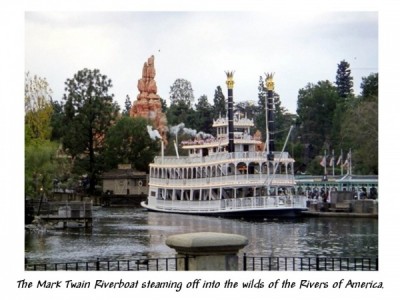 Mark Twain Riverboat
The Mark Twain is an iconic part of Disneyland's history and held a special place in Walt Disney's heart.  He put up the money to build this boat and even held his wedding anniversary on her decks.  On board this 28 foot, 19th century inspired ship you will travel the Rivers of America hearing tales and fun facts about the river men of turn of the century America.  There are four decks on this vessel; three of them can be traveled in good weather while the boat is in motion (if it is raining, the top deck is off limits).  The boat is propelled by a large steam driven paddlewheel and the 14 minute ride is relaxing.  For those who would like to experience a bit of magic, check out the article previously posted on the Mouse for Less blog about the riverboats.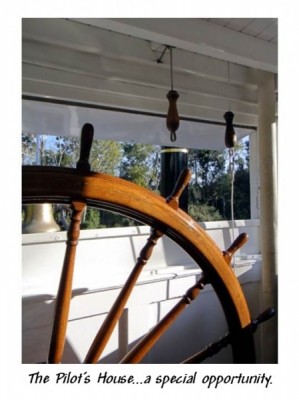 Sailing Ship Columbia

This 3-masted, fully rigged replica of an 18th century merchant ship sails the Rivers of America on most weekends and during peak periods.  She follows the same course as the Mark Twain and the explorer canoes.  Her 84 foot length holds many interesting finds including her ten cannons and two deck-mounted swivel guns.  There is a small museum below deck whose displays show just what it would have been like to be a sailor in the 18th century.  This 15 minute sail is filled with sea shanties, tales of pirates, and stories of life on the sea.  To avoid disappointment, check the Columbia's schedule on line before you visit (disneyland.com).

Davy Crockett's Explorer Canoes
Are you feeling a bit hot?  Have you over dosed on sugary Mickey shaped snacks and need to burn off some energy?  You might want to try Davy Crockett's Explorer Canoes.  Each 35 foot long canoe seats twenty guests and two cast members.  These small dugouts are modelled after the smaller canoes used by Native American and European Explorers when North America was being explored and settled.  There is no motor or track moving these boats along.  The horse power (or should that be, people power) moving these canoes along is supplied by short paddles and the passengers on board.  Do not worry.  You do not have to have any previous experience with canoeing to participate in this attraction.  And if paddling sounds like too much work, fear not, the two cast members are quite capable of moving the boat along the river – though your help is always appreciated.  Small children will need to wear a life vest on this attraction.  The route taken by the canoes is the same as the Mark Twain and the Columbia.  Because guests are so close to the water, this attraction is good on hot days when the water acts as a heat sink.  Sadly, this attraction is not always open; checking the schedule on disneyland.com will help to avoid disappointment.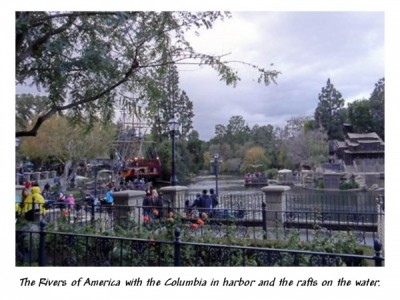 Pirate's Lair on Tom Sawyer Island
Tom Sawyer Island has been part of Disneyland from the beginning and it is unique amongst the attractions at Disneyland because Walt Disney himself planned the design of the island: its overall shape, coves, inlets, caves, and other original activities (all of which opened in 1956).  In 2007, the whole island was reimagined and the pirates took over.  Pirate's Lair has added a set of interactive elements.  On the island you can look forward to caves at Dead Man's Grotto, rope bridges at Smugglers Cove, a blacksmith's shop, Tom and Huck's tree house, climbing, lots of shade, and comfortable places to sit and relax.  Oh, and there is a rumor that the island contains a large pirate's stash of gold and gems.  Best of luck tracking that down, Mate.
Rafts to Tom Sawyer Island

These log rafts shuttle guests from New Orleans Square to the harbor dock on Tom Sawyer Island and back.  The ride is just a short hop and it takes longer to load and unload the rafts than it does to cross the waterway, but the ride is enjoyable and cooling.  You can expect to see two of the three rafts out at any time.  They are named for characters in Mark Twain's beloved novel, Tom Sawyer: the Becky Thatcher, Injun Joe, and Tom Sawyer.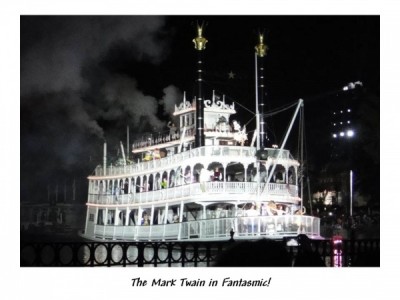 Fantasmic! a Nighttime Spectacular
Many nights throughout the year (check schedule on disneyland.com) the Rivers of America come to life with a tale straight from the mind of Mickey Mouse.  Here you will see good fight evil, love, romance, epic battles, and one of the largest audio-animatronics on the property.  Through the use of live action, water screens, fire jets, steam, smoke, fireworks, and all of the motorized vessels on the waters, you will be swept away into some of the most enjoyable storytelling in the park.  Fantasmic! is now a FastPass required show (similar to World of Color at Disney California Adventure).  There are dining and show options, as well as, free FastPass allocation throughout the day.  For more on how to acquire a FastPass for this attraction, please see either disneyland.com or the Mouse for Less blog's post entitled: Disneyland's New Fantasmic! FastPass System.  It is important to know that this blog was written when the FastPass options were first offered.  There is no longer a dessert package and both the Blue Bayou and River Belle Terrace dining options are now seated front and center.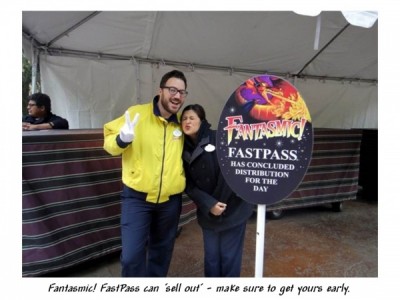 The Rivers of America have a lot to offer guests. What are your favorite aspects of The Rivers of America?