This post may contains affiliate links for your convenience. If you make a purchase after clicking a link we may earn a small commission but it won't cost you a penny more! Read our full disclosure policy here.
By Rikki Niblett
Photos by Marc Lorenzo
In the past couple of trips, there has been a Must-Do that's popped up on my radar. It's not something that Stacy ever mentioned on any of her shows, but trust me, it is a good time! And I think it's something that you need to check out too! It's one of Rikki's Must-Dos!
So what Disney experience do I suggest you partake in the next chance you get? Well to find out, you'll need to take yourself over to Port Orleans Riverside to see Yehaa Bob Jackson located in the River Roost Lounge.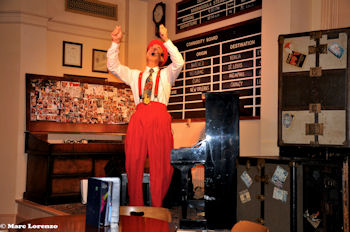 Never seen his show before? Basically in a nutshell, it's absolute mayhem! It's a rollicking, frolicking good time! I can guarantee, by the end of the night, you will be dancing and singing along and you most certainly will leave with a smile on your face!
Yehaa Bob has been entertaining guests at Walt Disney World for over 12 years, and trust me, this man is an amazing performer! His show features boisterous sing-a-longs, incredible piano playing, and even a little bit of comedy! You can tell just how much he loves his job in the energy he puts out each and every night. And let me tell you, from personal experience, his piano skills are unreal!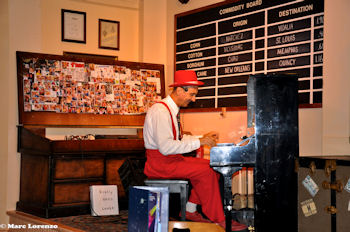 Keep in mind that Bob is extremely big on audience participation, from getting guests to come up on stage and dance to YMCA, to having them march around the room in a conga line, to having singing contests amongst the audience by pitting one side of the room against the other. So make sure you come prepared to be entertained and potentially entertain the crowd yourself.
Now to me, one of the most amazing attributes of Bob's show is that he will remember you! This can be good or bad as he's been prone to ask certain guests on stage to help. (Like when I went with my Be Our Guest Podcast Family. During that show, he would CONSTANTLY call us up on stage to get us involved in all the fun!) But even more incredible is that not only will Bob remember you that night you're there, he'll often remember you the next time you visit too!
A few insider tips: when you hear him blow his horn, it is required that you yell and scream along! (Make sure you practice your big Tarzan Yell!) And make sure if he asks if he's messing up his hair, you answer with "Looks Great Bob!"
Audiences of all ages get a little something out of an evening with Yehaa Bob! I've only visited with a large group, (which by the way, this is a great spot for a large party to gather for a little bit of fun after the parks close at night), but I can guarantee this would be a fantastic experience for a family or a couple as well. There really is something for everyone in one of Yehaa Bob's shows. Plus, since it is in the River Roost Lounge, it's a great place to just sit back and unwind with a drink or snack at the end of a hectic park day.
Bob's show is performed every Wednesday through Saturday at 8:30 p.m. — midnight. And as Bob always says…he's saving you a seat!