This post may contains affiliate links for your convenience. If you make a purchase after clicking a link we may earn a small commission but it won't cost you a penny more! Read our full disclosure policy here.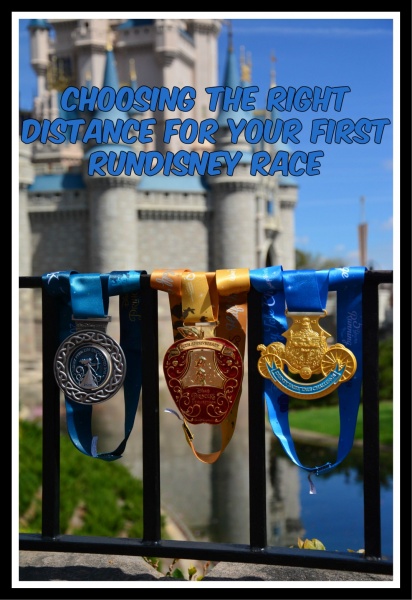 You've decided to run a runDisney race.  How exciting! The next big question is, "Which one?" Deciding which distance is right for you can be a big decision.  Don't worry though, I'm here to help you choose the distance that is perfect for you!
The 5K
If you are new to running, want a race that is a bit more relaxed, or are looking for a race that the whole family can do together, the 5K may be the perfect distance for you! This 3.1 mile run is family friendly, but runners must be at least 5 years old and be able to complete the race on their own. Strollers are not permitted.
I affectionately call this my "gateway distance" because it was the race that started it all for me. I went into my first Princess 5K swearing that I would never do a half marathon.  Famous last words…
For many runners, this is a great starting point.  Even if you are not a runner, you can complete this distance by walking or jogging. Just beware that after completing your first 5K, you may find yourself hooked, just like I did!
The 10K
This is my personal favorite distance. At 6.2 miles, a 10K requires more effort, but the payoff is amazing. If you have conquered a 5K and are ready for a challenge that isn't too overwhelming, this may be a natural next step.
Runners must be at least 10 years old to participate in the 10K and the 16 minute pacing requirement is followed more closely. Even if you are not a seasoned runner, this course can definitely be do-able with some training. You can also walk/jog the course as long as you can finish within the pacing requirements.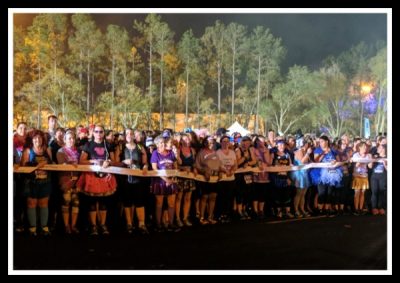 My favorite aspect of Disney races is the character stops. A longer route means more character stops! Some of the 10K races also go through more than one Disney park which is exciting.
Even though it's a longer distance, you will still be finished in time to enjoy a celebratory breakfast or maybe even make it to your favorite Disney park just in time for opening. So, if a 5K seems a little too short and a half marathon seems too long, you may find that this distance is just right.
The Half Marathon
Now we are getting into some serious distances! If you choose to sign up for a half marathon, get ready for a challenging 13.1 mile course that is also a lot of fun. I recently ran my first Princess half marathon and it was an amazing experience! I had done several 5 and 10K races, but this was a whole different beast.
For starters, you will be running this race with about 25,000 other runners. It is definitely bigger in terms of the number of people than the shorter distances. It will be dark when you start, but unless you are one of the fastest runners, chances are, the sun will be up long before you finish. The nice thing about this is you will get to watch the sunrise as you run. Since this course takes longer though, you may find some pretty warm temperatures before you cross the finish line, depending on which race weekend you choose.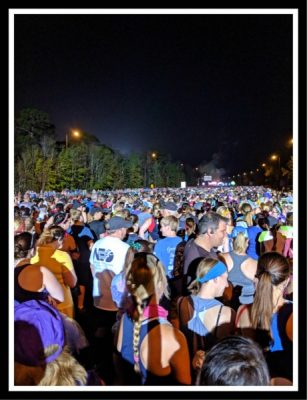 One of the things I love most about the half marathons is that you get the opportunity to run through more than one park. This does happen with some of the 10k races, but not all. All of the half marathon courses pass through at least 2 parks. Courses may change from year to year, but if you are looking to run through the Magic Kingdom, your best bet is to run the Princess Half Marathon or the Half Marathon and/or Marathon during the Marathon weekend in January.
The Marathon
Not for the faint of heart, the Marathon is the longest race that Disney offers. At a whopping 26.2 miles, this distance is enough to challenge even the most experienced runners. In true Disney fashion though, you will find lots of on-course entertainment and some really unique experiences in this race.
As of right now, the full marathon distance is only offered once per year, in January. The good news is, you have a pretty good chance of cooler temperatures for this race. There have been some years though, including the most recent Marathon, when it wasn't just cooler. It was freezing! Something to keep in mind if you choose to run during the Marathon weekend.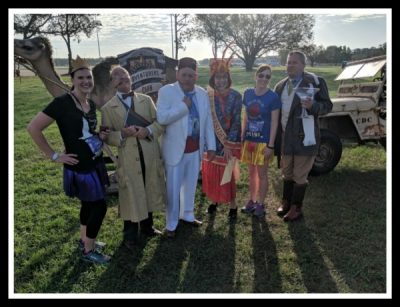 The most unique aspect of this race is that you will have the opportunity to run though all 4 parks during the race. You will also see some unique character stops and interesting photo opportunities. Since the race is so long, you will find more of those here than on any other course.
Year after year, thousands of runners take on the challenge and victoriously cross the finish line. This is the one distance I have yet to conquer and I am impressed by everyone who has done it. It's truly an amazing accomplishment!
Challenges
If one race just isn't enough, you are in luck!  There are several runDisney challenges offered during the various race weekends. Most challenges involve running two different races on back-to-back days. The Fairy Tale Challenge, the Wine and Dine Two Course Challenge, and the Star Wars First Order Challenge all involve running the 10K, followed by the half marathon the next morning. The Goofy's Race and Half Challenge includes a half marathon run, followed by the Marathon the next day for a total of 39.3 miles. Wow!
If you are looking for an international challenge, check out the Disneyland Paris Magic Run Weekend. Here you will find a 31K as well as a 36K challenge. You can also combine one of those challenges or the Disneyland Paris Half Marathon with a half marathon at Walt Disney World and earn the special Castle to Chateau medal. How cool is that?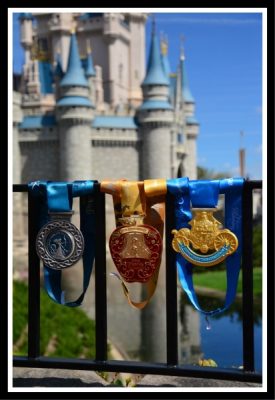 The Dopey Challenge
If you are looking for the ultimate race weekend, look no further than the Dopey. This challenge is so unique that I feel like it deserves to be in a category all its own.
Beginning on Thursday with the 5K and culminating with the Marathon on Sunday, runners will cover a total of 48.6 miles over the course of 4 days. Both exhausting and exhilarating, this is an incredible opportunity for runners to push their limits. At the end of the challenge you will walk away with multiple medals and an amazing sense of pride. I admire everyone who has ever successfully completed this challenge!
There is nothing like running at Walt Disney World! No matter which distance you choose, I hope that you will walk away from each race with a sense of accomplishment and some great memories. Oh yeah, the medals you receive at the end are pretty amazing too.  Happy running!
So, have you chosen a distance for your first runDisney race?  Let me know which race you plan to run in the comments!
Did you like this article? Make sure to share it with your friends! Check below for easy ways to share!