This post may contains affiliate links for your convenience. If you make a purchase after clicking a link we may earn a small commission but it won't cost you a penny more! Read our full disclosure policy here.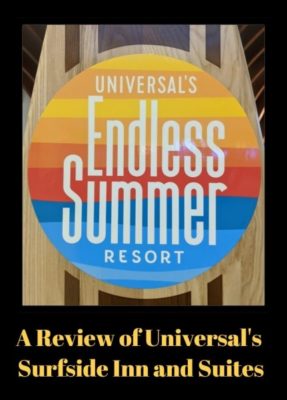 One of the newest resorts to join the Universal Orlando family is the Endless Summer Resort. I recently stayed at Endless Summer in the Surfside Inn and Suites. This hotel is conveniently located and seemed to have a lot to offer, so we were excited to check it out.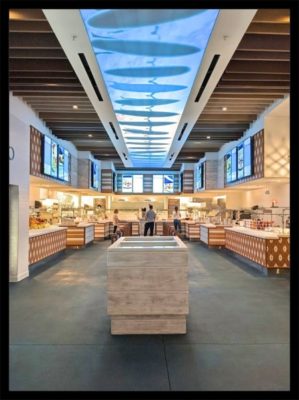 Checking In
We arrived at the hotel and parked in the short term parking while we checked in and unloaded our luggage. The lobby looked spacious, open and clean. There is a Starbucks and a quick serve restaurant in the lobby. There is also a large pool just outside the lobby. I loved the looked the hotel so far!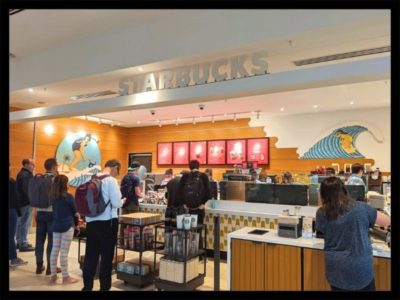 We spent two nights in one of the 2-bedroom suites. Our room was on the 6th floor, at the far end of the hall, so it was quite a hike with our luggage. Later on, we discovered that there was a slight shortcut from the parking garage to one of the back doors of the hotel, but it was still a bit of a walk. The advantage of the location of our room was that we had an exciting view. We were also away from the hustle and bustle of the lobby.
The Room
Our room was very spacious! There is one bedroom with two beds, a tv, a kitchenette, and a table. There is a second bedroom with one bed and an additional tv. The sinks were located between the two bathrooms, with the shower and toilet in a separate space. I liked the set up because there was plenty of room to move around and it made getting ready in the morning easy, even with 3 people in the room. Plus, we all got our own beds!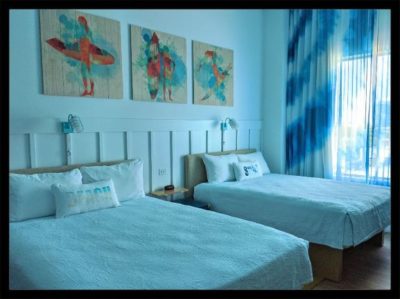 Essential toiletries such as shampoo, conditioner, and soap were included. The room also had a hair dryer, something I always look for. I thought the beds were comfortable and the linens were ok. They weren't heavy, which in Florida, is usually a good thing.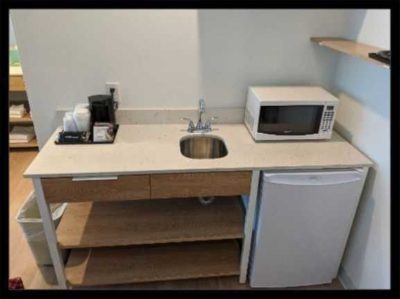 I was very happy with our room overall, except for one thing. The towels. I'm not going to sugarcoat this at all. These towels are pretty much the cheapest that money can buy. They were so awful that I actually said, out loud, "If I never stay in this hotel again, it will be because of these towels." I believe my mom used the word "sandpaper" when describing them. They were that bad. I hope they get an upgrade in the near future because I thought the room was a great, especially considering the price we paid.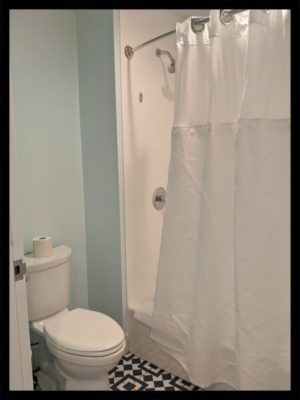 Traveling to the Parks
Getting to and from the parks is relatively easy. There is bus transportation available to Universal and City Walk. If you have a car and want to venture off property, I-4 is a little more cumbersome to get to from Endless Summer than from some of the other Universal hotels, but it is still close by.
I enjoyed my stay at Endless Summer Surfside Inn and Suites. Before writing a review of a hotel, I always ask myself if I would stay in the hotel again. I would certainly stay here again because it was comfortable, convenient, clean, and a great deal…but I would certainly bring my own towels!
Have you stayed at Endless Summer Surfside Inn and Suites? What were your thoughts? Let us know in the comments or on Facebook or Twitter!
Did you like this article? Make sure to share it with your friends! Check below for easy ways to share!
Want to visit the Universal Orlando Resort? Contact The Magic for Less Travel for more information and a free, no-obligation quote.

Incoming search terms:
https://www themouseforless com/blog_world/review-universals-endless-summer-resort-surfside-inn-and-suites/
the mouse for less surfside
https://www themouseforless com/blog_world/review-universals-endless-summer-resort-surfside-inn-and-suites/#:~:text=Plus, we all got our own beds!&text=Essential toiletries such as shampoo something I always look for