This post may contains affiliate links for your convenience. If you make a purchase after clicking a link we may earn a small commission but it won't cost you a penny more! Read our full disclosure policy here.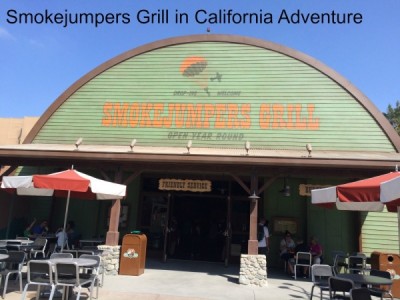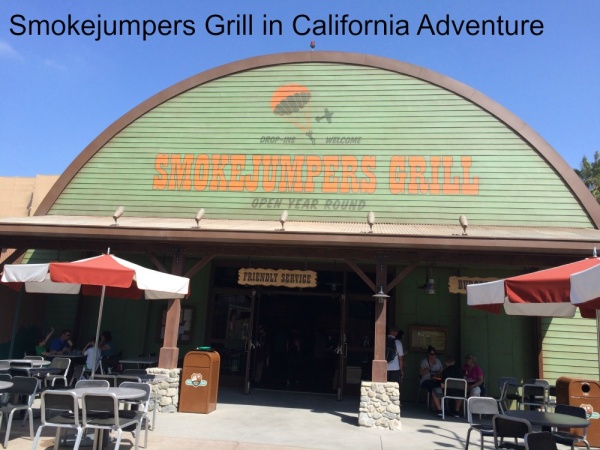 When my family and I visited California Adventure this April, we decided to check out the new Smokejumpers Grill. This space, near Soarin' Over California, was formerly home to the Taste Pilots Grill. Recently Disney decided to re-theme the Condor Flats area so that it fits in more with the nearby Grizzly Peak area. So this quick service restaurant got a new theme; this is supposed to be the hangout of local smokejumpers–wildland firefighters who parachute into a remote area to combat wildfires.
It was 11:25 a.m. when we ordered our food. At this time of day, the counter service location was not crowded at all. I should also point out that Soarin' was under refurbishment, so I imagine that once the ride is up and running again this place will be hopping with families.
Although the location has a new name, the menu is pretty much the same as it was under the old name. Burgers, grilled chicken sandwiches, salads, fries, and the typical kids meal offerings are available.
My husband ordered a Karl Strauss IPA and a grilled chicken sandwich with fries.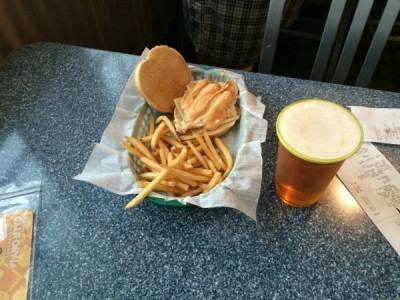 I ordered a grilled chicken salad with Italian dressing and a Sangria. I liked my salad a lot, but I was told that the Italian dressing was at the toppings bar and all I could find was really gross looking ranch. I could have gone back and asked about it, but I elected to just eat my salad undressed.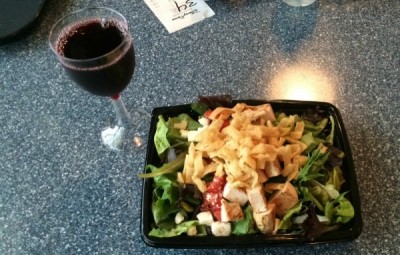 My daughter ordered a kids meal with chicken nuggets, carrots and apple slices, a bottle of water and a chocolate chip cookie. My daughter prefers baked chicken nuggets to fried but she ate three out of four of hers.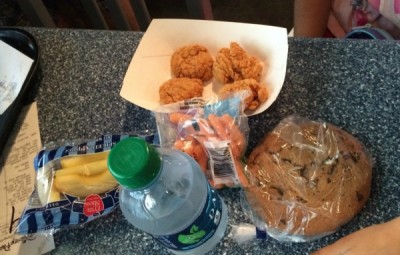 The new set up is very appealing. Parents with children who love firefighters or planes will certainly enjoy it.
Lunch for two adults and one child came out to $48.12. All in all, this is a perfectly acceptable place to grab a quick meal. However, no one is breaking any culinary ground here. There are far more interesting places to grab a quick bite (Flo's V8 Café, Pacific Wharf Café and Paradise Garden Grill come to mind) in this park.
Would I eat at the Smokejumpers Grill again? If it happened to be meal time and we were in the area (perhaps riding my favorite ride!) sure, however, this simply isn't a place I'd go out of my way for.
Are you excited to try Smokejumpers Grill? Have you tried it yet? Share your thoughts in the comments.