This post may contains affiliate links for your convenience. If you make a purchase after clicking a link we may earn a small commission but it won't cost you a penny more! Read our full disclosure policy here.
The Magic Kingdom offers just about anything you could wish for to satisfy your sweet tooth. Strolling down Main Street USA alone, you'll encounter the Confectionery, the Plaza Ice Cream Parlor, Mickey ice cream bars, and Starbucks treats. Smells of cotton candy, fresh-baked waffle cones, and hot java make it hard to venture very far, but trust me on this one: if you can possibly hold out, Sleepy Hollow makes the wait worthwhile.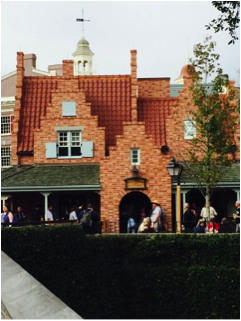 This Liberty Square counter service shop offers a limited menu, consisting of waffles, funnel cakes, coffees, and other beverages. Open air seating in the form of picnic tables makes Sleepy Hollow a perfect stop on a sunny day, but there are a few covered picnic tables if your waffle craving strikes during a Florida rain shower. In my experience, the line moves fairly quickly. Waffles and funnel cakes are made to order, so expect to wait a few moments while your treat is being prepared.
The Disney Dining Plan is not accepted here, but it's worth deviating from your dining plan to experience all that Sleepy Hollow has to offer. Easy to overlook as you're en-route to Haunted Mansion or the Hall of Presidents, this hidden gem offers my very favorite snack in all of Magic Kingdom: the Fresh Fruit Waffle Sandwich with Chocolate Hazelnut Spread.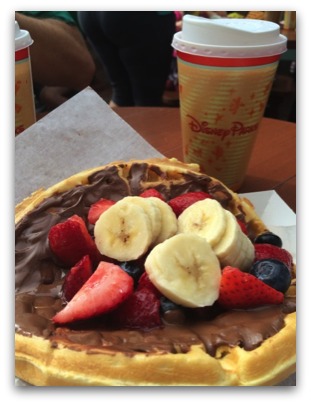 The Fresh Fruit Waffle Sandwich with Chocolate Hazelnut Spread is simple and wonderful. A fresh, hot Belgian waffle is topped with a generous portion of chocolate hazelnut spread, and finished off with sliced strawberries, bananas, and blueberries. The waffle is fluffy and light, acting as the perfect base for rich chocolate. Since the waffle is served hot, the chocolate hazelnut spread melts down a bit, coating the fresh fruit. Intended to be eaten as a sandwich, you're supposed to pick the waffle up, fold it over, and bite (more of a "waffle taco", if you ask me), but I like to eat it open-faced with a fork and knife.
This waffle is large enough to split between 2 people if you're treating it as a snack, or can act as a filling, sweet breakfast for one if you're looking to indulge. At $6.69, this waffle is one of the more reasonably priced items in the Magic Kingdom, especially if you consider how few made to order items you can find here. I paired mine with a hot coffee for $2.49, and it was a match made in heaven.
Other popular items on the menu include the ham, prosciutto, and swiss waffle sandwich, the funnel cake topped with strawberries and whipped cream, and the ice cream cookie sandwich, all under $8.00. If you're looking for something quick to eat, head to Sleepy Hollow. This quick stop won't leave you disappointed!
Have you tried the Fresh Fruit Waffle Sandwich with Chocolate Hazelnut Spread? What did you think?