This post may contains affiliate links for your convenience. If you make a purchase after clicking a link we may earn a small commission but it won't cost you a penny more! Read our full disclosure policy here.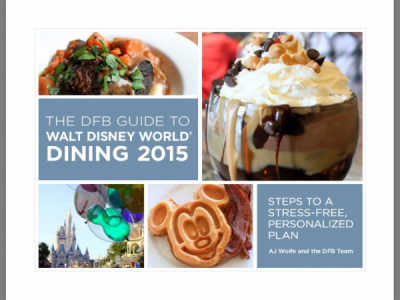 Dining.  It is such an important part of the Walt Disney World experience. (Ok, to many it is the major part of the Walt Disney World experience.)  However, what many people don't realize is that with Walt Disney World being the size it is, well there's sort of this set of unique "rules" that have been put in place for dining successfully. I mean, who wants to be stuck eating just hamburgers, chicken nuggets, and fries when there are options like steak, barbeque, Pan Asian cuisine, and well…fries…but not just any fries…loaded waffle fries!  The problem is, especially for first timers, how do you know where the unique dining options are? And what exactly are those specifically Disney things like ADRs, Tables in Wonderland, the Disney Dining Plan, and so very much more?
Well, AJ and her crack team at the Disney Food Blog are here to help with the "The DFB Guide to Walt Disney World Dining 2015." This e-book contains everything you ever wanted to know about Disney dining and even stuff you didn't know you needed to know, but well, now that you know, your experience will be better for it. Reading this guide will make it so that now you'll be in the know. 😉 I'll admit, I even learned a few new tips from this guide that will further enhance my enjoyment of Disney dining in the future, and I'm a full-fledged Disney veteran!
Which just goes to prove that this e-book is for everyone…whether you are a Disney veteran or a first time visitor, "The DFB Guide to Walt Disney World Dining 2015" can and will be an immensely invaluable tool!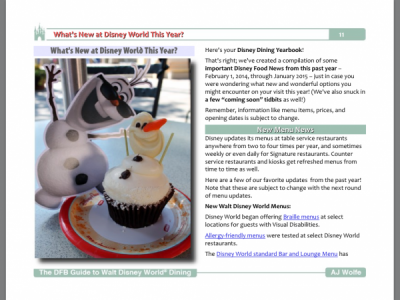 So, what exactly does the guide entail? Seriously….everything; it contains over 490 pages filled with great information. This guide has been completely updated for 2015 and includes fantastic Disney dining and planning information, tips, and recommendations.  Updates also include new treats introduced over the last year, which is especially helpful in finding new things that you want to try that Disney has recently rolled out!
For those planning their first trips to Walt Disney World, there is plenty of information detailing what Advanced Dining Reservations are and how to obtain them, What the Disney Dining Plan is and how to get the best value out of it (and if Free Dining is worth it), a brief description of what MyMagic+ is and how it works, and there's even a glossary, sharing words and terms that Disney utilizes that first time guests wouldn't necessarily know about.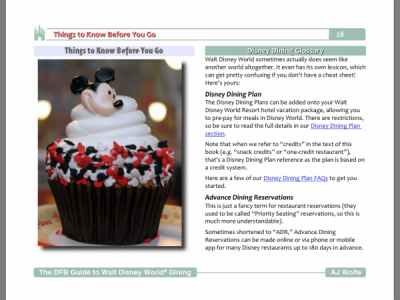 Of course, the guide contains plenty of information that everyone can utilize too, such as ways to save money, full details on the wonderful time of year that is the Epcot Food and Wine Festival, tips for dining with kids (my favorite part is a full listing of all the unique kids meal selections that each restaurant offers), tips for dining solo, tips for those celebrating special occasions, tips for those with dietary restrictions, and tips for those looking to eat healthy, plus so much more.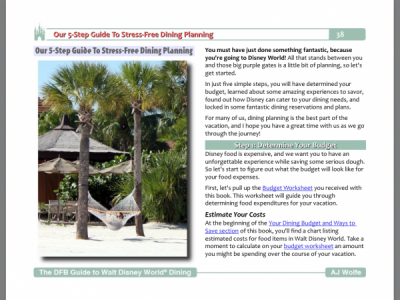 For those of you planners, the best part is the 5 step guide to Stress-Free Dining Planning. Holy cow is this helpful. It goes step-by-step and shows you what you need to think about when planning your dining experiences at Walt Disney World. Also for the planners are worksheets that can be utilized for brainstorming, budgeting, booking, and more! I can't stress how great this information is!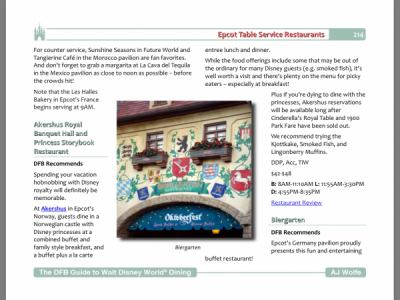 The best part about "The DFB Guide to Walt Disney World Dining 2015," my favorite part, hands down, are the sections that take a look at each park, resort, and other areas and give information, in detail about every Table Service restaurant, Counter Service restaurant, and snack establishment and give you tips on what you should try at each one.
The other thing I love about this guide are the color photos which have been updated for 2015 and are everywhere! Almost every page has some sort of photo. I always love seeing photos of what I may eat on my next trip to Walt Disney World.  Matter of fact, a lot of times, a photo that someone has posted online has prompted me to try something in the parks or at the resort. (For example…I owe AJ for my huge love of cake cups…she's the one who introduced me to them via a delicious-looking photo and now I cannot get enough.)
Speaking of snacks, there's a whole section devoted to them! The best part is it has been updated to include all the great goodies that have been introduced for 2015! You can learn where you can get them, what are the best snack options, as well as a Top 10 Snacks for each park. The guide also tells you which snacks are the best values for guests on the Disney Dining Plan.
The Disney Food Blog is famous for their "Crawls", where you attempt to focus on one particular food item and try that item at as many places around Walt Disney World property as you can. It's a fun game to see how many places you can try. The book includes information on things like a "Cupcake Crawl," a "Milkshake Crawl," and even a "Pretzel Crawl" to name just a few. There's also games, such as food trivia, bingo, and scavenger hunts included in this year's guide!
Another aspect of the book I loved was the section titled "Where can I find…" If you are looking for any particular type of food, just head to this section, find the question you have, and it will likely be answered.  So, if you are looking for where you can find, for example sushi, the guide will tell you which restaurants offer it.
Honestly, I have just scratched the surface with this review….there is really so much more included in this e-book than you can even imagine. If you have a Walt Disney World trip on the horizon…you really should purchase this guide. It's a must for the planning process. (And try not to drool at the photos of delicious food!)
Do you want to win your own copy of "The DFB Guide to Walt Disney World Dining 2015"?  Well, guess what, you can! To help celebrate The Mouse For Less' 16th Birthday, we're giving away a copy of this invaluable resource! Yay!   Just enter on the Rafflecopter link below, and remember that if you don't win, you can still purchase a copy of "The DFB Guide to Walt Disney World 2015," which will help to support The Mouse For Less website!
Rules: Giveaway starts at 12:00 a.m. Eastern on March 19, 2015 and ends at 12:00 a.m. Eastern on March 31, 2015. Open to U.S. residents 18 years old and older.  No purchase is necessary to win. Void where prohibited. Odds of winning depend on the number of entries collected. The winner will be chosen by Random.org via Rafflecopter and will have 5 days to respond after being contacted by email.  Please make sure to use a valid email address. Facebook, Twitter, and Pinterest do not endorse this, nor sponsor this giveaway. Nor are Facebook, Twitter, or Pinterest affiliated with this giveaway in any way.  Entrants are also asked to give a dining tip for Walt Disney World.  This is not mandatory, and do know that the tips may be used on The Mouse For Less website.
Disclaimer:  I received a free copy of "The DFB Guide to Walt Disney World Dining 2015" for the purpose of this review.  The opinion stated above is my own.