This post may contains affiliate links for your convenience. If you make a purchase after clicking a link we may earn a small commission but it won't cost you a penny more! Read our full disclosure policy here.
I received this app for the purpose of writing this review.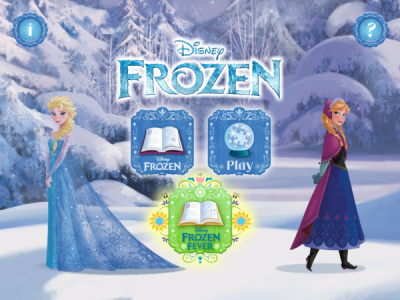 So many little ones (and adults too) love Frozen! Matter of fact, I'm sure many of you are headed to the theaters this weekend to catch Frozen Fever, the short that plays ahead of Cinderella; it's sure to be another great piece to the Frozen puzzle!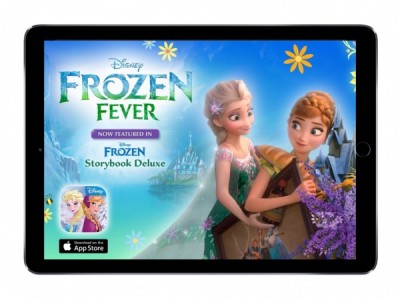 With the new short now in theaters, I'm here to let you know about the Frozen Storybook Deluxe app because it has been enhanced to include the new Frozen Fever story! How awesome is that?
But first, let's back up just a little bit. Just what does the Frozen Storybook Deluxe app entail? Well, I'm here to tell you! There are now three components to the app…you can choose to read the story of Frozen, play fun games, or now…read the story of Frozen Fever!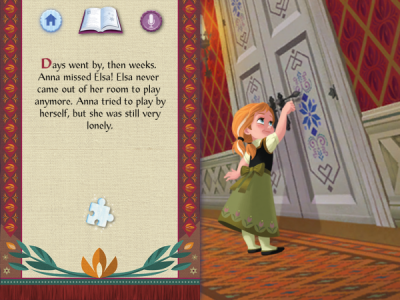 First, I decided to go ahead and read the story of Frozen. What's great about this is that you can record your own narration or have the narrator tell the story for you. I have to admit…what a unique option it is to record the narration in your own voice! You can either have your child read the narration OR you can read it yourself, so when your child picks up the book, your voice will come through to them. I can just picture this being perfect for a family with a parent away for one reason or another; how special it would be to hear that parent's voice?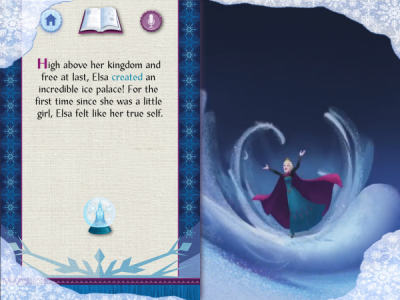 Another fun aspect of reading portion of the Frozen Storybook Deluxe app is that you'll have the opportunity to hear both Anna and Elsa's side of the story at times. All you have to do is simply flip your device around to get the second point of view.
In addition, the artwork and animation included are simply stunning. Plus, there are often also clips from the movie!
While reading, you also have the option to pick which chapter you were on, so in case you don't finish the story for one particular reason or another, you can always go back. (You'll notice…the chapters with the arrows are the ones where you can switch from Anna and Elsa's point of view.)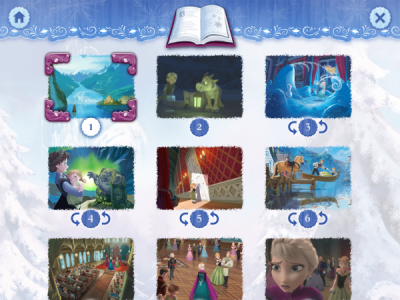 Of course, there's also plenty of fun to be had too…and that's in the play section. Here, you can put together ice puzzles!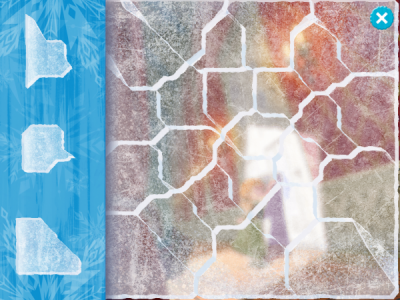 Or you can create your own Frozen pictures, like I did. (PS: don't judge…I'm not the best artist.)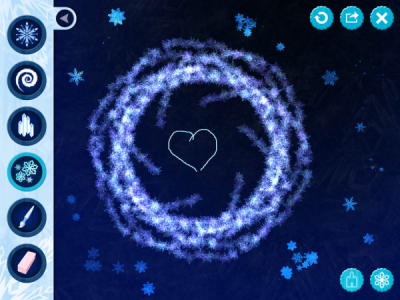 Or a snowglobe featuring your favorite Frozen characters!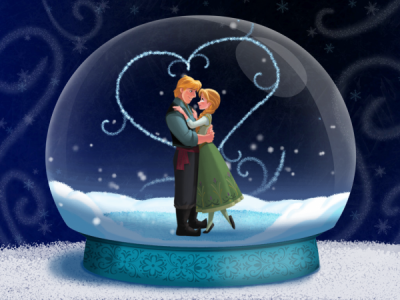 I will admit, I thought the games to be a little on the weak side. The ice puzzle I found to be extremely fun and somewhat challenging, but the drawing section, I wasn't enamored with. It also seemed somewhat difficult to do, thanks to the extra flourishes that were part of the tools.  Especially when compared to some of the other activities in the other Disney Storybook Deluxe collection of apps. But maybe I'm not artistic enough to really get enough out of it.
Of course the newest part of the whole Frozen Storybook Deluxe app is the Frozen Fever section! Here you'll be able to read through the story of the very cute and funny Frozen Fever! I won't spoil too much of the story for you, but it's fantastic!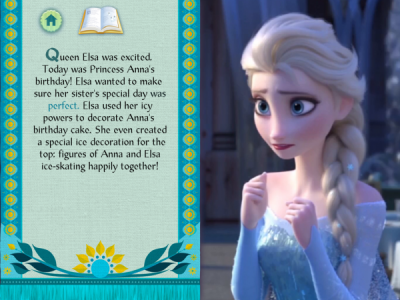 Again, each section includes gorgeous animation to help enhance the story. You gotta love Anna with her fabulous bedhead!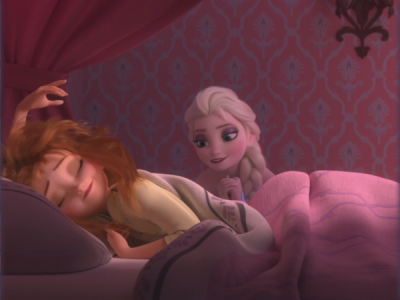 It's really so much fun getting to reunite with these characters that you know and love!
Overall, I thought the app was a lot of fun and perfect for those who have Frozen fanatics in the family!  This app has as much of the beauty of the movie as is possible to squeeze into an iPhone and iPad app. Plus, I mean, now it has the added bonus of Frozen Fever! It doesn't get much better than that!  Frozen Storybook Deluxe costs $7.99, but is a must for Frozen lovers.
Disclaimer:  I was given this app free of charge for the purpose of this review.  I received no other compensation from the app provider, nor was I required to give a positive review. The opinions expressed are my own.

Sponsored Ad:  Would you like to help support The Mouse For Less website in continuing their mission of being THE Disney vacation planning resource?  You can do so by purchasing Frozen Story Theater from our Affiliate Link through iTunes. Thanks so much for your support!
Incoming search terms:
https://www themouseforless com/blog_world/review-of-frozen-storybook-deluxe-app-now-with-frozen-fever/
frozen fever movie storrybook
Frozen fever plot
frozen storybook deluxe app
Full series story about frozen
reading frozen story book
скачать игру frozen storybook