This post may contains affiliate links for your convenience. If you make a purchase after clicking a link we may earn a small commission but it won't cost you a penny more! Read our full disclosure policy here.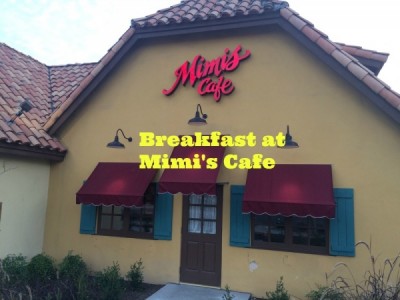 Mimi's Cafe
Mimi's Café is a casual family restaurant right next to the Howard Johnson Anaheim. It is a great place to grab a quick breakfast on the way to the parks, or a quick dinner on your departure day.
The restaurant opens at 7:00 a.m., and we were able to walk in at 7:00 and get seated right away. It's themed to different parts of France, and the large restaurant is broken into smaller dining areas. French music plays over the speakers.
We started with coffee, and I ordered the Egg White Veggie Omelet. It came with either toast or a muffin. I chose to try the Carrot Raisin Muffin, which was served warm. It was delicious – not too sweet, with a nice quantity of raisins.
The omelet was very good, having more of a consistency of a frittata, which I actually prefer. The egg whites were moist, and the vegetables were flavorful and fresh. It came with a side of fruit, which contained fresh, not canned, pineapple.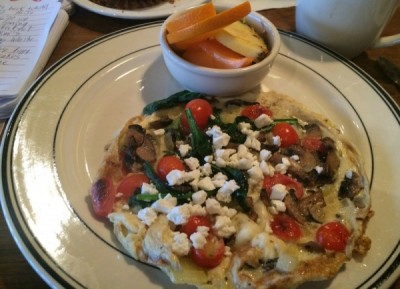 Just look at all those veggies!  And REAL pineapple!
My husband ordered the Quiche Lorraine, which also came with a side of fruit.  He enjoyed it, and was impressed that it was much lighter than he expected.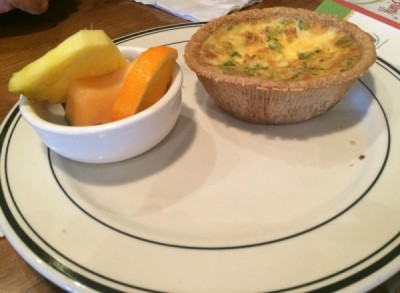 Quiche Lorraine
My daughter ordered the Chocolate Chip Puppy Pancakes with a side of fruit. She loved it, although she commented that it looked less like a puppy and more like a knock off of a Mickey pancake.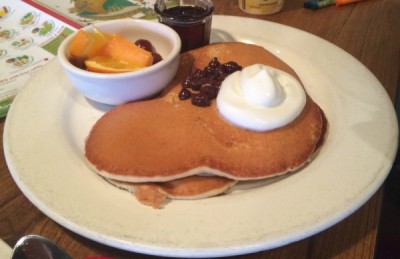 Puppy or Mickey?  You decide!
After we paid our bill, which came to $40.51 after we added the tip, our friendly waitress asked if we'd like some coffee to go. My husband took her up on the offer. I love the fact that included in the price of our meal was a to go cup of coffee! This is a great thing for those of us who are still bleary eyed in the morning and need a little more jolt to get us to the parks.
The time stamp on our check is 7:50 a.m., and we made it from the restaurant, on foot, to the front gates of Disneyland by the park opening at 8:00 a.m. Mimi's Café is located at 1400 S. Harbor Blvd., within an 8 minute walk to the pedestrian entrance to Disneyland.
Have you tried Mimi's Cafe while visiting Disneyland? Let us know your thoughts in the comments.
Incoming search terms:
https://www themouseforless com/blog_world/review-mimis-cafe-near-disneyland-resort/