This post may contains affiliate links for your convenience. If you make a purchase after clicking a link we may earn a small commission but it won't cost you a penny more! Read our full disclosure policy here.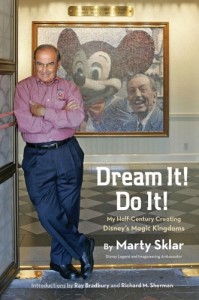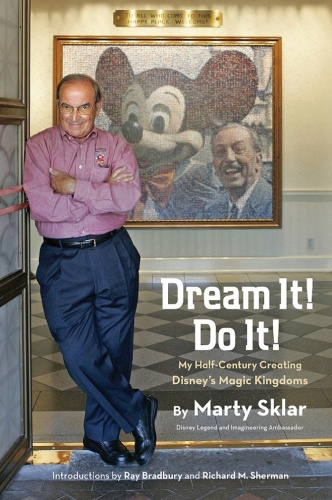 For my first blog post, I couldn't think of anything more appropriate than a review of Marty Sklar's new book,  Dream It! Do It! My Half-Century Creating Disney's Magic Kingdoms.  Marty Sklar is a Disney Legend who has dedicated 54 years of service to the Disney Empire.  His career began at the age of 21 (1 month before Disneyland opened), as a staff writer and rose to the title of vice chairman and principal creative executive at Imagineering when he retired in 2009.  Sklar worked closely with Walt Disney and ghost wrote many of Walt's famous speeches including the famous 24 minute film Walt narrated explaining EPCOT.  Marty is the only Disney employee to participate in the opening of all 11 Disney Parks around the world.
Marty states in his book "I'm going to tell only personal stories-that is those experienced directly by me or my peers. Most of these stories have never appeared in print." Throughout the 20 chapters of his book, Marty weaves detailed accounts of Disney milestones such as the opening day of Disneyland, working on attractions for the 1964-65 World's Fair, carrying on after Walt's death, the hype and challenges of building Magic Kingdom, moving forward with Walt's vision of EPCOT, as well as constructing Disney Parks for Paris, Tokyo, and Hong Kong.
One of my favorite accounts is the story Marty tells of how EPCOT and World Showcase were originally to be two separate parks.  Literally, one hour before a key sponsorship meeting with executives, Marty and Disney Legend, John Hench, pushed the two models of EPCOT and World Showcase together to become one.  Imagineer model makers scrambled together to make it appear it had been designed as one park all along.  Acts such as these truly reflect the creative genius of Disney Imagineering.
Marty also relates to the time he spent working with other Disney Legends such as, John Hench, Harper Goff, Herb Ryman, Dick Nunis, and the Sherman brothers to name a few.  However, his memories of working with Walt take center stage.  Reading about his relationship with Walt, it is apparent how much Walt was respected and admired by Marty and his employees. Walt pushed them to find solutions to problems and find a way to 'make it work'.  Marty cites, "Walt was not a boss who wanted a 'yes' at all costs.  He just didn't like 'no'.
The book concludes with Marty's, "Mickey's 10 Commandments".  A creation of his own ideas and 'learnings' throughout his Disney career.  Marty has given many speeches using these 'Commandments' to train and motivate leaders at Disneyland and Walt Disney World.  After the initial 10,  he has written about 30 more that could also be used as inspirations for everyday life. "Never fear failure – winners sometimes fail too!"
After reading Dream It! Do It!, I was in awe of the brilliant creativity used by the Disney Imagineers for all their amazing accomplishments.  Behind the scene stories are intertwined with humor, ambition, and achievements.  My only complaint is that I wish it were longer.  No doubt, an inspiring read for avid Disney fans and those who have a dream they wish to fulfill.
Sponsored Ad:  Would you like to help support The Mouse For Less website in continuing their mission of being THE Disney vacation planning resource?  You can do so by purchasing Marty Skylar's Dream It! Do It! My Half-Century Creating Disney's Magic Kingdoms from our affiliate link through Amazon.