This post may contains affiliate links for your convenience. If you make a purchase after clicking a link we may earn a small commission but it won't cost you a penny more! Read our full disclosure policy here.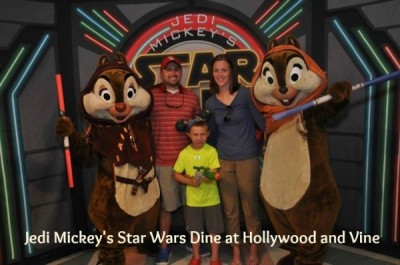 A long time ago, in a theme park far far away…
Our family is always looking for new experiences for our Disney trips. The last thing we want is our summer Disney trips to start to become stale (first world problem, we know…) One morning last year we felt a great disturbance in the force… like millions of Disney and Star Wars fans suddenly crying out in joy.
The announcement was that during Star Wars Weekends, Hollywood and Vine's dinner would become Jedi Mickey's Star Wars Dine at Hollywood and Vine. Character dining with Jedi Mickey and his Star Wars pals! That's right people. Mickey. As a Jedi. At dinner. A Disney and Star Wars fan boy's dream come true! (There is also the option to attend the Star Wars Galactic Dine In Breakfast at Sci-Fi Dine In where guests can meet Darth Vader, Storm Troopers and more.)
Could it possibly live up to our expectations and the cost? Let's find out…
Characters and Experience
The first characters you meet are Chip and Dale as Ewoks. They are there to great you and your family as you are about to be seated. There is a photographer to snap some PhotoPass pics for you. What's even better, is that the photo comes on a limited edition Star Wars PhotoPass card.
Now, on to the main cast of characters…
Jedi Mickey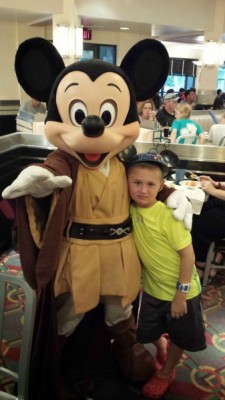 Minnie as Princess Leia
Donald as a Storm Trooper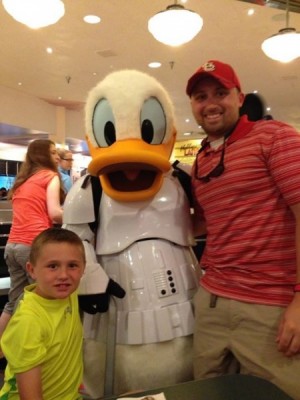 Goofy as Darth Vader… kinda sorta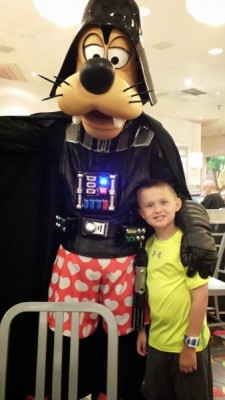 This is a truly a unique and special character dining experience. While there are limited opportunities to meet these characters in the Studios during Star Wars Weekends, you will never find all 6 in one place! In addition, there is no place else in the galaxy where you can have this experience. The characters were fun to interact with. They all seemed to keep their "normal" personalities. For example, Chip and Dale were getting a little silly with our son and Goofy was, well, goofy (in case the boxers didn't give it away).  At no point while we were interacting with them did we feel rushed. In fact, they made two rounds through the restaurant while we were there!
And then there's this… everyone gets a paper light saber!
The Food
This is a character "all you care to enjoy" buffet. Typically, you are not going to be blown away by the food at a Disney character buffet. Having said that, the food definitely had its bright spots. Fruits, salads and breads to start. The dishes are all Star Wars themed (Tusken Raider Chicken, Kessel Run Roasted Strip Loin, etc…) of course. With how busy the buffet got, the food was replenished quickly. This means the food was warm and fresh (not sitting under a heat lamp for 45 minutes). While the choices are all pretty unique (as in not something you will find everywhere in Disney), it is not the food you will leave here thinking about.
Our son though, loved the kid-sized buffet that allowed him to get up and get his pile of chicken nuggets!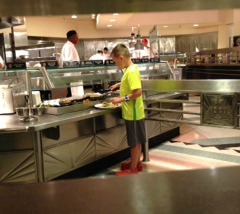 The desserts were the culinary high point for us. Jenny even made the decision to forgo the dinner foods after her first trip and hit up the desserts! Check these out!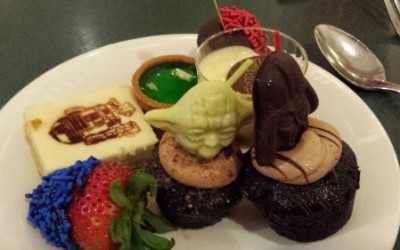 They even have a mini version of the Darth Vader peanut butter cupcake!
These cakes on display were too good to eat!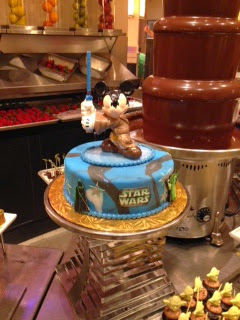 The Cost
The cost for this year will be $57.99 for each adult (ages 10 and up) and $34.99 for each child aged 3-9. It is also available with the Fantasmic Dinner package. Dining Plan is accepted, but will count as 2 table credits per person. If you are using the Dining Plan, the Fantasmic package can be added at no addition charge! Score! Last year, Tables in Wonderland was not accepted, but we heard that some people were able to use the Disney Visa for a discount. Advanced reservations are an absolute MUST and should be made as far out as possible to assure you get the date and time your party needs. In the weeks leading up to Star Wars Weekends, all nights filled up.
Overall Impressions
The Force is strong with this one! Disney is really giving their fans what they want. The only thing that we considered a downside was the price. Paying out of pocket could price out a lot of families. We used our Dining Plan, and had no regrets doing it. If you have Star Wars fans in your family (especially young ones) this is the best opportunity to get the interaction with Disney Star Wars characters. It was well worth the two table service credits. In fact we have an ADR for this spring as well!
Hopefully this is just the tip of the iceberg with new Star Wars experiences in the parks. As the Disney/Star Wars relationship grows, perhaps we can see this be a year round experience?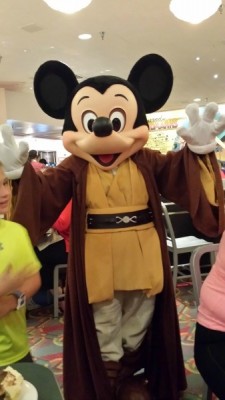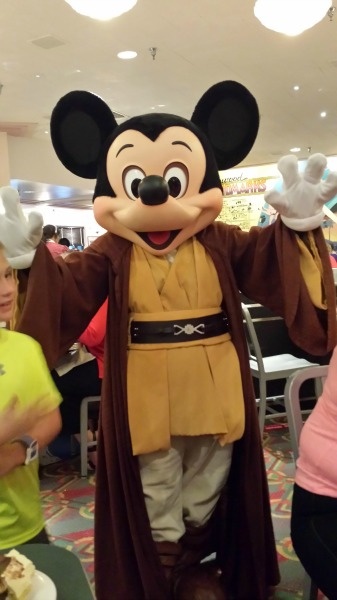 May the Mouse be with you!
 Are you considering booking the Jedi Mickey's Star Wars Dine experience this year? Which character do you most want to meet?