This post may contains affiliate links for your convenience. If you make a purchase after clicking a link we may earn a small commission but it won't cost you a penny more! Read our full disclosure policy here.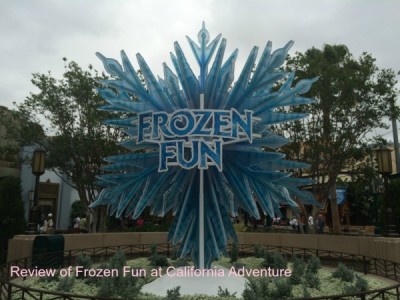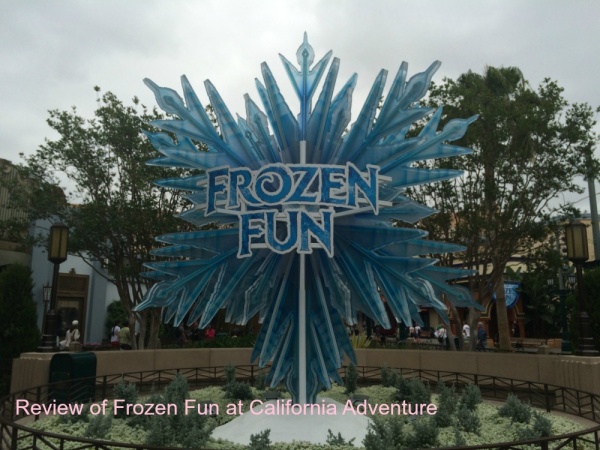 As a mother of an Arendelle-obsessed 9 year old girl, I knew there was no way we'd make it through the Spring without visiting Disney California Adventure to experience Frozen Fun.
On April 1st, in the middle of Spring Break, we headed out towards the park. We decided to hit Frozen Fun before we did anything else. All the Frozen excitement is in Hollywoodland, so as soon as we entered the park, we made a left and headed off to Arendelle.
Our first stop was to get a FastPass to meet Anna and Elsa in the Animation Building. Cast Members gave out old fashioned paper Fast Passes outside the building. Our return time was at 9:35 a.m., so we headed over to Olaf's Snow Fest to kill some time.
If you want to meet Olaf, you line up to receive a pager. Once you get your pager, you are free to explore Olaf's Snow Fest, any of the rest of Frozen Fun, or anything at all in Hollywoodland. The pager won't work if you leave that area.
It was 8:37 a.m. when we got on line to get a pager. Thankfully, the music they play in the Frozen Fun section of the park is NOT the Frozen soundtrack. It sounds like traditional Norwegian instrumental folk music.
The wait to get a pager is long but the Cast Member who distributed them was very funny. He kept making April Fool jokes, such as when a lady asked if there is a penalty if your pager goes off and you don't get back to meet Olaf right away. "Yes," he said sternly, "There is a $25 charge for every minute you're late. APRIL FOOL'S!"
We got our pager at 9:13 a.m. (told you it was a long line!) and we headed into Olaf's Snow Fest. It's gorgeous in here! The place is made up to look like the courtyard in Arendelle, complete with the icy fountain in the center. The snow on the ground is periodically raked up by cast members to keep it snow like and to keep it from getting too icy. Regardless, I almost slipped and fell twice.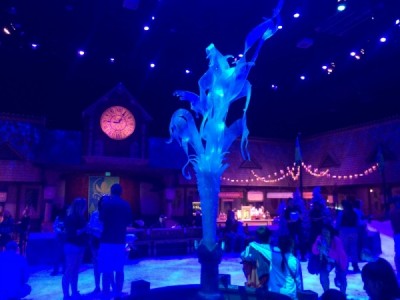 Olaf's Snow Fest
There are kids making snowmen, people buying souvenirs, a sledding hill, and hot chocolate and other snacks. My daughter and I went down the sledding hill – I'm going to call it a tie.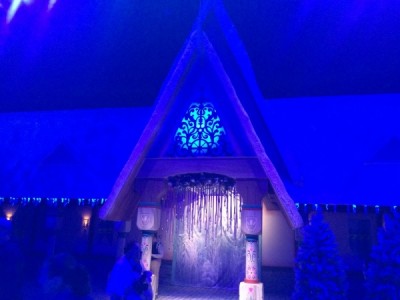 It's winter in Arendelle!
As usual, Disney did an excellent job of theming this building. The refrigerator that holds snacks can't simply be a refrigerator! No, no, my friends. It came courtesy of Kristoff.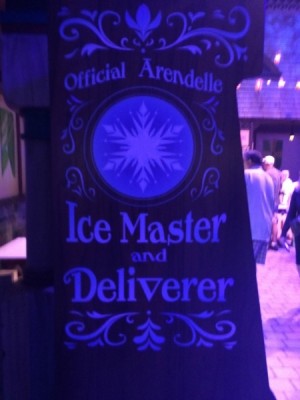 Thanks, Kristoff!
And I commend Disney for trying to make healthy snacks like a veggie cup more appealing to kids by making it in the shape of Olaf.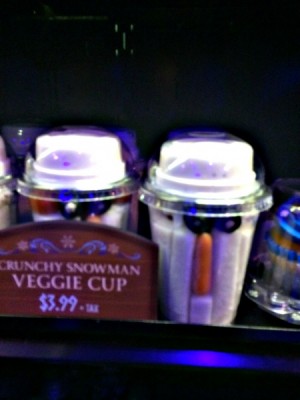 These veggies like warm hugs.
At 9:24 a.m. we left the area to browse through Wandering Oaken's Trading Post. (Yoo hoo! Big summer blowout!) Naturally, there is Frozen everything in here.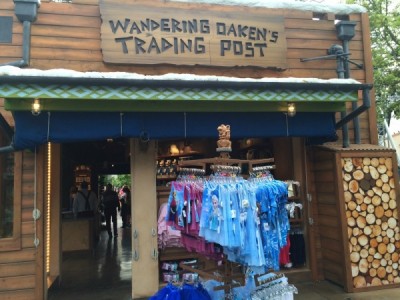 Yoo hoo! Big summer blowout!
At 9:35 a.m. we headed back to the Animation Building to use our FastPass to meet Anna & Elsa.  Anna and Elsa are both very lovely and signed my daughter's autograph book. They also posed for pictures with her and made a fuss over her T-shirt and purse, which both have the two of them on it. As the photos were being taken, our pager went off and Olaf loudly told us that we're worth melting for and to come back to meet him. Anne and Elsa both told us to tell Olaf hello as we left.
At 9:43 a.m. we went back to meet Olaf. Olaf gave us warm hugs (sorry, couldn't resist) and instead of signing his autograph, drew a picture of himself in my daughter's autograph book.
It's 10:00 a.m. and we are just in time for the Animator's Academy. Although the Academy now sports a sign that says "Do You Want to Build a Snowman?" the character we drew was Winnie the Pooh. I have been told that Olaf is a regular in the rotation, however.
At 10:45 a.m. we tried to get into the 11:00 a.m. For the First Time in Forever Frozen Singalong (because I don't hear my daughter belting out these songs enough, right?) but the show was already full. So we got FastPasses for the 1:30 p.m. show. The FastPasses came from an old fashioned Legacy system machine.
After exploring the rest of the park and grabbing lunch, we headed back to Hollywoodland to see For the First Time in Forever.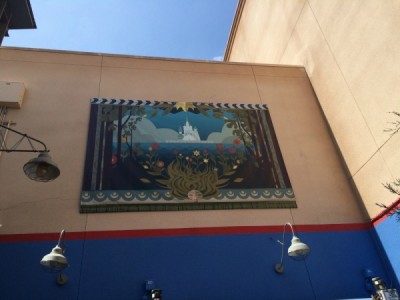 Home of the Frozen Singalong in CA
The theater is completely unrecognizable as the previous Muppet Theater. The entire theater is dressed up to look like it's in Arendelle. The show is a lot of fun, and the kids sang along at the top of their lungs. (My daughter asked me to please stop singing along because I sound too classical.)
The kids, of course, loved it when the characters came on stage and when Elsa made it snow at the end. And the adults in our party loved putting our feet up for a little while!
That's all the Frozen Fun that's available during the daylight hours, so we headed off into the rest of the park. After dinner and some window shopping, we returned to the area for the Freeze the Night Dance Party.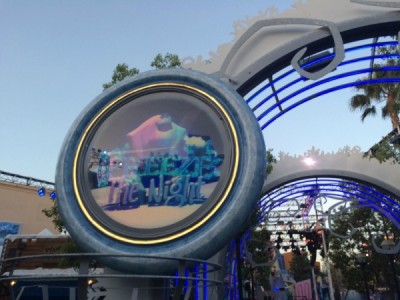 Freeze the Night Dance Party
It's 7:00 p.m., and I can only think that this is the closest Disney has ever gotten to throwing a rave. This place is awesome!
DJ Chill (I am not making this up) spins tunes, and occasionally singers and dancers will entertain on stage. Kids were dancing everywhere. We watched an ice sculptor carve a throne for Elsa out of a solid block of ice. (She even put an Elsa doll on it when she's done.) We posed for photos with Marshmallow. My daughter, and loads of other kids, stuffed every confetti snowflake they could find into their pockets.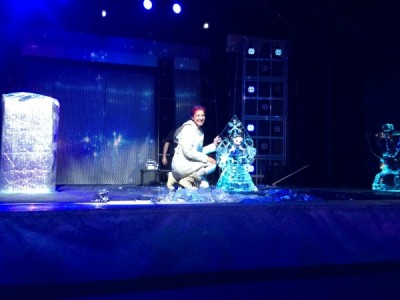 Ice Sculptor and her creation
At 8:32 p.m. my daughter danced maniacally some more, and a singer belted out a pretty decent rendition of Let it Go. (She's no Adele Dazeem, though.) At 8:32 p.m. my daughter spent the rest of her gift card and some of her own hard earned cash on one Anna and one Elsa doll.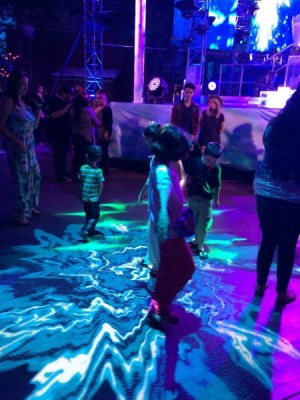 Freeze the Night Dance Party at CA
All in all, I'm glad we experienced Frozen Fun. Although it took up pretty much all of our morning, it left us plenty of time in the afternoon to enjoy the rest of the park. Having said that, I'm also glad that this is temporary. The Muppets deserve their theater, and I'm hoping the Mad T Party returns to its rightful place. (Editor's Note: Disney is currently returning the Mad T Party, however there is no word about The Muppets returning to their rightful place.) I'm crossing my fingers that we'll get the Toy Story Zoetrope back.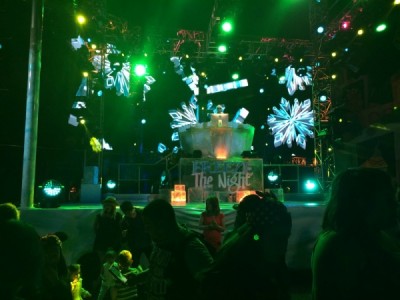 DJ Chill spins tunes at the Freeze the Night Dance Party
Frozen Fun is slated to run until May 15th, 2015. Then the Hollywoodland section of the park will get all spruced up for Disneyland's 60th birthday. If you get to experience it, I hope you enjoy it as much as our family did.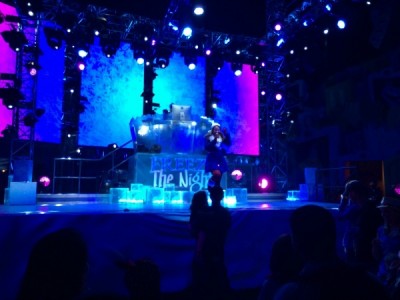 Live entertainment at the Freeze the Night Dance Party
Did you attend the Frozen Fun at Disney California Adventure? What was your favorite part?