This post may contains affiliate links for your convenience. If you make a purchase after clicking a link we may earn a small commission but it won't cost you a penny more! Read our full disclosure policy here.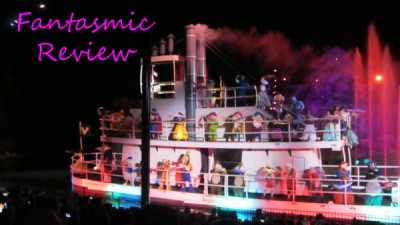 We love Fantasmic
Walt Disney World has a number of shows throughout the four main parks.  From musicals that come to life such as Finding Nemo and Lion King in Animal Kingdom and stunts that leave you on the edge of your seats like Indiana Jones Stunt Spectacular and Lights, Motors, Action Extreme Stunt Show in Disney's Hollywood Studios and then to top it all off the nighttime spectaculars that bring tears to your eyes such as Wishes, Illuminations and Fantasmic.  All of these shows are magical, wonderful experiences that you should try to see when in Disney; however, my family feels that no show is more magical, more Disney, more amazing than Fantasmic at Disney's Hollywood Studios.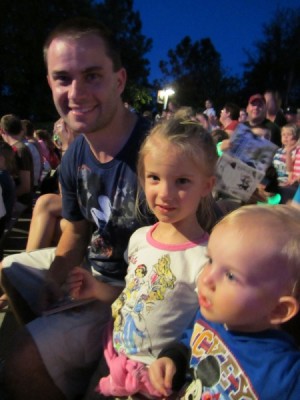 Family Enjoying Fantasmic
In 2004 my husband and I visited Disney on our honeymoon.  It was our first major trip together and we really didn't plan much.  As we did some reading prior to going, we had read about this evening show at Hollywood Studios called Fantasmic so while we were there we checked it out.  It not only became our favorite Disney show, but it also became our favorite moment from the trip as it brought all the Disney magic alive in one show.  Every moment of Fantasmic will leave you breathless.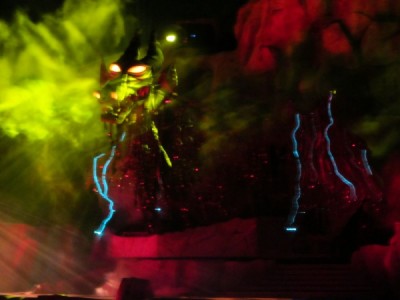 Evil in Dragon Form
A story of good versus evil, Fantasmic takes audiences on a 30 minute firework and water adventure as everyone's favorite mouse gathers his friends from favorite movies such as Beauty and the Beast, Sleeping Beauty, Peter Pan, The Little Mermaid, Cinderella, Aladdin and Pochaontas to fight the evils of Ursula, Cruella de Vil, Scar, the Evil Queen and a large and scary Maleficent.  Together our favorite characters help Mickey Mouse fight the evil of his nightmare by using his imagination.
Fantasmic uses music, pyrotechnics, and water tricks, as well as Disney characters to bring the Disney magic to the audience.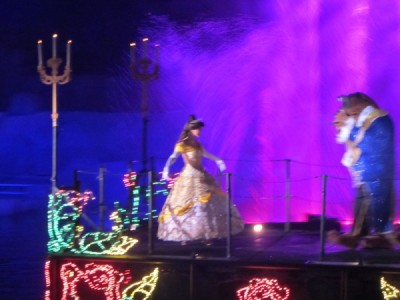 Belle and Beast Dancing
Throughout the performance water and pyrotechnics are used together in a unique way that only Disney can do.  Disney uses these two elements to bring the story and adventure to life for the audience members.   Water is used as different scenes from a variety of Disney movies are projected throughout the show onto water creating a unique cinematic experience like nothing I have seen before.  The main lake around the Fantasmic stage is used throughout the show to bring characters into the performance.  Pocahontas is brought to life as explorers travel through the river to find Plymouth Rock.  Belle and Beast, Ariel and Eric, and Snow White dance their way along the river.  This is one of my favorite features as the audience is able to see a variety of different characters all together in one presentation.  Mickey also uses the one million gallons of water to bring his dreams alive through mist, splashes and sprays.  The pyrotechnics and water effects used during the performance are the best to been seen at Walt Disney World.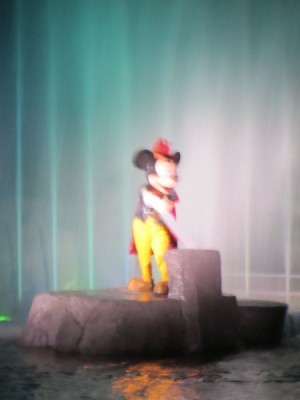 Mickey Using His Imagination
I feel like Fantasmic has great Disney magic.  Working together, the songs from a variety of different Disney movies are brought even more to life as pyrotechnics add to the emotions in these songs.  From lasers and fireworks throughout the songs to creative lighting on costumes and boats, lighting provides a unique viewing experience.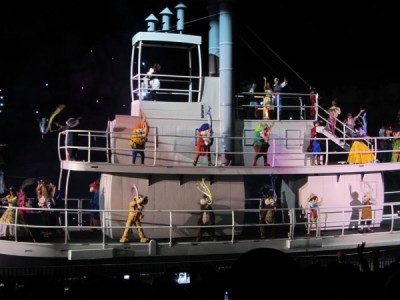 All the Magic in One
Fantasmic is a completely unique viewing experience.  It brings both cinema and live action performance together in an exciting and moving way in an outdoor experience that is entertaining throughout the whole 30 minutes keeping the young and old mesmerized at all times.
One surefire way to catch Fantasmic is through the option of purchasing the special Fantasmic Dinner Package, which allows guests to enjoy a meal, as well as a reserved seat for the show.
Our family loves Fantasmic most though because of how Fantasmic brings Disney magic to life and how we leave feeling happy beyond all belief.
What is your favorite part about Fantasmic? Share with us!
Want to see Fantasmic for yourself, get a no obligation quote from The Magic For Less, an Authorized Disney Vacation Planner.

Incoming search terms:
Middle School Halloween Dance Party