This post may contains affiliate links for your convenience. If you make a purchase after clicking a link we may earn a small commission but it won't cost you a penny more! Read our full disclosure policy here.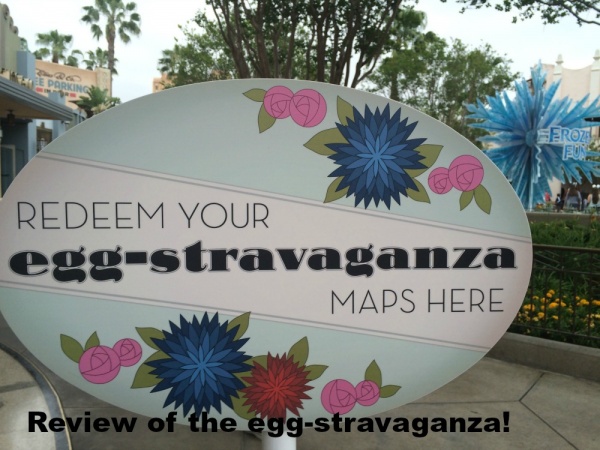 On a Spring Break day at Disney California Adventure, we couldn't resist surprising our daughter with the Egg-stravaganza – an Easter egg hunt throughout the park. This hunt ran from March 27th through April 5th. Similar hunts happened in both Disneyland Park and Epcot. Even though the hunt is now over, it is anticipated that it will return next year, so I thought I'd review it here.
For about $5, guests could purchase a map of the park with the general location of each egg. There are a dozen in all. Each egg is placed well out of a guest's reach. The idea is not to remove the egg, but to place the sticker matching the egg's appearance on the map once you've spotted it.
The eggs are much larger than real ones, big enough so that they can be placed high up and still be spotted by someone with a keen eye. Once you're done finding all the eggs, you can take the map to Elias and Company, a shop near the entrance of the park. A cast member will check your map (you get to keep it) and will give you a plastic egg emblazoned with a Disney character, just the right size to put small Easter candies in.
Last year, the maps sold out fairly quickly. This year, we had no problem buying one first thing in the morning on April 1st. However, on April 3rd, the Disney Parks Blog reported that the maps were proving to be very popular and were, ahem, eggs-stremely limited.
I've included a few photos to give you an idea of where the eggs were hidden this year. I have been told that the eggs were NOT placed in the same location as previous years, so these should not be spoilers for next year's hunt.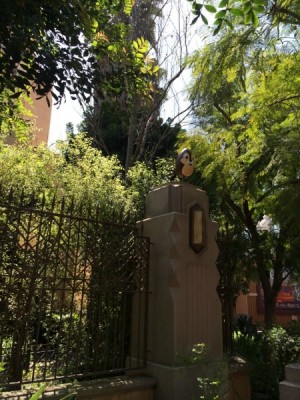 This year, the Tower of Terror Egg was hidden here
I bought the map at Oswald's, one of several retail locations that sold the map in the park. We showed my daughter the map while we were in line for Olaf's Snow Fest, and she wanted to get started on the hunt as soon as we were done enjoying Frozen Fun!
However, my husband was in charge of the map and accidentally left it in the Animation Academy. Oops! Lucky for us, when I brought the receipt to Oswald's and explained the situation, the kind cast member who sold me the map in the morning gave us a replacement.
The map gave basic information as to where the egg was hidden. For example, one simply said, "Disney Jr. Live on Stage." It was up to us to figure out eggs-actly (sorry) where it was.
Something we learned early on – you do not have to ride or experience any attraction to find an egg. All the eggs are either hidden in the exterior of the attraction or in a shop window that is visible from outside. And if you're really stumped (the one at Radiator Springs Racers was tricky!) cast members will be happy to give you a tiny hint.
When I bought the map in the morning, the cast member told me that I actually could simply go to Elias and Co. right away to redeem our prize even though we hadn't completed the hunt yet. I didn't like the idea, but if you are worried about standing in a long line at the end of the day to get your prize, this is an option. You can simply get the prize at the same time as your egg and give it to your child when he or she finds all the eggs. Or keep it yourself. I won't judge.
When hunting, remember to look up!
Speaking of those prize eggs, there are several different designs, each one a different Disney character. A sample of each design was hidden under over-sized colored eggs. The child would tell the cast member which color they wanted, and the child would then get the same egg that was underneath it.
My daughter is Tinker Bell nuts, so when I saw a child ahead of us in line get the Tinker Bell egg, I whispered the color to my daughter so that she would get it, too.
All in all, this was a very fun activity. We wound up going to areas of the park we don't usually frequent. It was also quite social, as my daughter talked to other kids looking for the same eggs and shared tips and hints.
Sometimes I get annoyed at Disney for charging money for certain activities even after you've purchased a ticket. But in my opinion, this was totally worth the $5 and change we spent. So much so that we'll probably do it again next year too.
Did you participate in the Egg-stravaganza at Disneyland or Walt Disney World? What were your thoughts about the fun?