This post may contains affiliate links for your convenience. If you make a purchase after clicking a link we may earn a small commission but it won't cost you a penny more! Read our full disclosure policy here.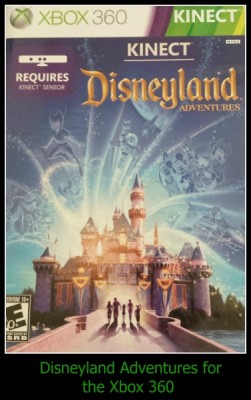 As I watched the Disney Parks Frozen Christmas Celebration on TV on Christmas Day, I found myself wishing that I could be there!  Since I couldn't make a last minute trip, I opted for a digital visit to Disneyland through the Disneyland Adventures game.  This game is only available for the Xbox 360 with the Kinect and is not compatible with the new Xbox One, so if you have made the upgrade to the new system, you may not want to disconnect your 360 just yet.
You begin the game at the entrance of the Disneyland park where you can customize your character. You will choose either a boy or girl and also choose your clothes and hairstyle.  If you aren't 100% happy with your choices don't worry, you will be able to purchase different costumes and change your look later on.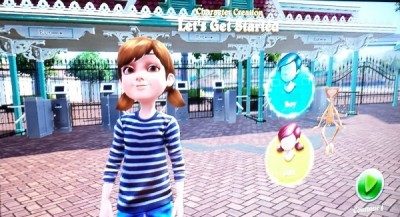 The "golden ticket" character gives you some basic instructions on how to move around the park and interact with characters. You travel forward by holding one arm out in front of your body. This was a bit awkward for me at first, but once I got used to it, I was able to move around easily. Make sure to keep your other arm at your side.  Moving it around confuses the Kinect and your character may not move the way you want him/her to.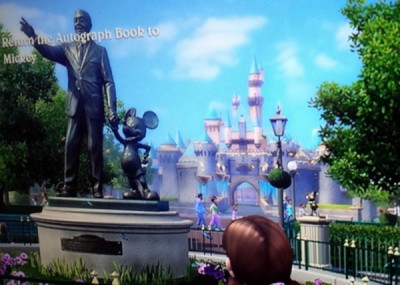 You are soon given your first task: to ask characters for autographs. You can interact with characters by waving to get their attention. You can then engage the characters by bowing, hugging, or holding both hands out for an autograph.  Characters are located throughout the park and many of them will ask you to collect things or help them find things.  Talk to enough characters and you will soon have many different missions to complete. Sometimes more than you can keep track of! The game saves automatically which is really nice. No need to make it to a check point or finish a task before ending the game.
You can travel to different areas of the park by walking your character through the different lands. You also have the option to raise both arms above your head to pull up the park map. You can then select an attraction to "fast travel" to if you don't want to walk across the park. This is a good option if you want to try out a few of the attractions without long walks in between.  You can exit the map by holding your hand over the "return to park" icon or by using voice commands.  Voice commands can also be used in shops or at the end of attractions.
As you walk around the park, you can collect coins to use to purchase merchandise. Visit the Bibbidi Bobbidi Boutique and you can try on and purchase various costumes to change your look as often as you would like.  You can also purchase collectible pins or additional autograph and photo books here.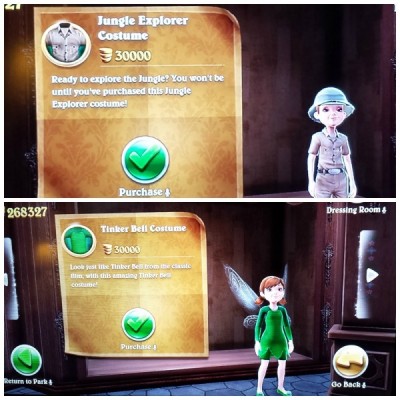 One of the more exciting aspects of the game is the attractions.  Although you can't exactly ride Thunder Mountain or Space Mountain, your character can!  I was happy to discover that the attractions use the full capabilities of the Kinect. For these, you will have to jump, run, lean, duck, and move your arms to manipulate your character on the screen. It's great to get a little bit of exercise instead of just sitting on the couch.
One of the first attractions that I tried out was the Jungle Cruise. As you travel forward in the boat, you use both arms to fire a water cannon at obstacles.  You also collect coins and have to dodge hippos and piranha as you float down the river. Your skipper will give you instructions and tell you when to move or jump (as well as tell the corny jokes that you expect on the Jungle Cruise). My aim with the cannon wasn't very good the first time around, but I improved on the second try.  My arms definitely got tired after two trips down the river though.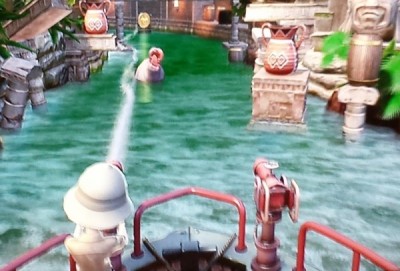 Each attraction game is different and I enjoyed trying all of them.  Several of the attractions such as the Haunted Mansion, Peter Pan, and Thunder Mountain have multiple games that you can unlock. There are plenty of things to collect in each game, so you can play multiple times.  The Kinect also takes photos of you (the real you, not your character) during the attraction games. It was funny to see snapshots of myself in action. Most of my photos were pretty comical!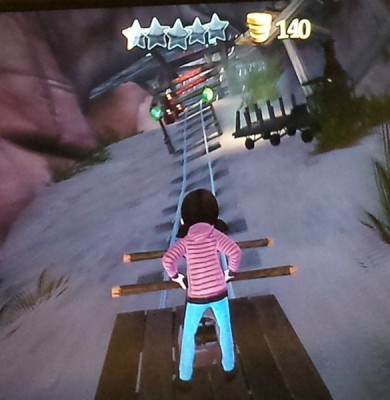 You also have the option to play the game with two players if you would like to play with a friend.  Just be sure that you have enough space so that you are not running into each other or the furniture. This game would certainly be appropriate for both children and adults.
While I enjoyed the game, I don't think I would have been willing to pay full price for it. You can now pick this game up for $15 or less, and at that price, I would say it is a good buy.  It is fun to be able to take a virtual walk around Disneyland from the comfort of your own living room.
Have you played the Disneyland Adventures game for Kinect?  What did you think?
Incoming search terms:
https://www themouseforless com/blog_world/review-disneyland-adventures-xbox-360/
https://www themouseforless com/blog_world/review-disneyland-adventures-xbox-360/#:~:text=As you walk around the often as you would like
disneyland adventures
disneyland adventures change hair
how to customize s in disneyland adventures xbox