This post may contains affiliate links for your convenience. If you make a purchase after clicking a link we may earn a small commission but it won't cost you a penny more! Read our full disclosure policy here.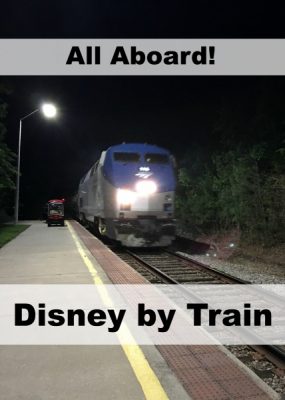 If you had the opportunity to travel to Walt Disney World solo, would you take it?  Thinking of the chance to sleep in and experience some of the more "grown up" attractions, I jumped at my chance to go!
It was going to be a last minute trip.  And my first without the family!  Airfares were through the roof.  I didn't much feel like driving the 9+ hours by myself.  New to the East Coast, I was excited when I realized that an overnight train was an option to make my way down to Florida.  I like to imagine I'm an adventurous person…  And excited for the new experience, I booked my Amtrak ticket!
Being the planner that I am, it was time to do my homework.  I researched planning a solo Disney trip.  I researched Amtrak's policies on baggage, boarding, timing, and everything else I could find.  My bags were packed and it was time to go…
Arrival at the Train Station
We arrived about an hour earlier than Amtrak's recommended time before departure.  The Silver Star was scheduled to leave shortly after my little guy's bedtime, and I wanted him to have the chance to see the station and the trains before my husband took him home.  (He was so excited that mommy was going to be riding the train!)
The station was large, clean, and the staff were very helpful!  I was impressed by how easy it was to check-in.  Similar to flying, staff will take bags that you check through to your destination.  One major benefit to taking the train is that you are allowed more carry-on bags than when you fly – and more baggage overall, in my experience.
After exploring the station and checking out the trains with my little one, I settled in for the wait until the train arrived.  The Amtrak staff had announced that our train was delayed.  This was disappointing, but they did a great job communicating the status of the train and keeping everyone updated.
The delay was about two hours.  One benefit of the delay, though, was that it gave me a chance to visit with a few fellow passengers before we boarded and I settled into my roomette.  They gave me some great tips I hadn't learned in my research!
Departure and Arrival Delays
The first thing I learned from my fellow passengers was that train delays, sometimes significant, are not uncommon.  (Apparently many of the tracks on the East Coast are owned by a cargo company, so passenger trains do not have the right of way on the rails.)  In my experience, though, the Amtrak app did an awesome job keeping arrivals/departures updated and it was easy to track how far ahead or behind your train was.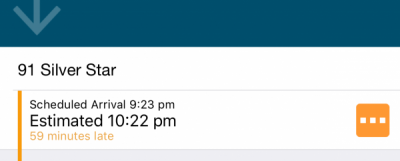 An example of a Silver Star delay in the Amtrak app.
I also learned that it is not uncommon for the train to makeup time delays throughout the course of the trip.  While our train departed nearly two hours late, I arrived in Florida within 20 minutes of the original estimated arrival time.
Refreshments
The second tip I learned is to bring refreshments!  I either hadn't thought of it, or had TSA's regulations disallowing liquids so concrete in my mind.  I didn't even think to bring water or snacks on board!  Many Amtrak trains have a Club Car where you can buy snacks, a sandwich, or drinks, but it is much more cost effective to bring anything you might need (or want) on board with you.
(One of the benefits to riding in a sleeper car, though, is that water is included.  I was able to save the several bucks it would've cost to buy from the Club Car that first night on board.)
Coach
While I did not personally ride in coach I did learn a few things in my research – including that coach seating is more comfortable than what you might think of as coach from when you've flown.  There is more legroom, you have the ability to get up and move around, and there is just generally more space.  You also have the luxury of space to walk or escaping to the Club Car for a change in scenery when traveling by train.  After this research and chatting with fellow passengers, I would not hesitate to do an overnight ride in coach the next time I ride solo.
Sleeping Accommodations
When I had initially booked my ticket I wanted to be sure that I could hit the ground running at Disney.  (And, admittedly, was a bit nervous about riding the overnight train alone for the first time.)  I booked a roomette for my ticket.  I found that when you book a sleeper car you are really paying for three things: 1) a door, 2) the opportunity to sleep horizontally, and 3) the convenience of a bathroom within your room.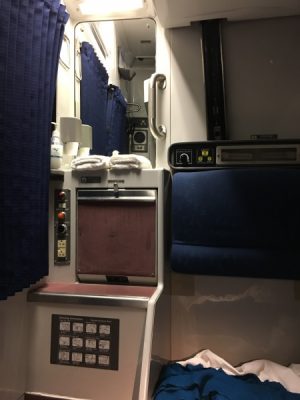 Photo of a portion of the roomette.  This shows the pull-down sink (and below that is the "toilet").  There are outlets and a variety of light options for when you're wanting to be awake vs. bedtime.  This picture shows the nighttime setup – the bottom bunk is made with the two seats collapsing down to create the bed.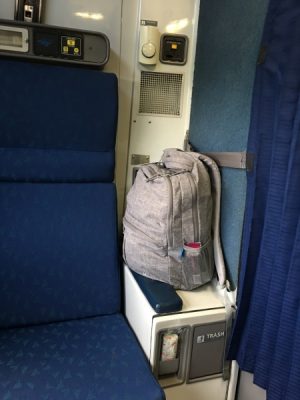 Want to see the rest of the room?  Just turn around!  This is the second seat (setup here in daytime mode) and space for luggage storage.  Since I was riding solo, I stored the majority of my baggage on the top bunk.
Was the roomette worth it?
Now I want to first say that, in the end, I was glad that I had gotten the roomette because I was able to get a pretty okay night's sleep.  (I will warn my fellow side sleepers that the movement of the train will force you to find a new position!)  The fold down sink made it very easy to get ready for the day.  I felt refreshed and ready to hit the road when our train arrived.
That being said, the roomette is really a space for only one person.  There are technically two beds and Amtrak lists that you can have two in the room.  If you are riding with someone else, I hope that you are close with them!  When the beds are down there is very little space left to move around.  Personally I would consider riding with my toddler in one of these rooms, but I doubt my husband and I would be able to be comfortable when the beds are down.  (It is a great improvement on the amount of space, though, during the day when the seats are setup.)
All things considered…
All things considered, I wouldn't hesitate to take the Amtrak to Disney again.  I don't think I would make the extra investment for a sleeper coach just for myself.  Traveling with our toddler, though, I think it would be worth the extra cost to help him (hopefully) get a better night's sleep.  Either way, it's an adventure and definitely an experience I would recommend!
Interested in booking your Amtrak ticket?  Don't forget to check out these tips for saving money on your fare from The Mouse for Less!
Have you ever traveled to Walt Disney World by train? What was your experience? Share it in the comments section.
Did you like this article? Make sure to share it with your friends! Check below for easy ways to share!
Incoming search terms:
can you take a train from ny to disney world
disneyworld train old timer
https://www themouseforless com/blog_world/review-disney-amtrak-train/