This post may contains affiliate links for your convenience. If you make a purchase after clicking a link we may earn a small commission but it won't cost you a penny more! Read our full disclosure policy here.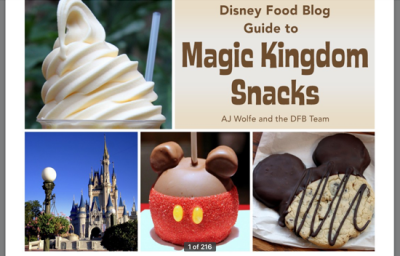 We all know how important dining is on a Disney vacation. It's such an intregral aspect that can make or break a trip. Well did you know that Walt Disney World is filled with a lot of great different snack options? The Magic Kingdom has some of the most infamous options that Guests think of when they are planning their Walt Disney World vacation, but the problem is, especially for first timers, how do you know where the unique snacks at the Magic Kingdom are? Snacks seem to be constantly changing in the parks!
Well, AJ and her great team at the Disney Food Blog are here to help with the "The DFB Guide to Magic Kingdom Snacks 2016." This e-book contains everything you ever wanted to know about every single snack that can be found at the Magic Kingdom and even stuff you didn't know you needed to know.  I'll admit, I even learned a few new tips from this guide that will further enhance my enjoyment of snacking at the Magic Kingdom in the future, and I'm a full-fledged Disney veteran! Which just goes to prove that this e-book is for everyone…whether you are a Disney veteran or a first time visitor, "The DFB Guide to Magic Kingdom Snacks 2016" is absolutely an invaluable tool!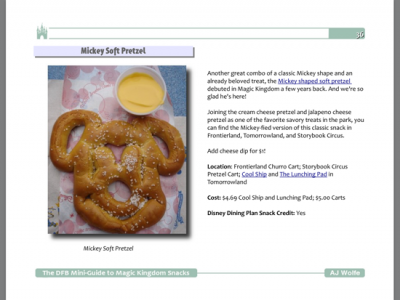 So, what exactly does the handy dandy guide entail? Seriously….everything; it contains over 200 pages filled with great information just on the different snacks you can pick up at the Magic Kingdom. This guide has been completely updated for 2016 because things are constantly changing in the realm of snacks available to Guests. The guide includes fantastic Disney dining and planning information, tips, and recommendations.  Updates to the e-book even include new treats introduced over the last year. This is especially helpful for those looking to find new treats that you want to try that Disney has recently introduced!
For those planning their first trips to Walt Disney World, there is plenty of information detailing savory snack options, sweet snack options, great snack values, and Snack Crawls.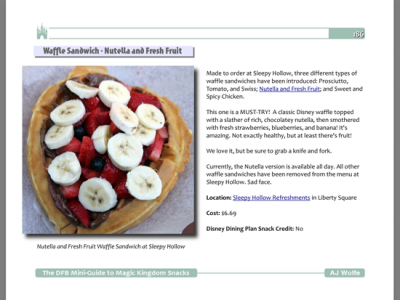 I particularly love that each snack has its own dedicated page describing the snack, the location of the snack, the cost (as of the time of the time of the e-book's press time), and if it's on the Disney Dining Plan.
Oh and there are gorgeous photos to go along with every single snack item. (Because a picture is worth a thousand words and a photo of food is even better.) This is one of the main thing that I love about this guide. The color photos have been updated for 2016 and are gorgeous! I personally always love seeing photos of what I may eat on my next trip to Walt Disney World.  Matter of fact, a lot of times, a photo has prompted me to try something in the parks or at the resort.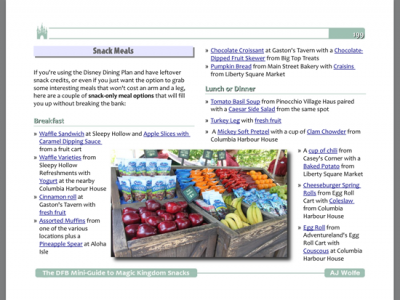 I also love in the back where there's a list of snacks that could double as meals. This is especially helpful for those on the Disney Dining Plan and looking to utilize your snack credit as a meal replacement.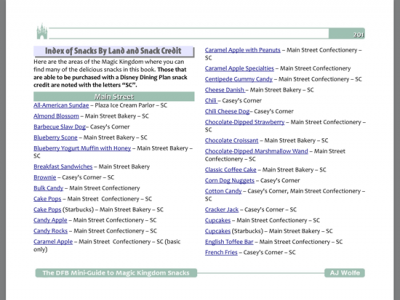 There's also an index of snacks by land or snack credit availability. Extremely helpful when touring!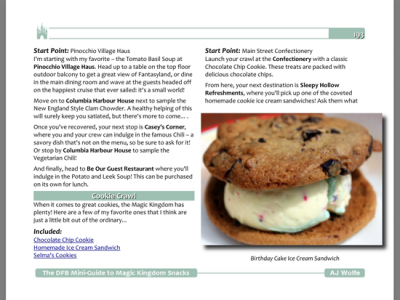 "The DFB Guide to Magic Kingdom Snacks 2016" also includes a staple for the DFB Guides…it's the Crawls.  Here you can go on multiple different snack crawls (where you attempt to focus on one particular food item or category and try that item at as many places around Walt Disney World property as you can) depending on what food you're in the mood for. I'm a fan of the Cookie Crawl, myself.It's a fun game to see how many places you can try. The book includes information on things like a "Candy Crawl," a "Ice Cream Headache Crawl," and even a "Soup Crawl" to name just a few.
Honestly, I have just scratched the surface with this review….there is really so much more included in this e-book than you can even imagine. If you have a Walt Disney World trip on the horizon…you really should purchase this guide. It's a must for the planning process. (And try not to drool at the photos of delicious food!)
Do you want to win your own copy of "The DFB Guide to Magic Kingdom Snacks 2016"?  Well, guess what, you can! To help celebrate The Mouse For Less' 17th Birthday, we're giving away not one, not two, but three copies of this invaluable resource! Yay!  Just enter on the Rafflecopter link below, and remember that if you don't win, you can still purchase a copy of "The DFB Guide to Magic Kingdom Snacks 2016," which will help to support The Mouse For Less website! Click here to view more details
Happy Birthday to Us!
Rules: Giveaway starts at 12:00 a.m. Eastern on March 16, 2016 and ends at 12:00 a.m. Eastern on March 31, 2016. Open to U.S. residents 18 years old and older.  No purchase is necessary to win. Void where prohibited. Odds of winning depend on the number of entries collected. The winners will be chosen by Random.org via Rafflecopter and will have 5 days to respond after being contacted by email.  Please make sure to use a valid email address. Facebook, Twitter, and Pinterest do not endorse this, nor sponsor this giveaway. Nor are Facebook, Twitter, or Pinterest affiliated with this giveaway in any way.  Entrants are also asked to give a dining tip for Walt Disney World.  This is not mandatory, and do know that the tips may be used on The Mouse For Less website.
Disclaimer:  I received a free copy of "The DFB Guide to Magic Kingdom Snacks 2016" for the purpose of this review.  The opinion stated above is my own.
Incoming search terms:
https://www themouseforless com/blog_world/review-dfb-guide-magic-kingdom-snacks-2016-plus-giveaway/