This post may contains affiliate links for your convenience. If you make a purchase after clicking a link we may earn a small commission but it won't cost you a penny more! Read our full disclosure policy here.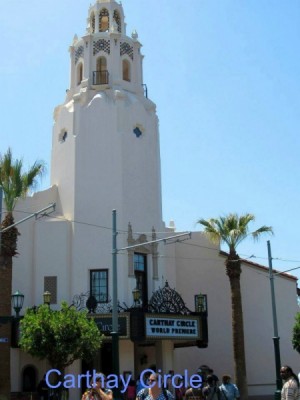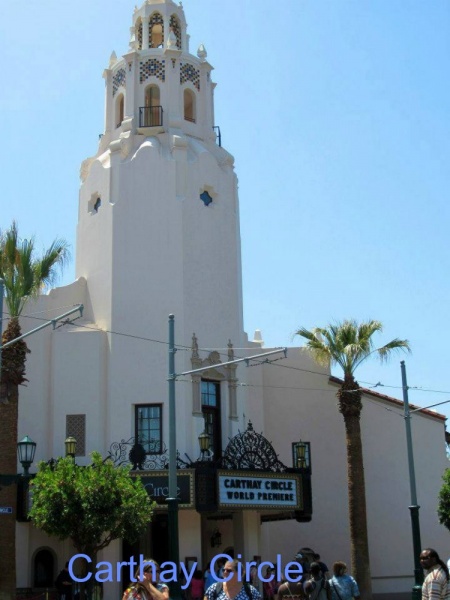 Carthay Circle Restaurant in California Adventure
When I plan a Disney trip, my husband generally goes with the flow. However, I always ask him one simple question: "Where do you want to eat?" When I told him I wanted to go to California Adventure during Spring Break, he asked if we could make reservations for the World of Color Package at the Carthay Circle Restaurant.
This stunning restaurant is modeled after the old Carthay Circle Theater, where Snow White and The Seven Dwarfs premiered in 1937. This is California Adventure's premier dining destination. Andrew Sutton, executive chef of the highly regarded Napa Rose in the Grand Californian, is also the executive chef here.
We had a 5:00 p.m. dinner reservations and we arrived at the restaurant at 4:45 p.m. We checked in with a very friendly Cast Member at the podium and sat down in the relaxing lounge for only a few minutes before we were told our table was ready.
I feel like we had to go through a labyrinth to get to our table. We wound our way through many small dining areas before we arrived in our area. We passed many gorgeous black and white photos of Walt, Hollywood in the 1920s and 1930s, and other movie stars of the era.
We were seated right next to a balcony. I couldn't help but notice that the only other diners in this area with us also had children. I wonder if Disney tries to seat adults without children in a different section of the restaurant.
The room we were seated in features photos of Pixar directors holding the Oscars they have won. It is bright and airy, with afternoon light streaming through the closed balcony doors.
Our server brought my daughter an Anna and Elsa coloring page and some crayons, and removed our napkin rings for us. At first there was some confusion since we were brought the regular dinner menus instead of the World of Color menus. But this was very quickly rectified.
I should note that Carthay Circle changes its menus seasonally. We ate here in the Spring, but you might find different menu items during your visit. The prix fixe World of Color menu includes three courses: appetizer, entrée and dessert. A non alcoholic beverage is also includes.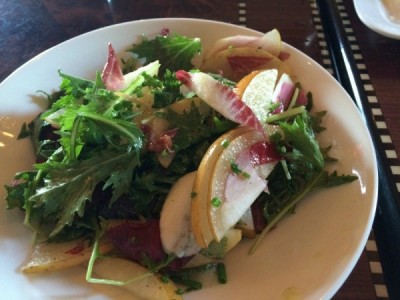 Carthay Circle Salad in California Adventure
I ordered a glass of Talbot Pinot Noir, the Carthay Circle Salad, the Salmon with Butternut Squash Puree, and the Meyer Lemon and Macadamia Nut Semifreddo. Our server told me the chef recommends the salmon cooked medium, and asked me if that was all right. I figure the chef knows what he's talking about so I agreed.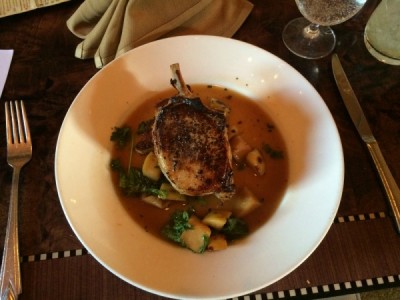 Pork Chop at Carthay Circle Restaurant
My husband ordered a Carthay Club Mojito, a spicy soup, pork chop, and chocolate crème brulee.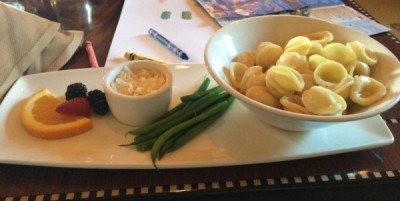 Kids meal at Carthay Circle
My daughter is a fairly picky eater and didn't like any of the appetizers or entrees listed on the kids menu. However, in the end she ordered a Caesar Salad for an appetizer, which she didn't eat. She asked to have the pasta with butter and cheese instead of marinara sauce. This came with fruit and green beans. She opted for a scoop of chocolate chunk ice cream for dessert.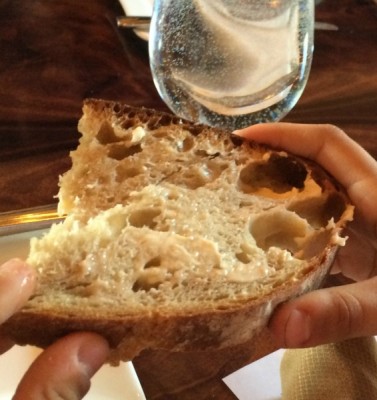 Bread from Carthay Circle Restaurant
Our drinks, the bread basket, and our appetizers arrived. Once we were done with our appetizers, it was 5:22, and our server told us we were welcome to go to the balcony to watch the Pixar Play parade. I sent my husband and daughter out to watch it since I wasn't done with my wine. When our server came back to replace our napkins and silverware, she encouraged me to take my wine glass out to the balcony and join them. I did, and it was a great way to watch the parade!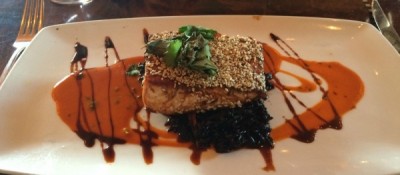 The best salmon I've ever eaten!
When our entrees came, I was just stunned. This is the best salmon I have ever eaten, hands down. Seriously, I felt like I needed to be alone with my salmon. I kept closing my eyes and forcing myself not to make humming noises as I ate!
Meyer Lemon and Macadamia Nut Semifreddo
Dessert was every bit as good, and not too big. The bill, including tip, came to $214.01. Our server gave us our World of Color passes and explained where we should go at showtime. Currently the Carthay dining package viewing area for World of Color is directly across from Ariel's Undersea Adventure. If you've never seen World of Color before, please note that there are no seats, not even for the dining packages. However, the viewing area was quite good and we got a lovely view of the show.
$214.01 for two adults and a child is simply not something we can afford to do every trip. However, the quality of the food and the excellent service were worth every penny. I still have dreams about that salmon.
If you're looking for a super splurge to celebrate a special occasion, I highly recommend Carthay Circle.
Have you ever participated in the World of Color Dining Package for World of Color?