This post may contains affiliate links for your convenience. If you make a purchase after clicking a link we may earn a small commission but it won't cost you a penny more! Read our full disclosure policy here.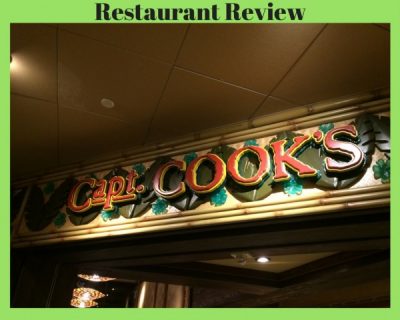 The last time I stayed at the Polynesian Village Resort was in June 2014, during a massive renovation to the property. Captain Cook's, the quick service location at this resort, was temporarily moved to the Cast Member cafeteria.
So when I returned to the Poly this January, I was excited to try out Captain Cook's in its permanent location. On a very cold New Year's Day, I decided to have dinner here.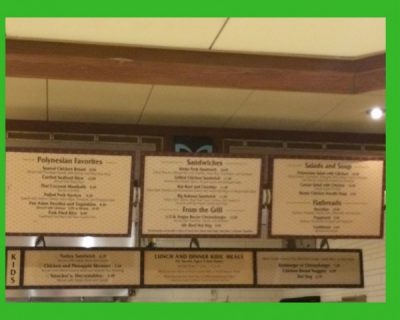 The ordering station at Captain Cook's
There is outdoor and indoor seating at Captain Cook's, and on a pleasant spring or fall day, I'll bet it's lovely to eat outside. But on a sweltering summer day or the strangely cold first week of January, I'd definitely prefer to eat inside.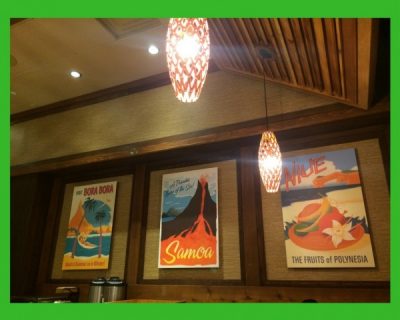 Posters for Polynesian islands decorate the dining areas
There are two small dining areas here, decorated with posters depicting Polynesian islands, the same islands that the longhouses at the Polynesian Village Resort are named after.  On this night, it was fairly crowded in here, and the only table open was close to an automatic door. Every time someone walked passed that door, a blast of icy cold air blew into the area.
I am usually a salad girl, even on vacation, but this entire week was so cold that I did not eat a single salad during this trip! I decided to try the grilled chicken breast with edamame and quinoa salad and pineapple salsa.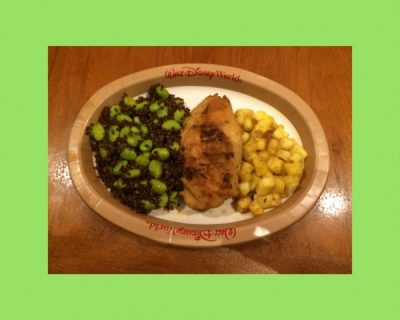 Grilled chicken with pineapple salsa and edamame quinoa salad
The chicken was moist and tender, and when eaten with the pineapple salsa, was very tasty. The side salad was unusual and very well seasoned. I thoroughly enjoyed this dinner.
I returned to Captain Cook's on another evening in the hopes of trying the seafood curry, which sounded delicious from the description. However, they were sold out of it! So I got exactly the same entrée for a second time. This time, the chicken was slightly overcooked, but the flavor was still spot on.
We stayed in the Disney Vacation Club section of the Polynesian, which meant we had a kitchenette. We wound up eating almost every breakfast in our room, which saved us a lot of money and time. But one day we decided to brave the cold to have a breakfast at Captain Cook's.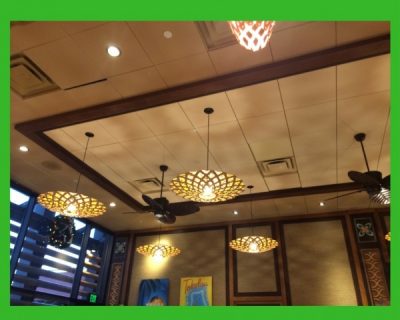 Lighting fixtures at Captain Cook's
Something I noticed when we were in line to order was that the portions seemed enormous. Several people walked to tables holding Tonga Toast, and that portion was larger than my face. I didn't want to start a day in the parks with a breakfast so heavy that I felt sluggish, so I ordered a kids' meal.
Kids Scrambled Eggs Breakfast
I got the scrambled egg whites with cheese and ham, which came with fresh fruit and yogurt. This portion was perfect for me, and I don't think my twelve year old would have finished it. The eggs were perfectly cooked, and a nice hot breakfast really hit the mark on a cold morning.
All in all, Captain Cook's remains my favorite quick service location at a Walt Disney World Resort.
Have you visited Captain Cook's at Disney's Polynesian Village Resort? Share your thoughts in the comments.
Did you like this article? Make sure to share it with your friends! Check below for easy ways to share!