This post may contains affiliate links for your convenience. If you make a purchase after clicking a link we may earn a small commission but it won't cost you a penny more! Read our full disclosure policy here.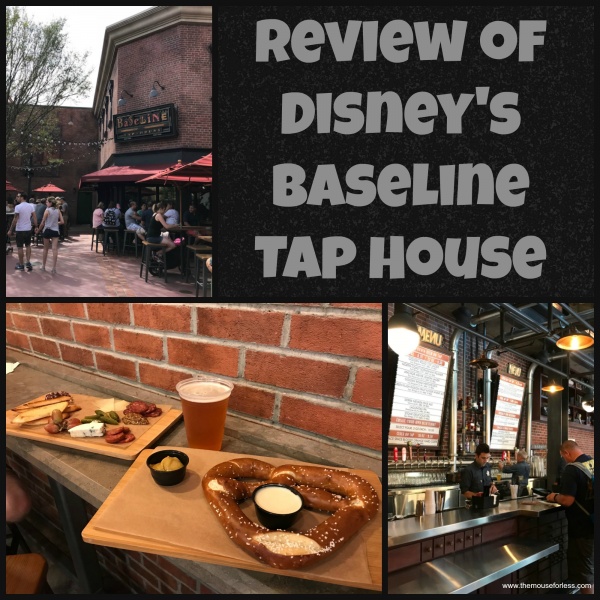 Disney and relaxation — those two words don't always go together. Many (including myself) are the go-go-go variety, but sometimes being able to stop and smell the roses can be refreshing. That's why the new lounge at Disney's Hollywood Studios called BaseLine Tap House is so important. It's a great spot to just sit and chill.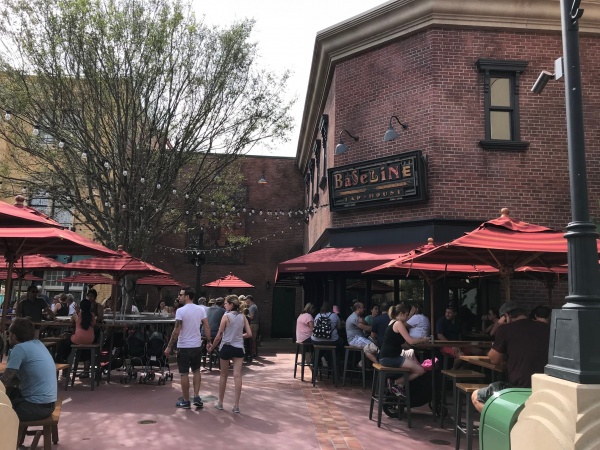 BaseLine Tap House can be found in the former location of The Writer's Stop, right next door to the Sci Fi Dine-In Restaurant. The story behind this new bar/lounge is that it is inspired by present-day Downtown Los Angeles and is a a corner bar specializing in beer and wine from California.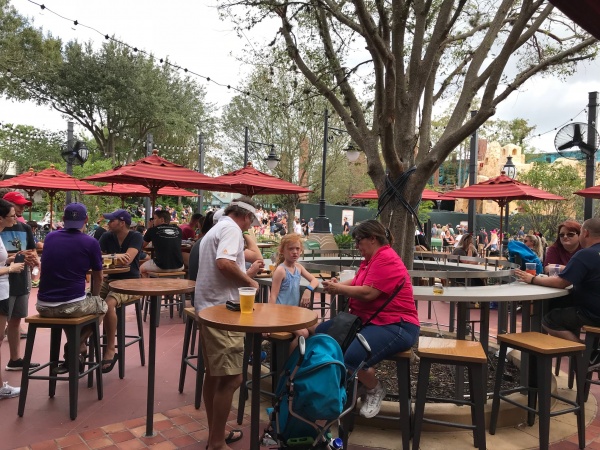 The first thing  you notice when you walk up is that it is definitely beautiful. The area looks lovely, with lots of greenery and plenty of outdoor seating; there are plenty of high top tables and lots of large umbrellas. You feel the calming sense as soon as you walk up to the lounge. There's just a presence.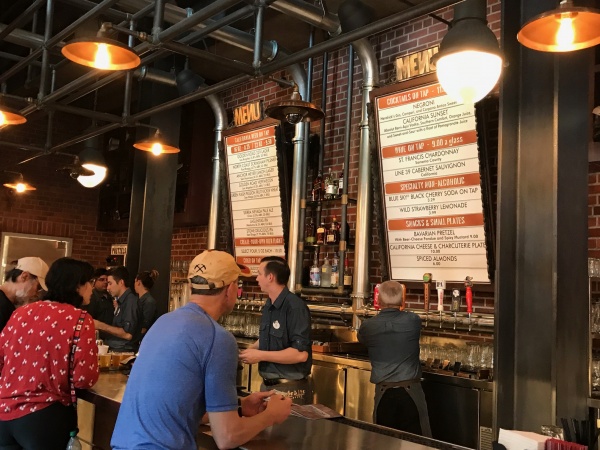 Inside, it feels a little more cramped. There is a large bar area, but the first thing you should know is that there is no official line. So, if you walk in and you see people lined up, peer towards the end of the bar and see if there's a bartender that's open at the end that can serve you. Because of the way BaseLine Tap House is set up, many people line up at the first bartender they see, which causes lengthy lines that often hit the door.
On the inside, there are also a handful of seats, but there really aren't many. There are a few long bars where you can sit, but if you are with a large group, you're probably going to have better luck outside.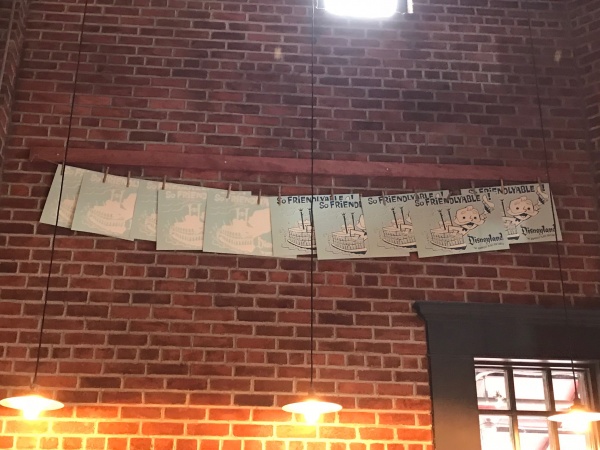 The decor on the inside represents that this location used to be a print shop that printed lots of things for Disneyland. You can see many of the pieces of artwork throughout the restaurant. Also, take a look at the shelving; you may see letters that spell out something familiar.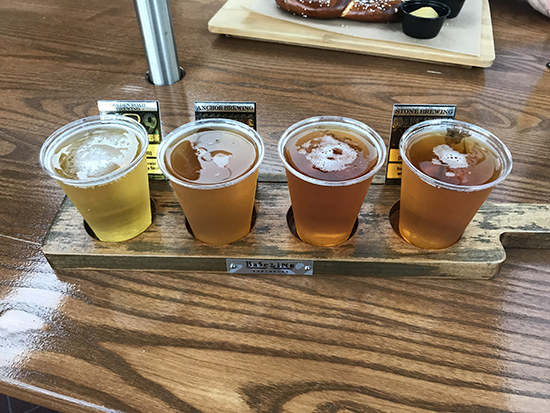 BaseLine Tap House has a larger beer and wine menu; both are available on tap. A popular choice is to create your own beer flight, which gives you the option to try four different beer selections.
The main focus here is on the alcoholic options, but there are a few non-alcoholic drinks available too. This also means that there aren't a lot of choices in small plate options, however, there are a few. On my visit, we tried two of the three small plates. (The one we didn't try was the Spiced Almonds.)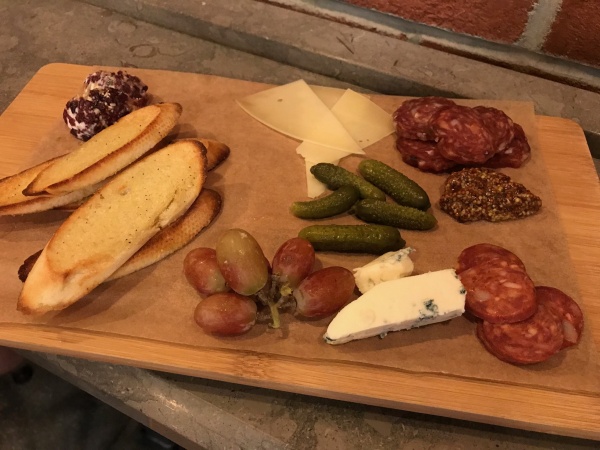 First, we went with the California Cheese and Charcuterie Plate. This is served with Toma Farmstead Cheese, Point Reyes Original Blue Cheese, Laura Chenel's Sonoma Goat Cheese, Chorizo and Calabrese Salami, Cornichons, Grapes and Toasted Baguettes. There was also a number of pickles and mustard on the plate, as well.
This was very good. There was a decent variety of options. I very much enjoyed the salami, but I think the chorizo was my favorite. I also enjoyed the goat cheese on the toasted baguette (which the baguettes had a delicious buttery taste!) I also very much enjoyed the Farmstead Cheese too. This was a great option overall! I would totally get this again.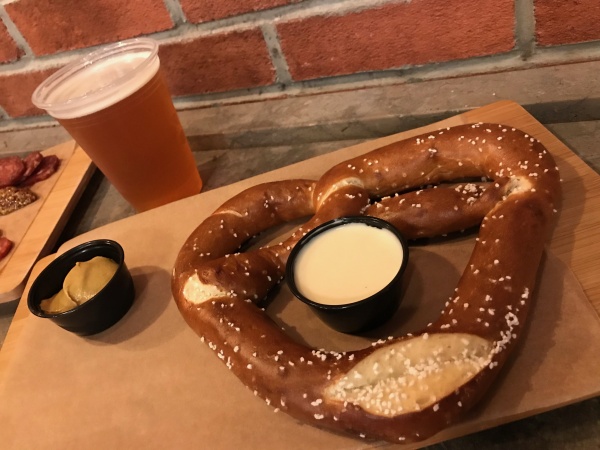 I was also thoroughly impressed with the Bavarian Pretzel which is served with Beer Cheese Fondue and Spicy Mustard. The pretzel was definitely large and shareable. It was soft and warm and I like that it wasn't overly loaded with salt. The beer cheese was awesome. It definitely didn't have an overly beer taste to it, but if I'm critiquing, I do wish that it was a little more flavorful overall.
In addition, here's an overview video to enjoy!
I have to say….BaseLine Tap House has completely won me over. I can easily see myself taking some time to spend an hour or so just relaxing and enjoying a snack and a beverage. I think you will enjoy it too!
Have you visited BaseLine Tap House yet? What did you think? If not, what are you looking forward to trying? Share in the comments. 
Did you like this article? Make sure to share it with your friends! Check below for easy ways to share!