This post may contains affiliate links for your convenience. If you make a purchase after clicking a link we may earn a small commission but it won't cost you a penny more! Read our full disclosure policy here.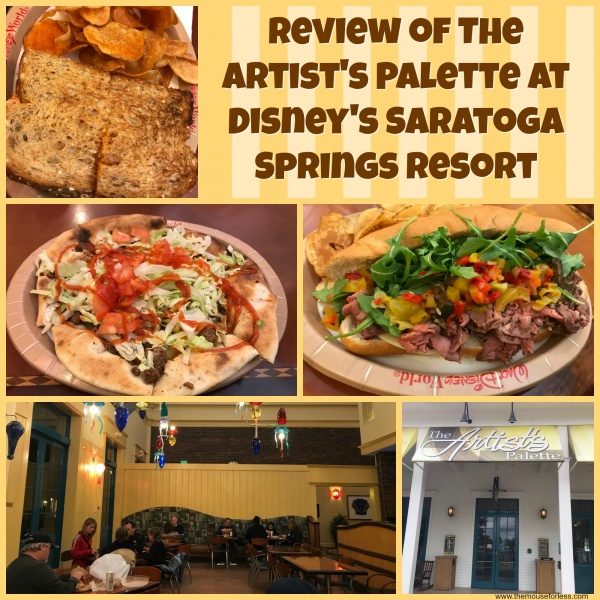 Recently, thanks to some wonderful friends, I was able to stay at Disney's Saratoga Springs Resort. While I'd visited before and even stayed in the Treehouses, this was the first time really getting to explore the main resort in any real way.
I really appreciated the resort's charm. Saratoga Springs, being a true Disney Vacation Club Resort is a sprawling resort, with large pools, a golf course, and many restaurants.
So, with this being a Foodie Friday post, I wanted to discuss visiting the resorts not often talked about Quick Service restaurant, The Artist's Palette. One of the detriments of many Disney Deluxe Resorts is that their food courts are kind of paltry. I'm not sure why that is. My theories are that because they offer full service options and lounges, and because people go to the parks, the need for plentiful options at a quick service restaurant aren't necessary.  I disagree with that thought process because if I'm in the situation where I was in where I was coming back to the resort after being in the park but starving and looking for a quick, yet good meal, you'll find the quick part at The Artist's Palette…the good is debatable. It's also incredible small, much like it's Deluxe Resort brethren.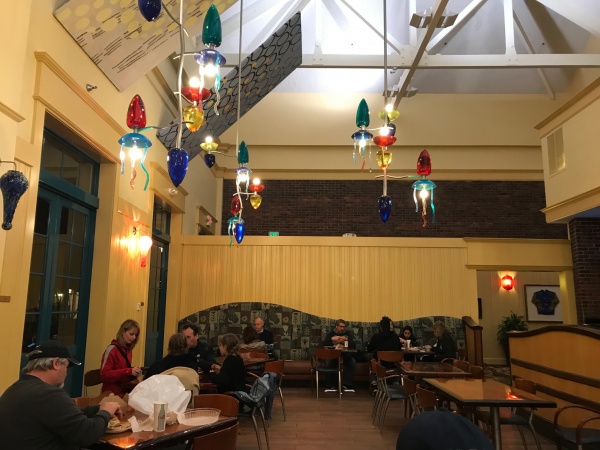 There aren't a large amount of options on the menu….mostly revolving around pizzas, sandwiches, and grab and go items. Nothing really crave-worthy. And nothing that really stuck out to me….even though I was hungry.
So, I decided to be a little adventurous. I got the Cheeseburger Thin Crust Pie, which comes with Ground Beef, American Cheese, Lettuce, Tomatoes, Onions, Pickles, Ketchup, Mustard and Mayonnaise. I opted not to have the mustard and mayo added because I really hate those two condiments.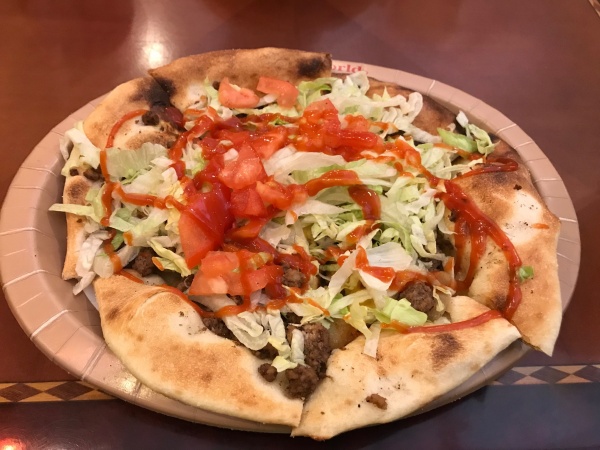 The pizza was interesting…the flavors weren't bad…all things considered. I did like the pie, but due to the heft of all the toppings, it was also incredibly difficult to eat. The toppings immediately slid off the pizza as soon as I tried to pick it up. Cutting it with a knife and fork was really the way to go.
Also, as it goes with Disney pizza, it was a very crusty pizza.  Not in the same way as say PizzeRizzo, but in it's own right. The pizza was cut into 6 slices and could potentially be shared, if you have two smaller eaters or if you just aren't super hungry.
I do feel like they at least try to be creative with the options that they serve. Members of our party got the Buffalo Chicken Panini and the Spicy Italian Beef Sandwich. They were good, but again, nothing really wowed.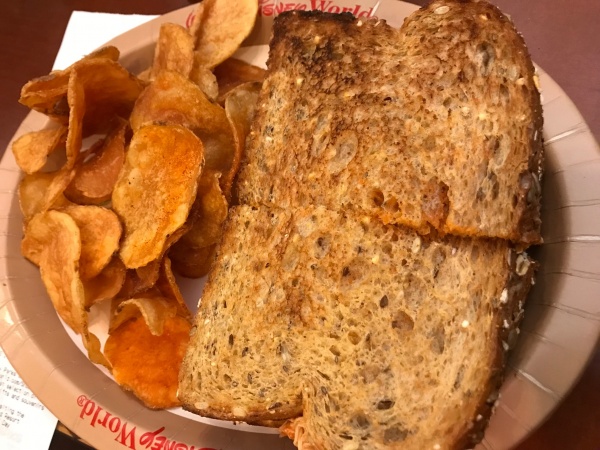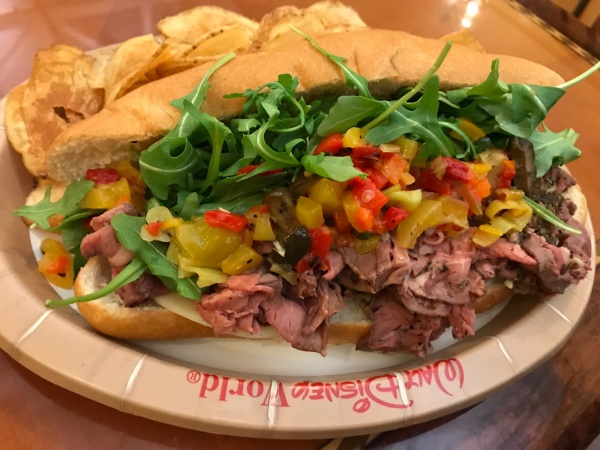 Overall, I feel like this is a food court that could use a good remodel. It's small, it's cramped, it doesn't offer a lot of options, and the dining area is incredible small too. I feel like they should knock out a wall and open things up. The food court is connected to the resort's store which I think all of it could still exist in one space, I just think there's a lot of unused space here when you combine the quick service restaurant, the store, and the odd hallway/lobby waiting area.
The Artist's Palette isn't bad if you're hungry and you need a place to stop, but it isn't a place to seek out. I think the promise of the restaurant is there, it just doesn't reach its full potential.
Have you tried The Artist's Palette? What do you think? Share your thoughts in the comments. 
Did you like this article? Make sure to share it with your friends! Check below for easy ways to share!
Incoming search terms:
artist palette cheeseburger piazza