This post may contains affiliate links for your convenience. If you make a purchase after clicking a link we may earn a small commission but it won't cost you a penny more! Read our full disclosure policy here.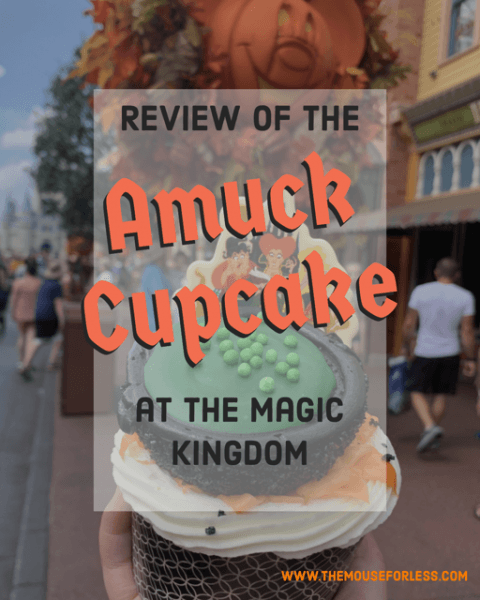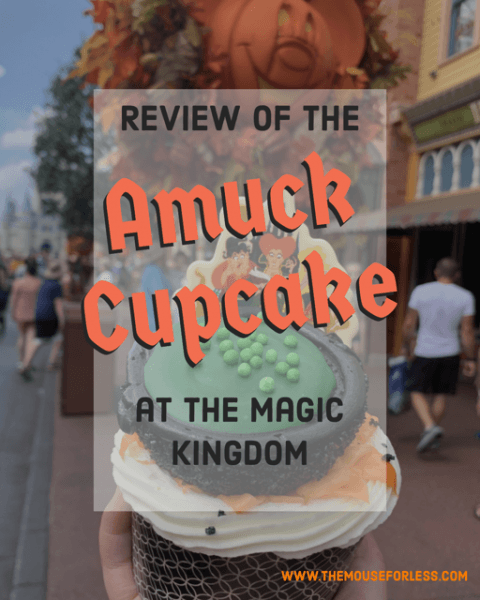 Happy Halloween everyone! Yes, I'm well aware it's still August, but at the Magic Kingdom, the park is in full swing Halloween mode. So much so that they are already offering special Halloween-themed sweet treats throughout the park. On my recent visit, I stopped inside the Main Street Bakery (that would be where Starbucks is, for those who don't know) to pick up one of the great choices. The Amuck Cupcake, which is themed around the classic Hocus Pocus film can be found here.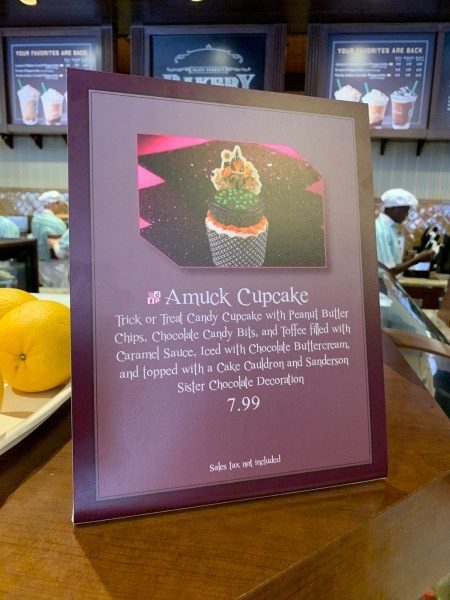 Just what is the Amuck Cupcake? It's a Trick or Treat Candy Cupcake with Peanut Butter Chips, Chocolate Candy Bits, and Toffee filled with Caramel Sauce, iced with Chocolate Buttercream, and topped with a Cake Cauldron and Sanderson Sisters Chocolate Decoration. At $7.99…..this is one pricey cupcake….but let me tell you….this sucker is HUGE!!!! (PS: For those on the Disney Dining Plan, this is a snack option….and a good use of one too!)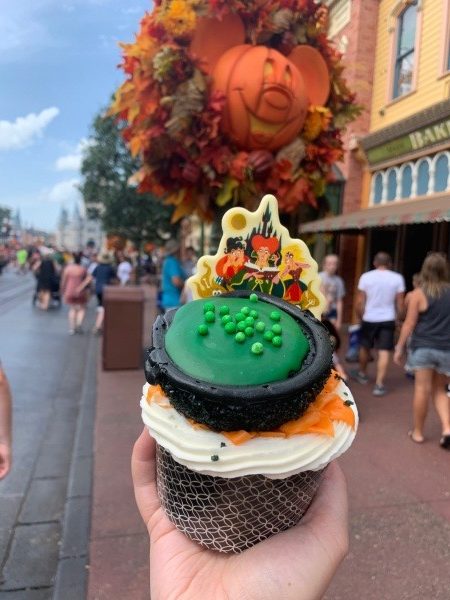 Taking this pic wasn't easy! The cupcake was seriously the size of my hand. 
They handed me the cupcake in a bowl….that's how big it was. And it was hefty. There was weight to this cupcake. My problem….I wasn't going to be eating the cupcake here. I wanted to take it back with me…and due to the immense size….well….they don't have containers big enough to hold it! That is going to make this more difficult. (Carrying a cupcake on the monorail was definitely not easy.)
So, once I got to a place where I could enjoy the cupcake, I dug in and if you get this cupcake, I hope you like icing! The top half is almost completely icing. I thought the cauldron would be cake, but I didn't see or taste cake at all….it just looked and tasted like a mound of delicious frosting. Do not get this cupcake if you don't like buttercream icing. The Sanderson Sisters decoration was a good solid piece of white chocolate.
Now, let's move onto the cake. It was a vanilla cake with delicious pieces of chocolate candies, peanut butter chips, and toffee….but the best part was the LAYER OF CARAMEL on the bottom! Most of the time, Guests will want to take the wrapper off their cupcakes before eating them….but you don't want to do that with this one. This most certainly is a fork-eating cupcake! (Matter of fact, I would call this more of a "personal cake" that's designed to look like a cupcake than a cupcake.) The flavors here were so yummy, but it's certainly a lot of sweet! If you are so inclined, I might share it. (Might.)
Have you tried the Amuck Cupcake yet? Does it sound like it's up your alley? Let us know your thoughts in the comments, or on Facebook or Twitter!
Did you like this article? Make sure to share it with your friends! Check below for easy ways to share!
Want to visit the Walt Disney World Resort? Contact The Magic for Less Travel for more information and a free, no-obligation quote.