This post may contains affiliate links for your convenience. If you make a purchase after clicking a link we may earn a small commission but it won't cost you a penny more! Read our full disclosure policy here.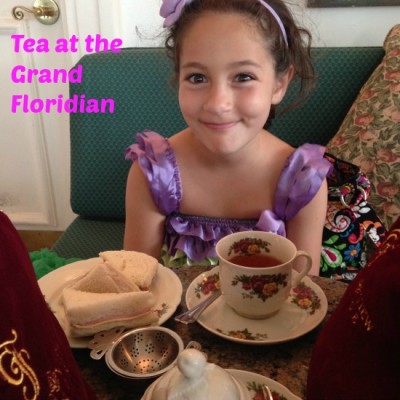 Afternoon Tea at the Garden View Tea Room at Disney's Grand Floridian has become a tradition for us on each trip. It is a fun way to spend some quality mother/ daughter time together. I think we have purchased our daughter a minimum of three tea sets in her younger days. She loved playing with them. So, when I saw that this was an option, I knew we had to do it. On our first trip to Disney, I wasn't able to get a reservation, nor did we plan time for this. But the second time we went, I set aside an afternoon where the boys went fishing and her and I went for tea.
The Grand Floridian is a beautiful resort and has a certain elegance to it. However, it does not feel stuffy or uncomfortable. The lobby is breathtaking and we usually take some time before or after our reservation to sit in the plush chairs in the lobby just listening to the piano play. Another thing we always do while we are here is go up on the second floor and visit Basin. We almost always walk out with a bag full of luscious bath products, but who can resist. They make great souvenirs.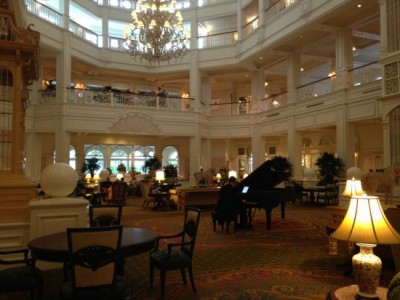 The beautiful lobby of the Grand Floridian!
In regards to the offerings, they have several options for adults. For kids, they have the Mrs. Potts Tea. This includes 3 courses. The first is assorted tea sandwiches, second is a jam tart and third is house-made pastries. This is accompanied by "Dark Tea", which is chocolate milk. My daughter chose to have actual tea with hers, which she dumped no less than 3 sugar cubes in each cup! For adults, they have options that include caviar and champagne. I usually opt for the 3 courses with a choice of tea, which is the Bedfordshire Tea. The Derbyshire Tea is the same and includes a glass of champagne.
While I was not sure what to expect with the sandwiches, they were amazing. They included an egg salad, a curried chicken, onion tartlet, cucumber and watercress and an open-faced golden beet tart sandwich. My favorite was the curried chicken. My daughter received tuna salad and peanut butter and jelly for her first course. The second course was just as amazing. It was a jam tart and a buttery scone. The scone was served with lemon curd, jam and clotted cream. The lemon curd was to die for. Simply delicious. Her second course was also the jam tart. The last course was dessert and I always opt for the strawberries and cream. They are simple and amazing. Her last course consisted of a swan pastry filled with a cream, an éclair and a white chocolate covered strawberry. Our tea choices were Princess Breakfast Tea for her and the Mad Hatter Blend for myself. They were both delicious.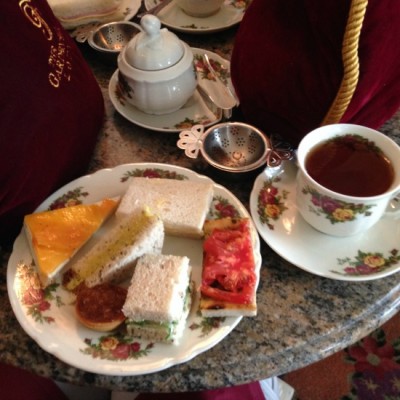 First Course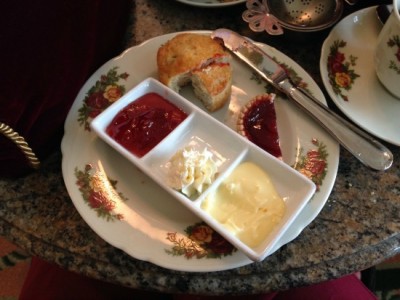 Second Course
Strawberries and Cream Dessert Course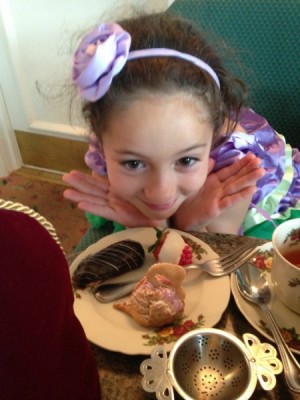 Ava with her Dessert Course
All in all, it's some quiet time outside of the parks. It's so wonderful and relaxing to participate in a centuries old English tradition. I think when my daughter is older, this will be something she can always look back on and remember.  It is certainly a tradition we will continue to hold!
Have you ever done Afternoon Tea at Disney's Grand Floridian Resort? What do you think?