This post may contains affiliate links for your convenience. If you make a purchase after clicking a link we may earn a small commission but it won't cost you a penny more! Read our full disclosure policy here.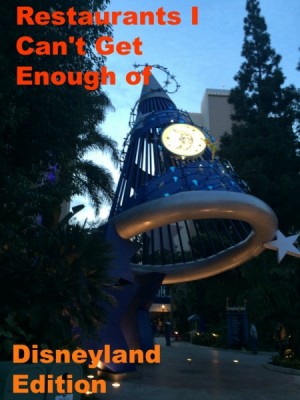 The Happiest Restaurants on Earth!
When I travel to Disney on either coast, I love to try new restaurants. There are simply so many places to eat in Disneyland and Walt Disney World, and I have this strange compulsion to try to hit as many restaurants as possible!
However, there are a few restaurants that I can't help repeating again and again. At Walt Disney World, that's mostly Crystal Palace and Boma. (Mmmmmmmm, Boma.) But at Disneyland, there are so many restaurants that I can't get enough of, I decided to share my thoughts here.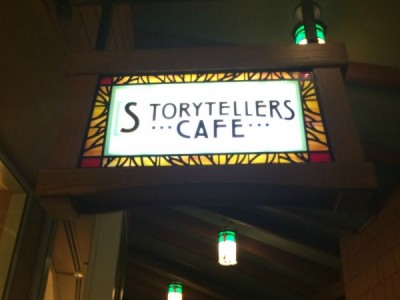 STORYTELLERS CAFE
My first repeat restaurant is the Storytellers Café in the Grand Californian Hotel. We've had the character breakfast here and enjoyed it very much. However, we reserve the breakfast for the slow season, on those mornings where the parks opens later, since I hate to waste valuable early morning park time sitting down and eating. For breakfast, you can choose from a bountiful buffet or order a la carte. On our last breakfast, I thoroughly enjoyed a basil and tomato egg white omelet with the best tasting grapes I've ever had. To keep with the rustic theme of the resort, you'll be visited by Disney's woodland characters, such as Chip, Dale and Meeko.
The dinner service at the Café has always been excellent. I always find myself drawn to the salads here, which are enormous and delicious. On my last dinner here (to celebrate 40 years of my family's Disney vacations) I had a lobster salad which was exquisite.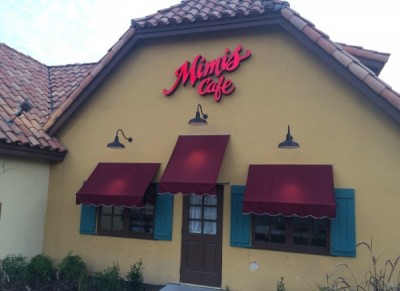 MIMI'S CAFÉ
Okay, so technically this is not a Disney restaurant, since it is not on Disneyland property, nor is it run nor operated by Disney. In fact, it's a chain. (GASP!) However, I have only ever eaten at the Mimi's located right down the street from Disneyland's pedestrian entrance. For folks staying off property (especially at the Howard Johnson Anaheim, next door) this is a great place for a quick, relatively inexpensive breakfast before walking to the parks. It's also a good escape from the bustle of Disney if you want to sit down and eat before heading back home.
The restaurant opens at 7:00am for breakfast, which is perfect for those days when the parks open at 8:00 to the general public. On our last trip, we were among the first in the doors after the restaurant opened, had quick and friendly service, and even took some coffee to go (on the house!) and made it to the park gates by opening time.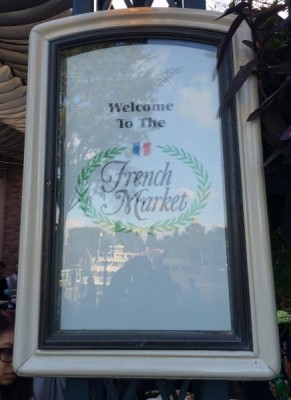 THE FRENCH MARKET
When I first visited Disneyland in 1995, I didn't take the copious notes I do now, so I can't be certain, but I'm fairly sure this is the first Disneyland restaurant I ever ate at. What is not the love about this place? Food that is certainly above the standard burgers-and-fries theme park fare, salads tossed to order in front of you, gorgeous outdoor seating with a view of the New Orleans Square train station, a stage where the Royal Street Bachelors often play sets of Dixieland Jazz – this is one of those rate counter service places that does not feel like counter service.
The only caveat about this place – do not head to it during peak meal times. Eat lunch at 11:00 a.m. or dinner at 5:00 p.m. to be sure to snag a good table. Otherwise, be prepared to balance your tray while trying to navigate through a sea of hungry guests.

REDD ROCKETT'S PIZZA PORT
This restaurant is one of my "Happy Disneyland Surprise" places. I first discovered it on a blistering hot September day. We were simply looking for a place that was indoors and air conditioned. I didn't care if they served piles of concrete garnished with mud – I just needed to get indoors and cool!
With a name like Redd Rockett's Pizza Port, it would surprise absolutely no one that they serve pizza. And the pizza is okay. Large slices, but pretty much standard Disney counter service pizza. The big surprises here are the incredibly tasty and flavorful salads and pastas. On our last visit, they added Star Wars themed food to the menu.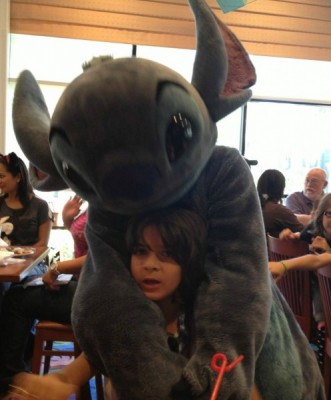 PCH GRILL
The PCH Grill, in the Paradise Pier Hotel, is often overlooked by folks not staying at the resort. It's a bit of a walk from the parks, and most people in search of an out-of-the-park meal simply head for Downtown Disney or the two other, closer hotels. But the dinners here are quite good, and because of it's location, it's often possible to snag a seat here without a reservation.
The Surf's Up Breakfast with Mickey and Friends is a delight. The buffet is bountiful, the servers friendly, and the characters an absolute hoot. This is the only place in Disneyland I've ever met Stitch, and the only place we've EVER met Daisy, period. Mickey is dressed as a lifeguard and dances with kids.
As I said earlier, I tend not to do character breakfasts when the parks open early. And the last time we ate here, the parks opened at 7:00 a.m. to guests of the three Disneyland owned and operated hotels. So we hit the parks super early and came back to the PCH Grill at 11:00 a.m. for their last seating. It was the perfect rest for us after three and a half hours of nearly empty park touring. Plus, our hostess encouraged us to stay as long as we like and take as many photos with the characters as we liked, since we were the last seating.
Pluto did something I will never forget. He went to the glass windows, opened the blinds, and followed the cars that passed by with his eyes, just like real dogs to. This was hilarious, in part because, nowhere else on Disney property (at least on American soil) is there a character restaurant that faces the street.
Our servers were perhaps too enthusiastic about their jobs. When my daughter went up to dance with Mickey, one of them swept up to clear her almost completely full plate, and was gone before I had a chance to open my mouth to stop him! Mind you, it's a buffet, so we got her more food, but it seemed as waste to me.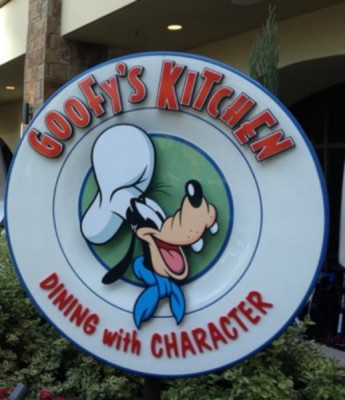 GOOFY'S KITCHEN
We have celebrated more birthdays at Goofy's Kitchen than I can remember. We've always done dinner, usually on our arrival night when we don't go into the parks. This buffet restaurant, hosted by various Disney characters, is located in the Disneyland Hotel.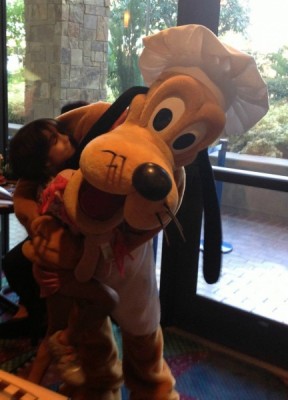 Pluto was so happy to see us!
At the beginning of your experience you are invited into a nook to meet Goofy and have your picture taken with him. The cast members will happily take photos with your own camera. They will also take photos of their own, and will offer them to you for sale at the end of your meal. Just remember – this is NOT included in the price of the buffet.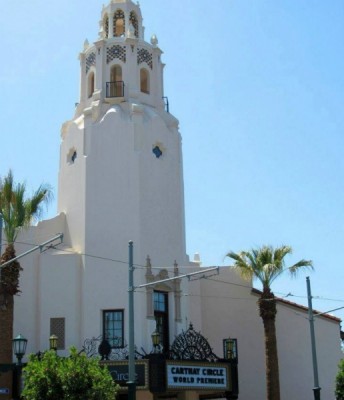 HONORABLE MENTION
CARTHAY CIRCLE RESTAURANT
This is kind of cheating because I've only eaten here once. But the experience was so divine that I cannot wait to repeat this place. It might be a while, because this is one pricey spot.
The restaurant, located in California Adventure, is modeled after the movie palace of old where Snow White and The Seven Dwarfs premiered. The exterior and interior ooze luxury, and it can seem strange to see diners in shorts and Mickey ears.
We opted to the World of Color Dining Package, which gave us a pass to view World of Color later that evening in a reserved section. The large restaurant is broken into smaller dining rooms. Our dining room happened to be adjacent to the balcony. Our dining reservation coincided with the Pixar Play Parade, and as our server cleared our appetizers, she encouraged us to take our drinks and watch the parade from the balcony while we were waiting for our entrees. I have never felt so much like a Disney V.I.P. as I did as I leaned on the balcony, holding my glass of California Pinot Noir, watching the floats go by.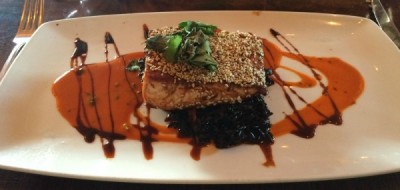 That salmon.  I still have dreams about it…
The food was outstanding. There was nothing that came to our table, from the bread basket to the desserts, that I would not enthusiastically eat again. This premium dining experience, however, comes with a premium price, and I will have to save my pennies before we eat here again.
There are so many wonderful restaurants in Disneyland that I have yet to try.  (Napa Rose, Uva Bar, Cove Bar, I've got my eyes on you…)  But no doubt, I will still find time to return to my favorites, again and again.
What are the Disneyland restaurants you can't get enough of and why? Share in the comments.
Incoming search terms:
https://www themouseforless com/blog_world/restaurants-cant-get-enough-disneyland-edition/