This post may contains affiliate links for your convenience. If you make a purchase after clicking a link we may earn a small commission but it won't cost you a penny more! Read our full disclosure policy here.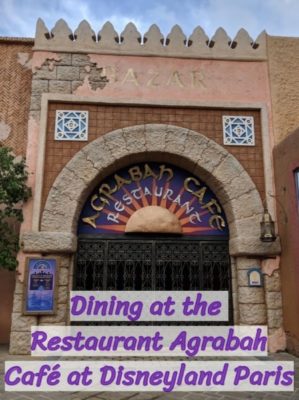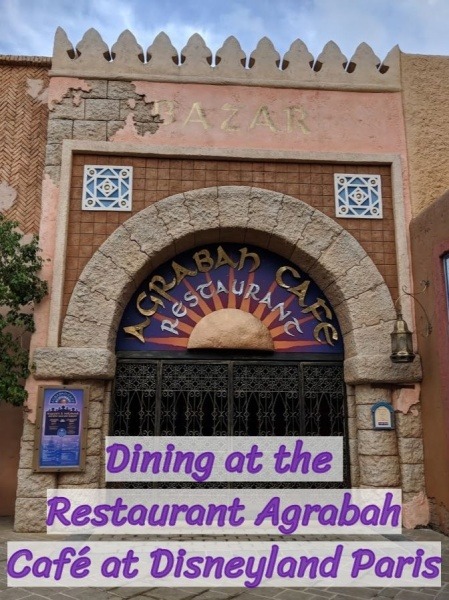 I recently saw the new live action version of Aladdin in the theater and the movie took me back to my recent visit to Disneyland Paris. While we may not have found ourselves in a chase through the streets of Agrabah like Aladdin did, we did have the opportunity to dine like Prince Ali at the Restaurant Agrabah Café .
The theming of Agrabah Café is incredible. When you enter the restaurant, you feel like you have stepped onto a real street in Agrabah. Disney has already proven that they can design a pavilion that gives guests the feeling of being outside while really being indoors with the Mexico pavilion at Epcot. Agrabah Café has a very similar feel.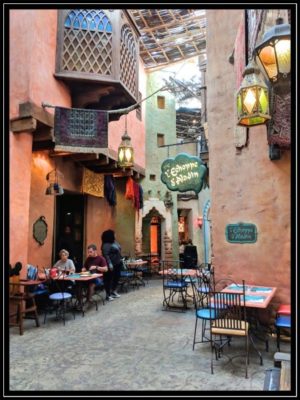 We had a late afternoon reservation and checked in with the host when we arrived. We then went "inside" where the host escorted us to our table. After putting in our drink orders, we were able to visit the buffet immediately.
The menu features many different Mediterranean and Middle Eastern foods. The variety was very good, making this a nice option for a group with different tastes.
The main purpose of our Disneyland Paris trip was to run the Magic Run Weekend races at the parks. We chose this as our pre-5K race meal and I believe we chose wisely. We were able to find lots of protein and carb options that served as great fuel for the race.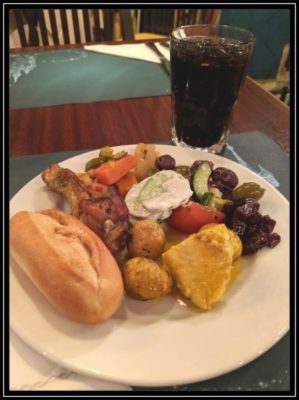 After hearing so many people say that the food at Disneyland Paris is not great, we were very happy with our decision to dine here. There were so many delicious items! Everything seemed fresh and cooked well. The chicken I had literally fell off the bone when I took a bite. I also enjoyed some fish, potatoes, and fresh vegetables. It was all quite yummy.
After my meal, I checked out the dessert! I did my best to take it easy here since I had to run in a few hours. I figured a couple nibbles wouldn't hurt though! Baklava and several other pastry type desserts were available. Each pastry was slightly different, but all had a small hint of rose water flavor to them. I enjoyed these.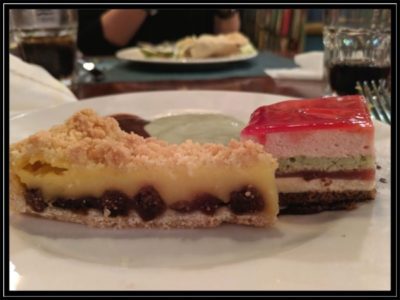 I also sampled some pistachio and chocolate pudding. This was a bit thinner than I was used to, but the flavor was what you would expect. My favorite of the dessert options was a cake-like dessert that had several layers. Each layer had a different flavor and texture. I have no idea what this was called, but despite my plan to just take a few bites, I finished the whole piece.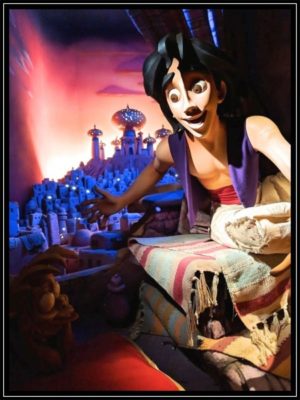 We were adequately fueled for the race by the end of our meal and I was glad we had some time to walk around before we had to go back to the hotel to change. We decided to take a stroll through Le Passage Enchanté d'Aladdin where we saw scenes from the original movie on display. Disneyland Paris has several walk through attractions and they are all very well done. I highly recommend checking this one out if you have the chance.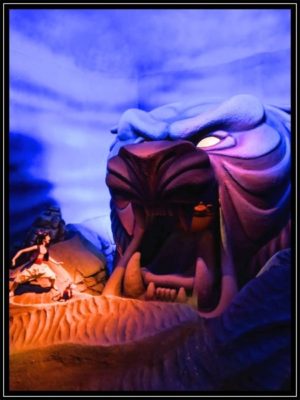 Before heading back to prepare for the race, we were in for one last surprise. The Genie was out meeting guests! This was a pretty quiet corner of the park, so we were able to quickly say hello and snap a photo. It was the perfect end to our Aladdin themed afternoon!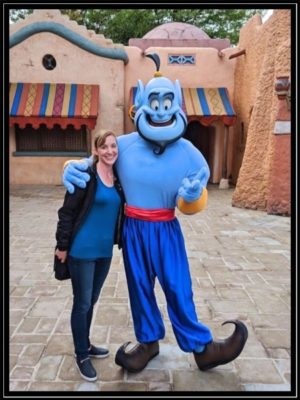 I hope that I will have the opportunity to visit Agrabah Café again someday. Until then, I'm looking forward watching the live action Aladdin film again!
Have you visited Disneyland Paris and dined like Prince Ali? Share your thoughts on the restaurant with us in the comments!
Did you like this article? Make sure to share it with your friends! Check below for easy ways to share!
Want to visit the Disneyland Paris Resort? Contact The Magic for Less Travel for more information and a free, no-obligation quote.

Incoming search terms:
disneyland restaurant agrabah
https://www themouseforless com/blog_world/restaurant-agrabah-cafe-disneyland-paris/