This post may contains affiliate links for your convenience. If you make a purchase after clicking a link we may earn a small commission but it won't cost you a penny more! Read our full disclosure policy here.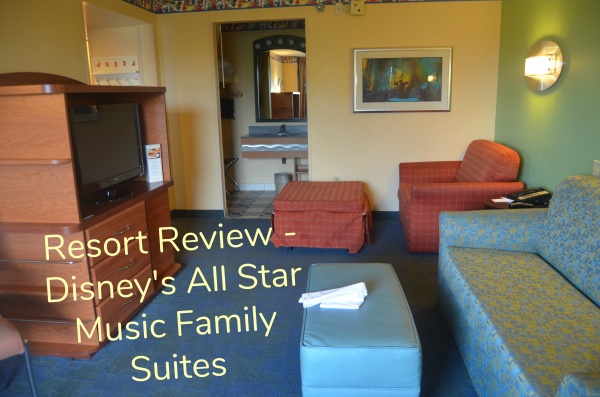 A recent stay at Disney's All Star Music Resort Family Suite convinced my husband and I that we cannot vacation at Walt Disney World any other way.
Disney's All Star Music Resort has three room choices for Guests to choose from: Standard, Preferred, and Family Suite. And while our family has stayed in both the Standard and Preferred, we decided for this trip to give the Family Suite a try. But how did we know it would be worth our money to stay in a suite compared to a standard room? The truth is, we didn't.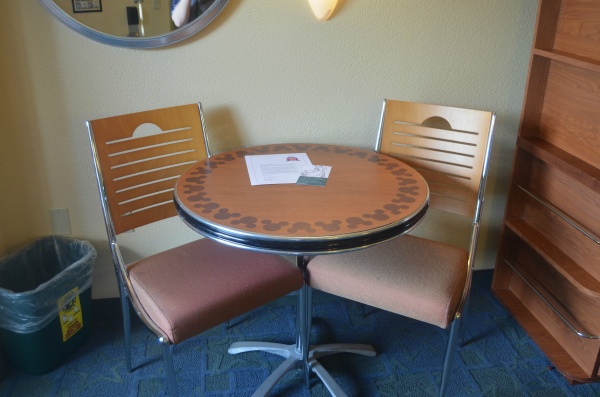 Our main motivation to stay in a suite was the ability to have enough space for our family of four to be comfortable and not on top of one another. We also wanted to have the ability to easily fix snacks and meals if needed and the family suite was perfect for that. The suite has a nice open floor plan, including a living room, two full bathrooms, a kitchen, and master bedroom. So, how does it measure up?
The Family Suite will sleep 6 people. Two in the main bedroom and four in the living room. The couch, chair, and ottoman are all pullout beds. I'm surprised by how comfortable the mattress was on both the chair and couch beds. The bedding was soft as well and there were plenty of pillows to go around. My kids (who are 6 and 8) took the couch and chair as their beds; though they could both easily fit on the couch together. I believe it's possible for two adults to also sleep on the couch bed (it is a full size) if they don't mind being close to each other.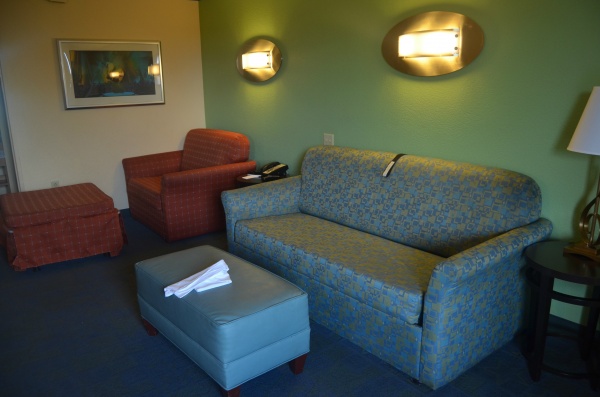 The chair bed in Disney's All Star Music Family Suites have a twin size mattress and fits a child or an adult comfortably. Both of my kids tried the ottoman bed, it's another twin size, however they thought it was very uncomfortable. I sat on it and the mattress wasn't as firm as the others. Also, getting out of the bed isn't easy. For a family of four or even five, the sleeping space left enough room for us to unpack and for everyone to still be comfortable.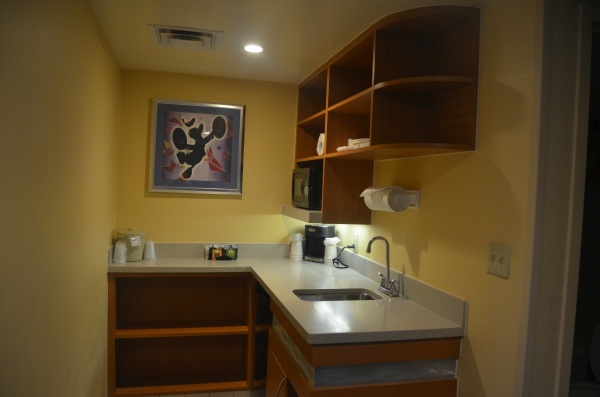 My favorite space in our suite was the kitchen area. I thought it was very spacious with enough cabinets to hold all of our food. It also came with a fridge, coffee maker, and microwave. Disney pre-stocks disposable plates, bowls, and utensils, and will refill them for you. I recommend that you bring extra bowls and plates because they are only refilled every other day.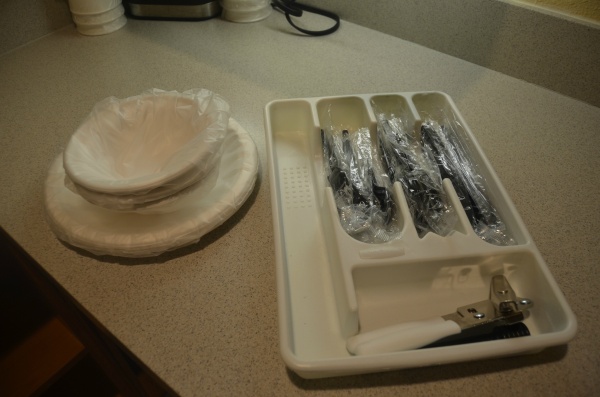 The fridge holds an impressive amount of food. It fit everything we needed for breakfast for five days. We drove to Disney and brought most of our food with us, but there is a grocery store 20 minutes away to buy cold items. You can also order food from certain local grocery stores and have it delivered to your hotel. Or if you have Amazon Prime they will deliver as well. Disney will hold your food for you until your room is ready and then deliver it. Note: there is a slight fee for some deliveries. Making breakfast every morning was a snap and saved us money too. We even brought our own blender to make smoothies!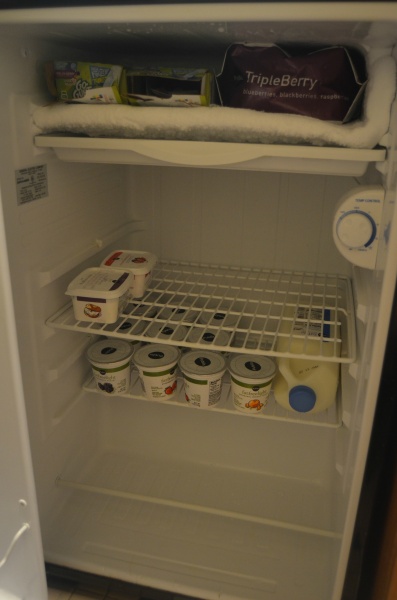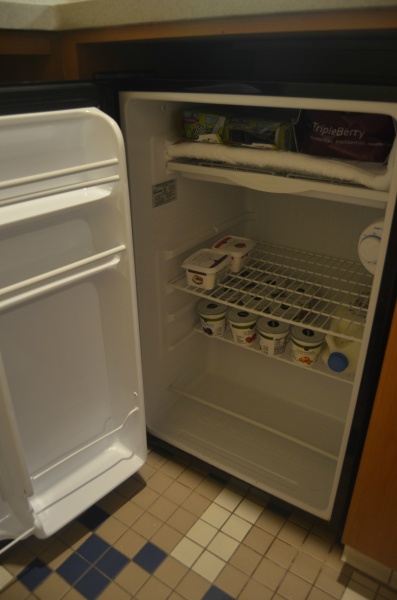 Having two bathrooms was amazing and a time saver. At the end of a long Disney day we could stick both our boys in their own shower at the same time and have them sleeping in no time. It also saved us time in the morning. Everyone was able to get ready at the same time (without stepping on each other's toes) which got us to the bus quickly and on our way to the parks!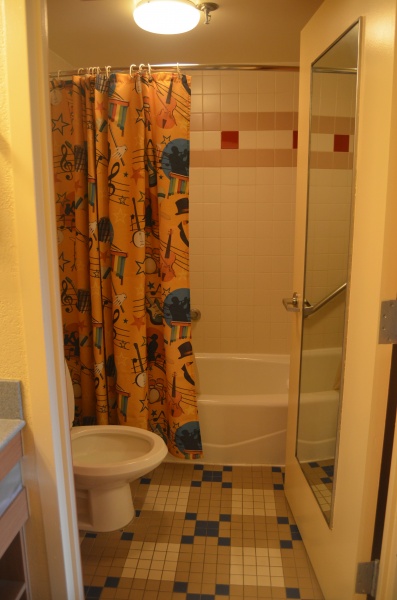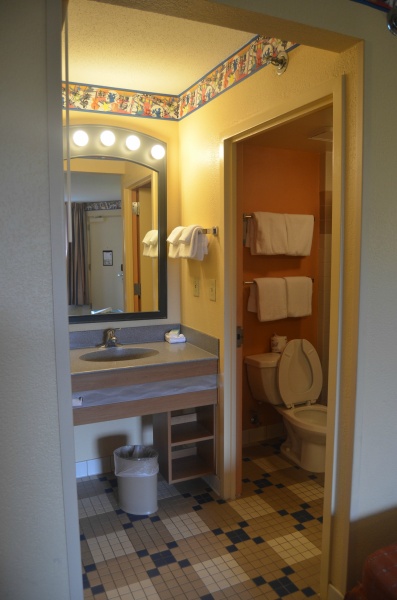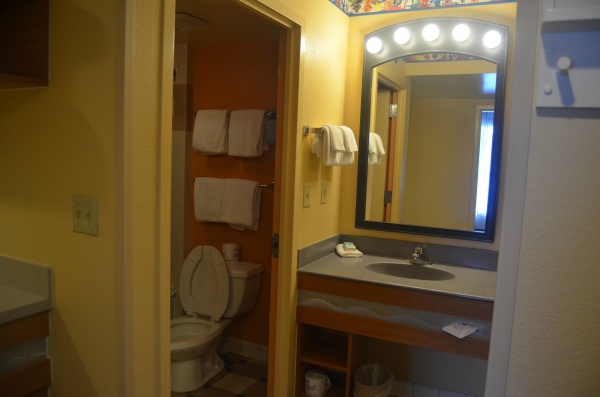 The master bedroom was a nice size with a bed, desk, dresser, chair, and t.v. The bed is a queen size and very comfortable.We fit two suitcases in the room with plenty of walking space left over. The pictures throughout the bedroom and suite are fun. Many featured Donald Duck my favorite Disney character, so I was happy!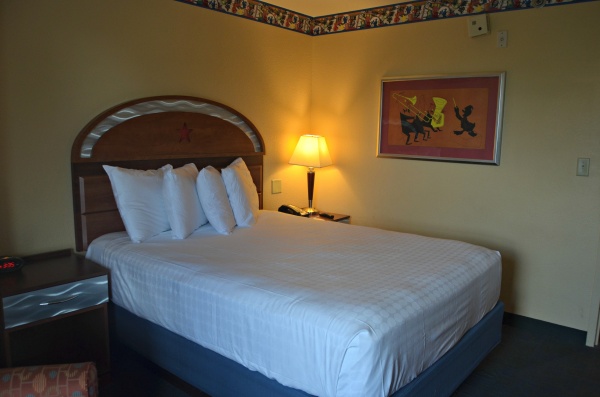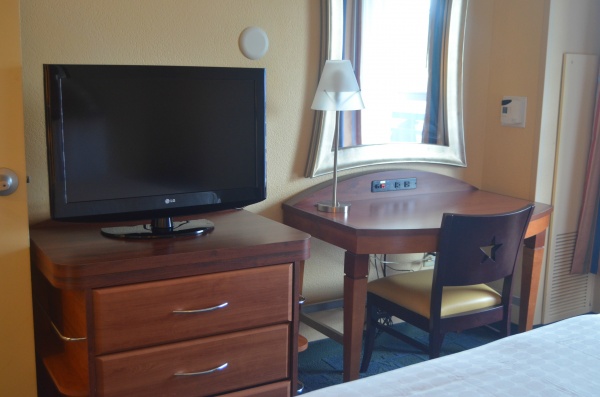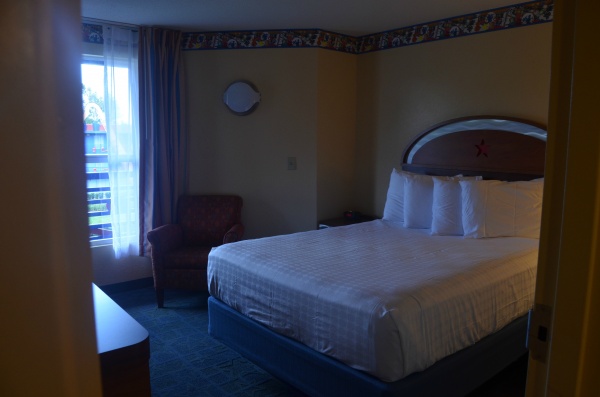 I've never had bad housekeeping services when staying on Disney property and this time was no exception. When we arrived in our room it was spotless and every day we came back to an equally clean space. I love the extra Disney magic they add to your room as well. Especially when they do fun things with our kids stuffed animals.
My family and I honestly didn't have any preconceived notions going into our stay at the family suite. We were pleasantly surprised at the space our room provided, even with the amount of things we traveled with and collected during our stay.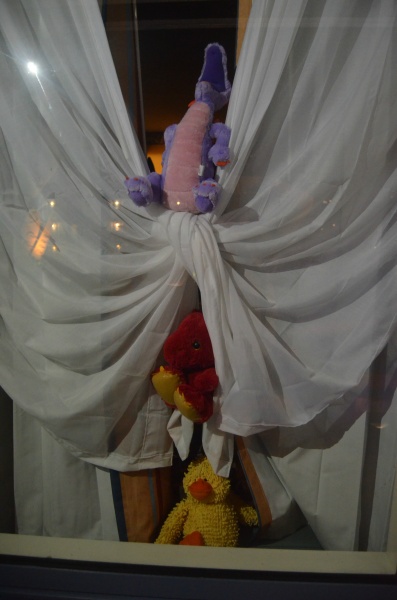 Disney's All Star Music Resort places their suites in the Calypso and Jazz Inn buildings, located near the front of the property. This gives easy access to the main building along with both pools and laundry facilities. We really enjoyed being so close to everything!
A family of four or five can easily feel comfortable sleeping and living in this space. The money we saved by fixing breakfast and some of our lunches, along with the time it saved us; made the extra price worthwhile. For my family, staying on property in Walt Disney World is always a treat and one I'd highly recommend.
Have you stayed in the Family Suites at Disney's All Star Music Resort?Share in the comments, or on Facebook or Twitter.
Did you like this article? Make sure to share it with your friends! Check below for easy ways to share!
Incoming search terms:
all star music family suite
https://www themouseforless com/blog_world/resort-review-disneys-all-star-music-family-suites/
disney all-star music family suite locations