This post may contains affiliate links for your convenience. If you make a purchase after clicking a link we may earn a small commission but it won't cost you a penny more! Read our full disclosure policy here.
By Debbie Boehm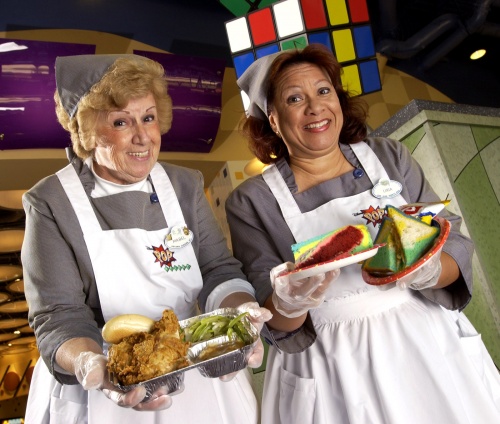 With so many choices to make when planning a trip to the Walt Disney World Resort, the most important one, in my opinion, is your resort.  We are fortunate to have so many options – resorts that will satisfy your budget, space requirements plus amenities.
So how do you choose a resort?  There are several things to consider: how many people in the family, what kind of food do you like, do you like a themed pool or a quiet one, do you mind a lot of noise or prefer quiet, does anyone in your party have food allergies, are there laundry facilities, to name a few.  Resorts at Walt Disney World are also equipped to keep guests with food allergies safe and healthy.
One of the best ways I've found to choose my next resort is to visit other resorts while on vacation.  It's really simple to do and a lot of fun.   Just take Disney transportation to the resort you want to visit from either a Park or Downtown Disney!  It's a snap!
A great thing to do while you're visiting other resorts is to try some of the food that resort has to offer.  Many offer different things that you can only get at that particular hotel.
For example, if you choose to visit one of the Magic Kingdom resorts, you have the ease of hopping on the Monorail and you can visit three very different locations in a short time.  You can have lunch at The Grand Floridian, coffee or a Dole Whip at The Polynesian and dessert at The Contemporary where you can sit outside under the Monorail tracks overlooking the Magic Kingdom.
The food served at each resort tends to correlate to the geographic area represented by the resort.  Would you like to tour the Caribbean?  Take the bus over to The Caribbean Beach Resort and enjoy the colors, the music and the food which are all representative of the area.  It's fun and lively.  Our trip over there included a torrential downpour one August and it's one of our family's great memories.
If you're staying at either of the Port Orleans resorts you can walk between resorts or take advantage of the boat on the Sassagoula River.   The food over at Port Orleans French Quarter is representative of the area around New Orleans.  The Muffaletta sandwich is as good as the real thing in The Big Easy.  Why did we choose the French Quarter?  Well, it was a recommendation of a Cast Member way back in 1996 and we've never regretted our decision to stay there.
If you're looking for the feel of being "at the shore" you might want to consider the Epcot area resorts  – the Yacht and Beach Club or the Boardwalk.  The Swan and Dolphin are also located here and, while they are not Disney owned, there are great restaurant choices there as well.  If you stay here, you're also within walking distance to the Hollywood Studios and the International Gateway to Epcot.  (Hello more delicious food!) In addition, the Friendship boats make stops at both parks and all resorts – an easy way to travel.
Over at Pop Century, the feel is full of fun and nostalgia.  This resort offers dishes that have a home cooked meal appeal, like fried chicken and mashed potatoes.  And you can't miss out on their special dessert, tye-dye cheesecake.
The newest member of the family of resorts at Walt Disney World is the Art of Animation and it is amazing.  I found this resort to be colorful and fun; like being in the movies themselves.  The food court offers gluten free and vegan options and is the one food court on property to serve foods on dishes with flatware.  No plastic serving pieces here.
I have seen firsthand what it's like to have someone in your party with a dietary restriction and how great Disney is in dealing with that.  I traveled with a friend with a food allergy and the chef at The Polynesian was very attentive to her allergy.  It was good to see that up close and personal.  The cashier called for a chef from the kitchen to speak with my friend who was assured that her food would be prepared separately and would be delivered to her personally by the chef.  My experience that day gave me great confidence in the commitment that the chefs at Walt Disney World have to the safety of guests.  It did take a few minutes longer to prepare this special lunch but it was not so long that we thought we had been forgotten.
All in all, the Walt Disney World Resort has something for everyone.  From five star dining to the casual enjoyment of a hot dog, there are choices to be made.  My travels have included both Deluxe and Moderate resorts so far and dinners with beautiful linens and quiet ambience to noisy food courts and "fun" foods but each experience is memorable.
Enjoying a vacation depends on so many little decisions made in advance and choosing the right resort for your family is a very important decision.  No matter what, the vacation will be amazing and special.  So, take the time to plan for your experience and then relax and enjoy yourself and what Disney has to offer.  Hakuna Matata!