This post may contains affiliate links for your convenience. If you make a purchase after clicking a link we may earn a small commission but it won't cost you a penny more! Read our full disclosure policy here.
Perhaps the most amazing experience of our recent cruise on the Disney Dream was our dinner at Remy.  On the new ship Disney decided that they were going to add another adult only restaurant to their already popular Palo, this time it would be French and it would take its theme from Ratatouille, named of course, for its main character.  The restaurant is probably most comparable to Victoria & Albert's on land, more of an experience or an event than just a meal.  There is an additional cost of $75 per person, and wine can be added for an additional cost as well.  It's well worth the cost. It's a longer meal and some of the best time we spent on the ship!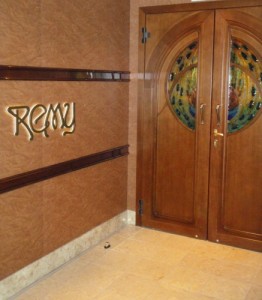 On this cruise, Chris and I were traveling with my brother, so it was great for him to experience this as well.  He's never had a chance to do Victoria & Albert's, so the evening was all new for him.  The three of us headed up to check in for our meal.  When you get off the elevator, you step into the lobby and are greeted by Cast Members at a joint podium for Palo (to your left) and Remy (to your right).  We gave them our name and told them which restaurant we were there for and they invited us to have a seat in Meridian, the lounge behind the podium while we waited for our table.
We went in and got settled, and ordered some drinks.  I opted for a crème brûlée martini that was yummy. Chris chose a Limoncello basil martini and my brother went with just plain bourbon.  We sat chatting about our cruise for a few minutes when, out of nowhere, we had a Cast Member on either side of us.  Our table was ready, and one Cast Member was there to collect our drinks while the other was there to escort us into the restaurant and to our table.
We were ushered into the restaurant, which is beautiful, and taken to our table.  Our table was in the main dining room, with a semi-circular booth that they suggested I sit on and two chairs for the guys.  After we were settled they presented us with our drinks and we were introduced to our server, Jeremy.  We were then given menus, and a bit of an explanation of the restaurant.  We know, of course, where the name came from, but the menu has 3 parts.  The menu itself was devised from a partnership between a French chef and an American chef.  The French chef is Chef Arnaud Lallement from I'Assiette Champenoise, a two Michelin Star restaurant in Reims, France.  The American Chef is Scott Hunnel from Victoria & Albert's at Walt Disney World, of course ;o)  There are two tasting menus, one by Chef Lallement and one by Chef Hunnel, as well as an à la carte menu.  You can mix courses between the tasting menus if you choose.
While we were pondering our menus, we were visited by a few people.  The first was the drink trolley.  At Remy, you will be greeted with a welcoming signature cocktail, the Colette, prepared tableside.  The drink is made from the Tattinger Champagne made specifically for the Disney Dream, pear vodka, dried apricots, dried blackberries and mint leaves.  After we were settled with our drinks, we were then able to choose our bread from an assortment; all of us opted for baguettes.  Then, we were presented with what I thought was our amuse bouche, which we were instructed to place on our plates to let cool a bit.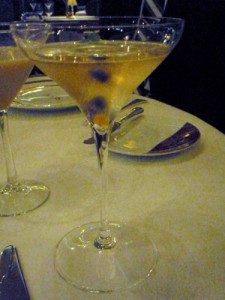 Jeremy returned and we got down to the serious business of ordering.  Chris decided to go with the Goût menu as it stood.  My brother chose the same menu, with one change, the dessert.  I swapped out several courses to piece together my ideal meal.  Once that was taken care of, Jeremy left and we tried our little bites.  I'm not quite clear on what it was, but it was fried on the outside and crispy while the inside was warm and tomato-ey.  It was very yummy.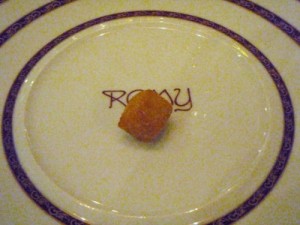 Shortly after that, our actual amuse bouche showed up. It was a plate, of course, of Ratatouille topped with Olive Oil Ice Cream.  Initially that sounded strange, and I was a bit hesitant to taste the ice cream, but it was really good in the context of the dish.  It's not a flavor I would order on its own, though.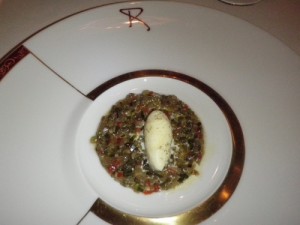 After that, the food just kept coming.  The courses were very well paced. Nothing is rushed or hurried, but there are a lot of courses.  For the next course, we all had the same choice, Smoked Bison with Fennel Salad and Blood Orange.  I love buffalo, so this was wonderful; three small bites of bison topped with blood orange.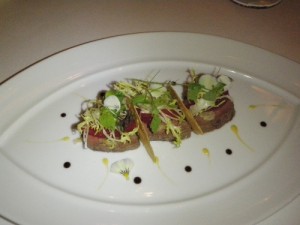 For the next course, Chris and my brother both had Lobster with Vanilla, Bisque and Lobster Roe Foam, which they enjoyed.  I had opted for a much more elaborate course of Declinaison Tomate, Variations of Tomato: Tart, Iced, Parmesan Espuma and Tomato.  This was tomato four ways.  The first was a version of a tomato mozzarella salad, and this was probably my favorite.  The second was a tomato topped parmesan mousse.  The third option was a gazpacho with a tomato sorbet.  The fourth and final course was a tomato water – a champagne flute full of clear liquid that tasted just like biting into a tomato.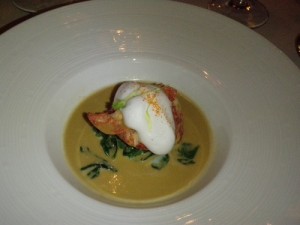 Then came the fish course.  Chris and my brother both chose the Wild Loup de Mer with Cannellini Bean Sauce, Artichokes and Jamon Iberico.  They really enjoyed their fish.  I preferred mine, which was Turbot Côtier, Coastal Turbot with Vin Jaune and Gnocchi.  The fish was very well cooked, and the gnocchi were probably the best pasta I've ever had, creamy and delicious.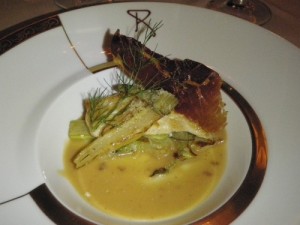 After fish, it was time for the meat.  We had all ordered the same course this time, Australian Wagyu with Garlic-Potato Purée and Petit Carrots.  The plates were presented to us and Jeremy explained that the black dot on our plates was fermented garlic.  The fermentation makes it sweeter and takes away any bite that it would normally have.  It really did add an amazing flavor.  The beef was wonderful – really, it lived up to all the hype.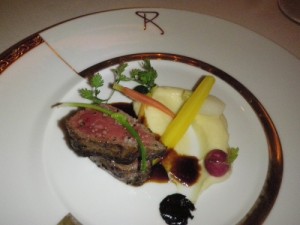 Then, once those plates were cleared, we had another visitor.  This time, it was a cheese trolley.  Remy has a wide selection of cheeses and you can choose from any or all of them.  I didn't quite catch the name of the runnier cheese that I got, but I know that I opted for a French cheese that doesn't have an actual translated name – they just call it "sticky cheese".  Both were great.  My brother isn't a huge cheese fan, so he just tried the sticky cheese, and Chris just had some brie and some sticky cheese as well.
Finally, it was time for dessert.  (By this time, I've lost track of how many types of food we've been presented with – it's just a lot, and it has all been wonderful!)  Chris chose a Vanilla Poached Pear that also came with a cookie.  My brother and I went with the Fondant Chocolat Croustillant, Sorbet Cacao and Jus Mousseux.  The best way I can explain my dessert was to say that it was sort of like a way upscale Kit Kat bar, topped with a super-rich chocolate and edible gold leaf.  Then, there was a glass of chocolate sorbet topped with hot chocolate foam.  Everything was amazing.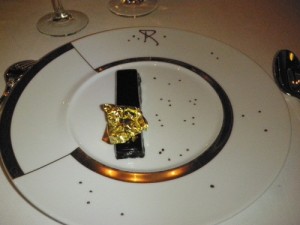 By this time, I was stuffed…or, so I thought.  Little did I know I was going to be presented with a rose and a plate full of yummy, pastry, candy goodness as well as a clamshell of chocolates.  You can't just insult a Chef like that, so I had to dig deep, and try to at least sample the gifts he'd given us.  I took a bite out of the chocolate.  Then I took a few bites out of the crispy cinnamon glazed cookies.  There were lemon mousse pastry bites, nougat bites, and salted caramel bites.  Let us not forget the homemade orange marshmallows or the homemade lollipops!  It was ALL delicious…every last bite!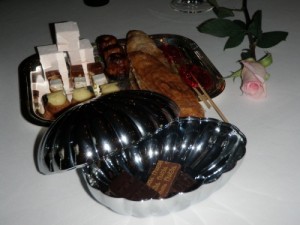 The much lighter side of Remy, one that you don't see at first glance, is that there are many hidden Remys.  Some, you could stare at for the whole meal and not even realize it while others are a little less hidden.  I'll post some pictures below. See if you can spot the famous mouse!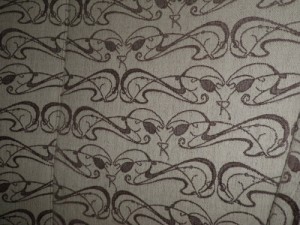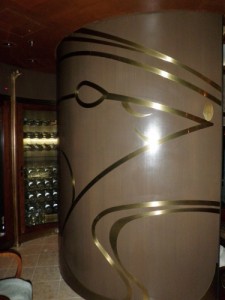 I really hope that you'll try the restaurant- it was an amazing experience, and one I think is perfect for a special night out!