This post may contains affiliate links for your convenience. If you make a purchase after clicking a link we may earn a small commission but it won't cost you a penny more! Read our full disclosure policy here.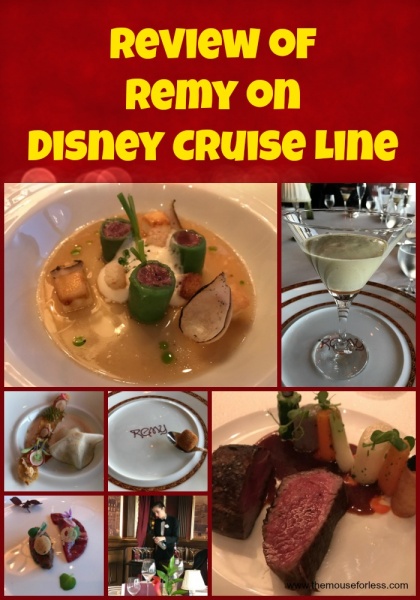 I am a picky eater. Let's just call a spade, a spade. And while I've expanded my palette over my adult life, (and especially since I started writing my Foodie Friday posts) I still tend to feel that I am a bit pickier with what I eat. I tend to eat somewhat simple dishes in my normal life and while I had enjoyed many meals onboard Disney Cruise Line at Palo, I was very hesitant to try the signature restaurant, Remy. For years, despite the rave reviews the restaurant has had, it made me nervous to dine there. That was until my last cruise when I decided to give this restaurant a chance.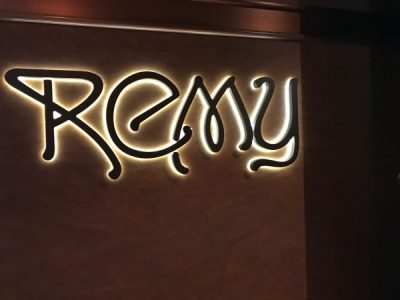 Let me catch you up though. Remy, which is a French-inspired restaurant and named after the character from Ratatouille, is an upscale restaurant onboard both the Disney Dream and the Disney Fantasy. This restaurant is so fancy, it has a dress code that must be strictly adhered to. Women must wear either a cocktail dress, evening dress, pant suit or skirt/blouse. Men must wear a jacket (such as a sports, suit or tuxedo jacket), with dress pants/slacks and shoes. Ties are optional.
For those used to Walt Disney World restaurants, Remy is essentially the Victoria & Albert's on the sea. It is an adults only restaurant with a menu that is seasonal and can change depending on the ingredients that are available in the region of the world you are in. So, keep that in mind when we discuss my specific dining experience. Dinner at Remy does have an additional cost of $95 per person. (Remy and Palo are the only two restaurants onboard Disney Cruise Line ships that require an additional fee to dine there.) It can be a little difficult to secure a reservation ahead of time for Remy. Online reservations open for Guests on the following days:
Concierge Guests & Platinum Castaways: 120 days in advance
Gold Castaways: 105 days in advance
Silver Castaways: 90 days in advance
First Time Cruiser: 75 days in advance
One thing to note is that if you don't get a reservation at Remy when booking your activities online, you can attempt to make a reservation once you board the ship by heading to Guest Services.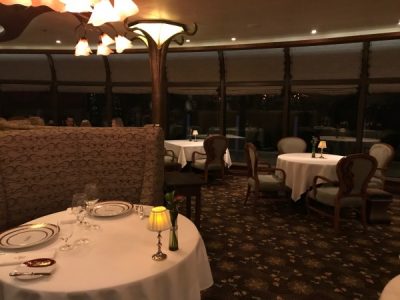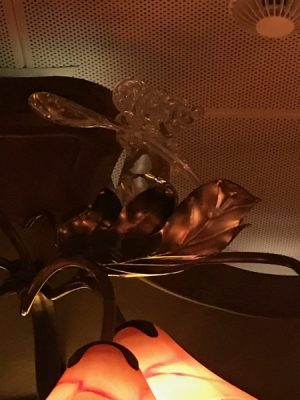 Dining at Remy is an event. This is not going to be a quick hour long meal. This meal will take hours! It is event dining, at its finest. So, my tip is to plan on making your reservation on a night when there isn't a show you're wanting to see that night. Also, don't make your reservation for any of the special dining nights onboard the ship, such as Pirate Night. (Unless, of course, you don't care if you experience the special dining nights.)
Now that we've gotten to the nitty gritty about how to dine here, let's get to the actual meal!
When you go up to Remy, which is on the aft of the ship on Deck 12, you will notice that the restaurant feels extremely elegant, with lots of gold coloring. Guests will wait to be seated in Meridian bar. During our visit, we actually got to dine in the private dining room, which is great for those cruising with a larger group, but because of its exclusivity, it's not an easy room to get. When we were seated, I discovered that there were purse stools! I knew this was a night I was not going to soon forget!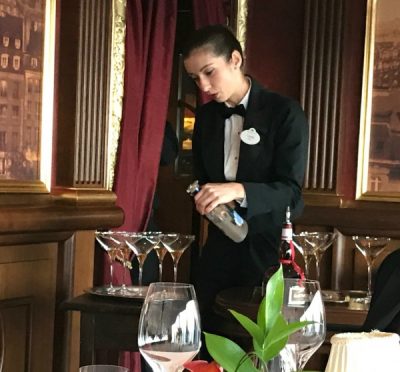 Once seated, we were all poured a cocktail called the Colette, named after the character from Ratatouille. This was a champagne cocktail and is the only alcoholic drink included in your meal. The Colette is served table-side.
There is the option to add a wine paring to your meal for an additional cost. For those who drink, this is a fantastic option, as you get a different wine paired with each and every course.
Remy offers a multi-course meal. On our menu, there were eight courses. So, make sure you arrive hungry!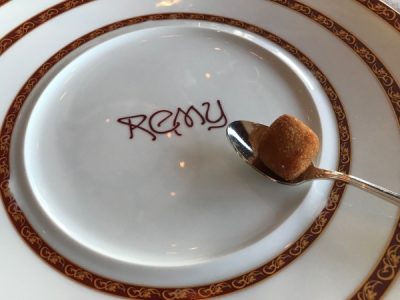 The first dish was an amuse-bouche. It was a small cube of deep fried tomato soup. Now I know you're asking, what? How can they do that? But it really is tomato soup that's contained inside this fried cube and it is incredible. When you bite into it, the soup oozes out in a delicious symphony of flavors.  If this was the first course, I was excited to see where things were about to go.
Now, remember how we talked about how picky I am. I went into this meal and told myself that no matter what I was served, I would try it. Even if it was something that I didn't think I would like. That promise was tested with the next dish served to me. The wait staff promised that there would be some surprises throughout the meal…and this one was a surprise.
Served inside a martini-style glass was a Foie Gras Siphon with macadamia nuts. We were told to make sure we scooped from the bottom to get all the flavors. I heard Foie Gras and immediately thought…ew. This was basically foamed foie gras with caramel and macadamia nuts. I was really unsure how this would go. Turns out, this was delicious! The saltiness of the foie gras and nuts paired incredibly with the sweetness of the caramel. I was surprised and impressed.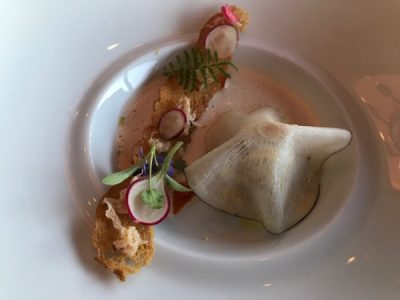 Next was the tourteaux. This was served with a citron broth and everything here was edible. Again, quite delectable and very light.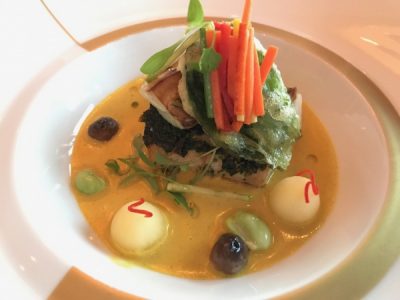 The following course was the sablefish with coconut and curry. The sablefish was light and flaky and the sauce was incredibly when it was paired with it. I like white fish a lot and very much enjoyed this.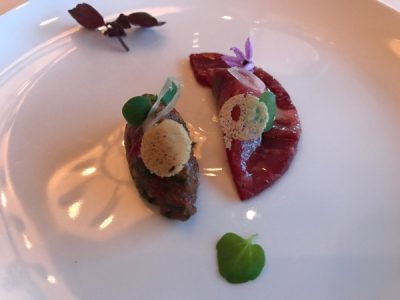 Then came the next surprise. It was a beef carpaccio ravioli, with the cheese inside, as well as tartare. Again…something I was a little nervous about. I like my beef still mooing, but I wasn't sure about how much I'd like it mooing that much. Turns out, the surprise was something else I enjoyed very much. The ravioli was one of my favorite things I ate all night.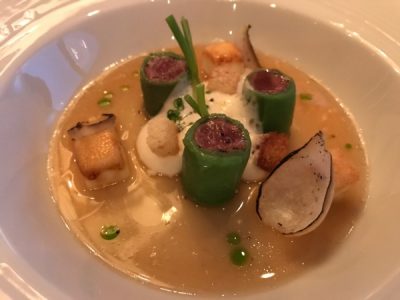 The next dish served to us was a lamb onion soup. I have to admit, lamb is not my favorite meat. I find it to be very gamey, but again, why doubt Remy's chefs because everything else I'd had so far had been yummy. The lamb was cooked to perfection; not overly chewy and the onion soup part was quite incredible too. Of course, this wasn't your traditional onion soup. There were cubes of cheese, and large caramelized onion pieces. Again, marvelous.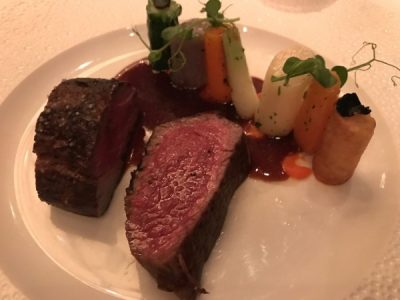 Now, we get to the main, main course. This was the out of this world Kobe Style Beef with a bordelaise sauce. This is some of the best beef I've ever had in my life. I mentioned before, I like my beef cooked medium rare and this was perfection. The knife slid through like butter. The vegetables that came with it were various root vegetables. Gonna be honest…didn't eat many of those because I was starting to get full.
Next was the cheese course, which in French dining is basically dessert. The cheeses were delivered and they ranged from mild to pungent. I don't really care for the stronger cheeses, but the ones that I sampled were quite creamy.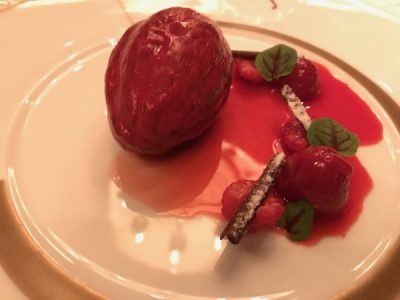 For the dessert course, it was a chocolate and raspberry delight. Dessert was a big miss for me, due to the fact that raspberry is not a flavor I like in a lot of amounts and there was a lot of raspberry in this dessert. It was a rich dessert option though, but not overly filling. You know, since we've already had like twenty courses, a filling dessert would have been terrible!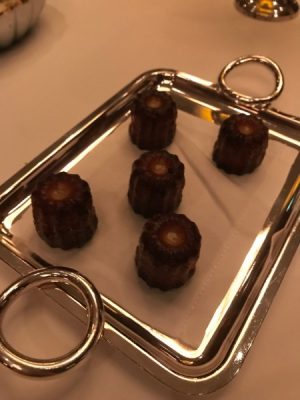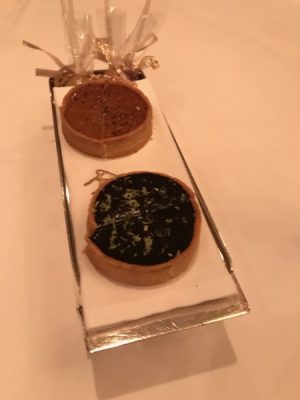 But wait!  That wasn't the end! There were more dessert surprises, as they brought out candies! Things included lollipops, chocolate bark, and more. Each had unique flavors, but by this point, I was entirely too stuffed to try many of them.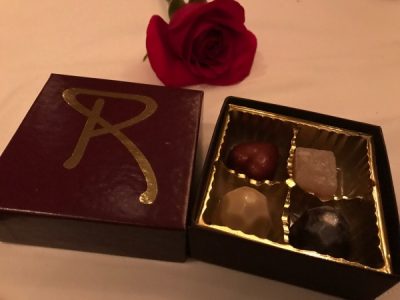 To finish the meal, Guests are presented with a box of delicious chocolates to take home with them.
So, how did this picky girl do after dining at Remy? Minus the misstep, for me, at the end of the meal (and I'm sure if I had asked for a different dessert, I would have been obliged my request, but I wanted to enjoy the meal the way it was delivered), this was, far and away, the best meal I've ever eaten in my entire life. While Remy is expensive, I think it was absolutely worth the extra money that we spent.
The question when dining at a place like this is would you do it again and let me tell you…I would unequivocally dine at Remy again in a heartbeat.  So, if you're like me and a little hesitant, let me reassure you; Remy is an unbelievable meal that if you are anything like me, you won't ever forget.
Have you dined at Remy? Share your thoughts in the comments. 
Did you like this article? Make sure to share it with your friends! Check below for easy ways to share!
Incoming search terms:
https://www themouseforless com/blog_world/remy-disney-fantasy/