This post may contains affiliate links for your convenience. If you make a purchase after clicking a link we may earn a small commission but it won't cost you a penny more! Read our full disclosure policy here.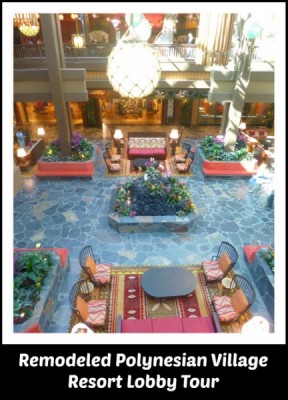 Disney's Polynesian Village Resort has been undergoing an enormous — perhaps unprecedented — amount of change due to an ongoing refurbishment affecting several areas of the resort.
From the Nanea Volcano pool, to Lilo's Playhouse (the children's club), to the construction of Disney Vacation Club Bungalows, the full refurbishment is anticipated to be completed sometime this spring. (No official completion date has been announced, as of yet.) Changes have even come right down to the resort's name: the Polynesian was officially renamed last year… although "renamed" might not be the best word. The Polynesian Resort actually went back to it's opening day name of Disney's Polynesian Village Resort. And all of that seems to barely scratch the surface of everything already completed or currently receiving work.
However, one of the most striking changes is that to the main lobby.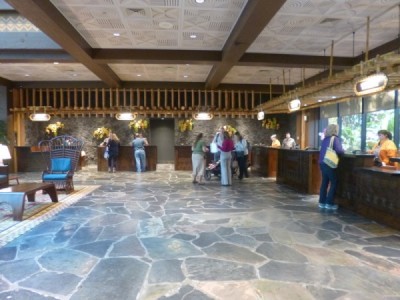 Anyone who has ever stayed at the Polynesian (or just stopped by the Resort as a day guest to take in its atmosphere, like me), can attest to the unique feel of the Great Ceremonial House. Just before Christmas, the lobby was reopened after being walled off for several months to accommodate refurbishment, and I thought I'd share a few pictures.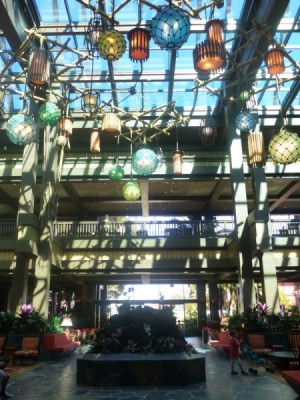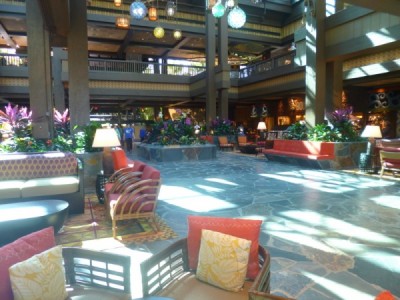 Prior to the refurbishment, the primary focus of the lobby was a large, beautiful waterfall structure directly in the center of the lobby. The waterfalls were visible no matter which side of the lobby you entered from, and were a huge part of what made the lobby so memorable. However, they did not allow for much in the way of seating, so one feature of the updated area is expanded seating options all over the main floor. As a point of reference for the first picture below, you can see the Boutiki merchandise shop in the background (it's on the left of the lobby as you enter from the front doors).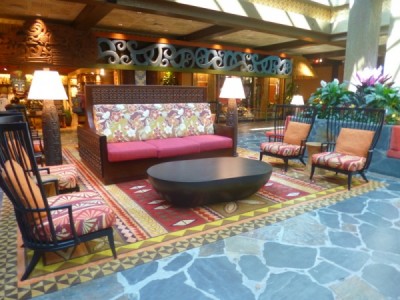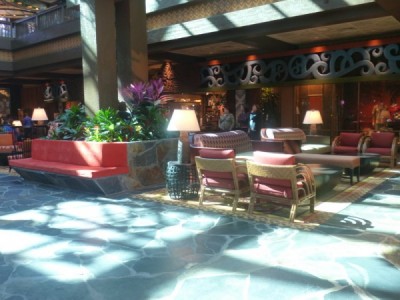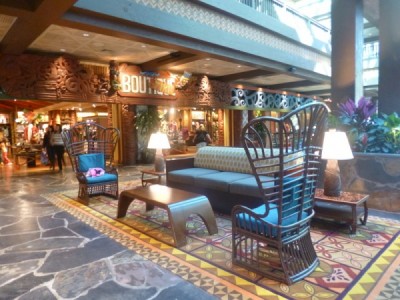 There is still the calming presence of a waterfall; however, it is significantly smaller than the previous structure.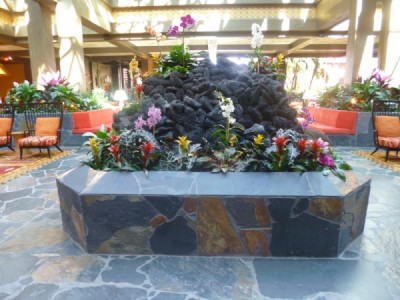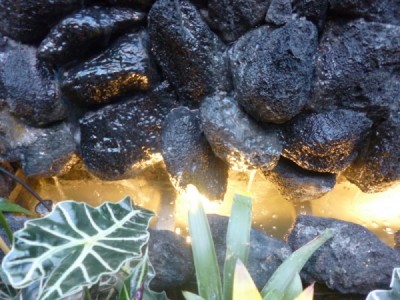 The main floor is not the only area that has been affected. Looking above, large and colorful light fixtures are now in place, and they continue to play a central role in the decor as you view them from the second floor of the Great Ceremonial House.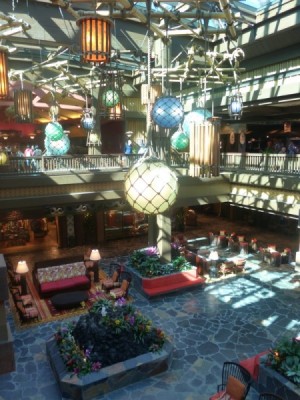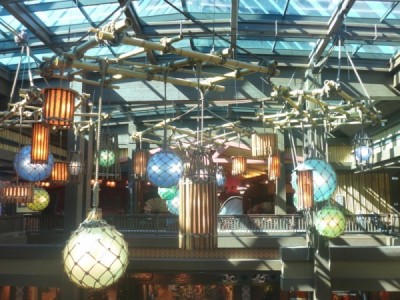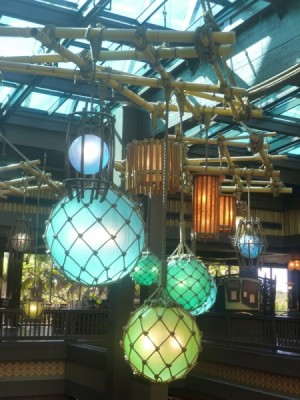 Some new artwork can be found in spots all around the lobby, and this picture next to the elevator reminds me of something: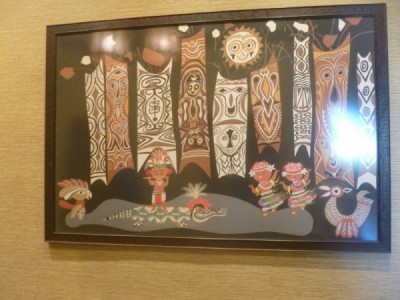 The "Aloha spirit" that has always been a huge part of what makes the Polynesian so special remains, even amidst all the changes.
What are your thoughts on the updated Polynesian lobby?