This post may contains affiliate links for your convenience. If you make a purchase after clicking a link we may earn a small commission but it won't cost you a penny more! Read our full disclosure policy here.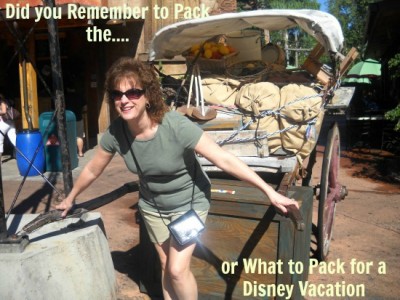 When packing for a Disney vacation, can you really pack too much, can you really pack too little? Can you pack effectively enough as to not go over the weight limit at the airport check in counter? To coin a phrase I heard a million times while my children were growing up, "Yes, we can!" When going to Walt Disney World/Disneyland, you want to be prepared for all of life's emergencies. I have outlined a list of items that I call sanity savers. Some, you may have never thought of and some that are probably second nature to you. I have also included a few suggestions that I call "Disney Packing Hacks", more on those later.
The first bit of advice I would give is write a packing list. Don't try to wing it. Think of your daily routine. Write down each item you use during that routine. You get up, brush your teeth and floss, so toothbrush, toothpaste and floss go on the list. Go take a shower, wash your hair. Well, on the list goes shampoo and body wash. Keep in mind while making your packing list, that your room will have a hair dryer, an iron and an alarm clock, so heavier items like these are not necessary to pack and only take up precious room that can later be used for Disney souvenirs (we do have priorities, you know).
Let's just say that most of these items are items I now pack based on past experience.
Rain, Rain Go Away– Having gone in September three times in a row, my rain poncho has become my best friend in the parks. I am inclined to bring about three ponchos per person, due to the fact that one or two always get ripped during the trip.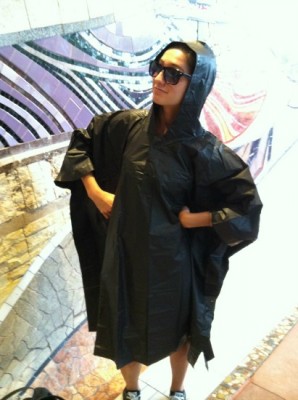 Better Safe Than Sorry– Of course you're on vacation, but even at Disney you can get sick. One year, as we were about to get on Tower of Terror, my son began to experience a stomach virus with all it's glorious side effects. Another year, I had an allergic reaction to some recently prescribed medication and then there was last year when my daughter got a horrible cold on our first day. Needless to say, all these experiences taught me to pack what I call the "vacation trinity". Imodium, Benadryl and Cold/Flu meds. Whether I use them or not, they are light enough to throw in a bag and give me peace of mind should we fall ill.
Cleanliness is Next to …- Speaking of germs, I always pack travel size antibacterial wipes to wipe down faucets, door knobs, phones and T.V. remotes. I know it sounds crazy, but when you think of  how many people have been to your resort room in the last month you can just imagine how we got sick on two of our vacations. I also pack antibacterial hand sanitizer. When in the parks you can pick up germs on handrails, rides or just by shaking Aladdin's hand. A squirt of hand sanitizer can make the difference of a fun vacation or a few days with a nasty cold…or worse.
Coming Home to Roost– Put your resort address and phone number in your cell phone. Along with your travel agents information. These are you lifelines should something go awry.
Power Aide– I highly recommend packing a multi-outlet. Everyone will need to charge their devices for the next day and having the extra outlets is incredibly helpful. I also recommend buying a portable charger for your cell phone or tablet. I found myself checking my My Disney Experience app often as well as posting pics to Facebook. I didn't think I would need that charger, but boy was it handy to have when my battery ran low.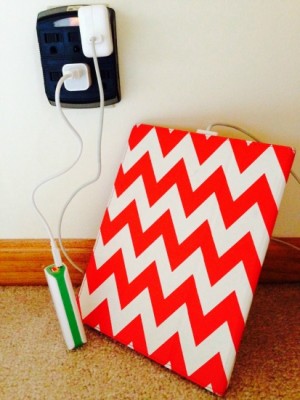 Quick Change– Pack an entire complete outfit of yours in one of your traveling companion's suitcase and the same for them. If your luggage gets delayed, at least you will have something clean to wear the next day. You never know when luggage will take a detour.
"Disney Packing Hacks"
A Life Hack is "A strategy or technique adopted in order to manage one's time and daily activities in a more efficient way." and these are some of the BEST I have found and used year after year.
1.  Bring a pop up hamper. No clothes on the floor and easy to bring to the laundry of your resort if you do a wash while you are away. Also, Mousekeeping will thank you for not leaving clothes all over the place.
2.  M&M tube containers make terrific holders of change. This is one of my favorites! Place your quarters and pennies in here and you will always have your change ready for the pressed penny machines. No more searching in the bottom of your bag for loose change. In fact, during my last trip I watched as a couple struggled to find change while the children got anxious. I had an extra container and gave it to them. They accepted it happily after I explained what to do. Spreading pixie dust.
3.  A clear pocket shoe hanger. Can someone say GENIUS?! I'm not sure who originated this, but it is a super idea for organization and getting rid of clutter. Instead of placing all your toiletries on the sink counter, simply hang up the shoe organizer and fill with your toothbrush, paste, brushes and so on. Nothing gets wet on the sink counter and you can see exactly where everything is when you need it.
4.  Pill/ craft organizers are handy for packing earrings and bracelets. A cubie for each pair of earring and nothing is rolling around you carry on. All your jewelry at a glance.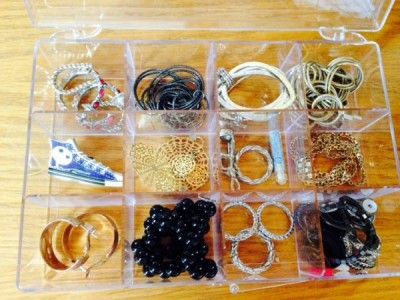 5.  A four tier sweater holder makes a great extension of drawer space. Resort dressers can be on the small side for more than 2 people. I bring the sweater holder and voila I have four more "drawers". I use the dresser and my son can use the holder for all his garments. He can pick out all his own clothes each morning and not leave a rumpled mess.
Now, go. Make those vacation reservations and don't sweat the small packing stuff. Concentrate on those Fastpass+ reservations and your ADRs. Above all else, ENJOY!
What is your favorite Disney vacation hack? Share them in the comments!