This post may contains affiliate links for your convenience. If you make a purchase after clicking a link we may earn a small commission but it won't cost you a penny more! Read our full disclosure policy here.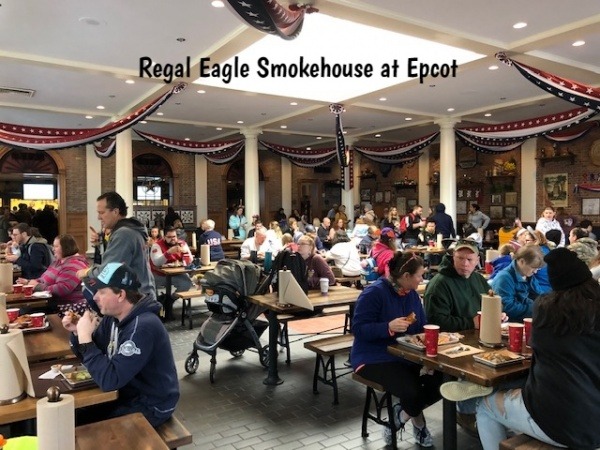 There's a new BBQ quick service restaurant in Epcot!
The Regal Eagle Smokehouse restaurant has opened up in the space that was previously the Liberty Inn at the American Pavilion!  We visited Regal Eagle Smokehouse on its third day of operation to try out the food and write a review. Arriving at about 11:15 a.m., we were hoping to beat some of the lunch rush. The restaurant doors were open, and lines had already formed at the registers. Cast Members working the registers were waiting, for what we soon discovered was an 11:30 a.m. opening. As soon as 11:30 a.m. rolled around, the place was hopping!
Ordering our lunch (including gluten free)
I have to eat gluten free, while my husband does not. Due to my allergy, I had looked at the mobile order section of My Disney Experience the day before to check out the menu. When the mobile ordering first debuted for Regal Eagle there was an allergy friendly options section at the bottom of the ordering page. Mobile ordering was not working the day we were there, so I wasn't able to look at the allergy friendly options. I asked someone working there if I could see the allergy menu, and was given a large allergy book instead.
When it was our turn to order the Cast Member said that they could adjust things for me to make my meal gluten free. When I'd looked at the mobile ordering menu the day before, I had seen that the brisket sandwich could come with allergy free garlic toast, so I asked if I could have that. The cashier mentioned a gluten-free bun. Now those that have to eat gluten-free know that there's a big difference between allergy friendly garlic toast and a gluten free bun, so I asked for a kitchen rep (not sure if he was a chef or not) to come out to speak with me. At that point I wasn't sure what I'd get, but I was hopeful. You can check out the menu over at the Mouse for Less.
The food!
My brisket sandwich did indeed come out with toast! Not garlic, but I wasn't going to be too picky at that point. I ordered coleslaw as my side, and asked for no "spicy mop sauce" on my sandwich. Instead I used the sweet BBQ sauce from the condiment bar. Personal disclaimer – I wasn't 100% sure that the BBQ sauce I ate was gluten free, but it didn't affect me. If you're not sure which sauces you can have, check their allergy book. It had an extensive list of ingredients for everything on the menu. At first it didn't look like much brisket was on my sandwich, but when I rearranged the meat it was actually quite thick, and very filling!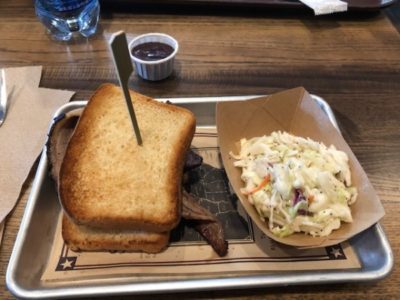 My husband ordered the Memphis dry-rub pork ribs with onion rings and garlic toast. He enjoyed his meal, but we both thought that 4 onion rings was a pretty small serving.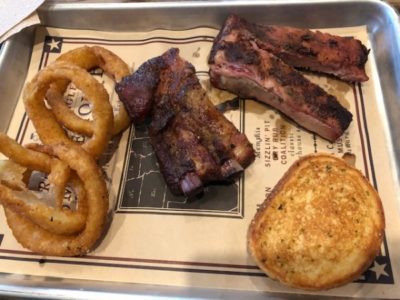 Condiments and beverages
The condiment bar had a variety of sauces that you could add to your meal. There was also a drink refill station, which is a rarity in Disney parks! (Editor's Note: With COVID-19, we're unsure how the sauces and drinks will be handled when the restaurant reopens.)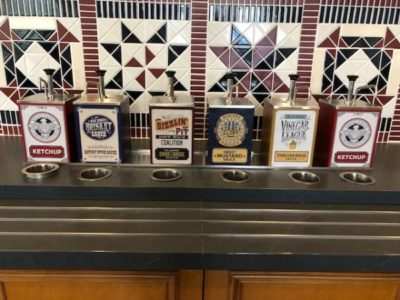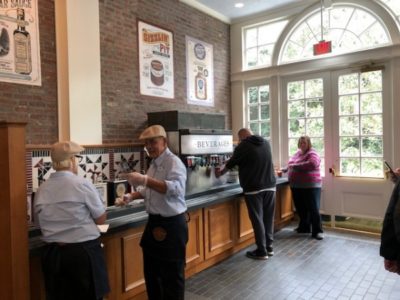 Creative Muppet and Americana theming
The Regal Eagle Smokehouse restaurant was subtlety themed with Sam the Eagle and all things American! A photo of Bobo, who helped create their Spicy Mop Sauce is hung proudly on a wall. When you're there be sure and read the plaque by his photo to find out how it was created!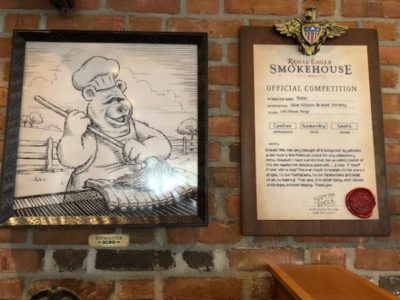 The look is basically the same, with some new additions of American banners, and posters talking about their fabulous selection of BBQ sauces. The round tables that were there previously there have been replaced with wooden rectangular tables and benches. Half-booth tables line the side wall, as well as down the center of the restaurant. It was hard to be sure, but it seemed like the space held more people than it had previously with the round tables.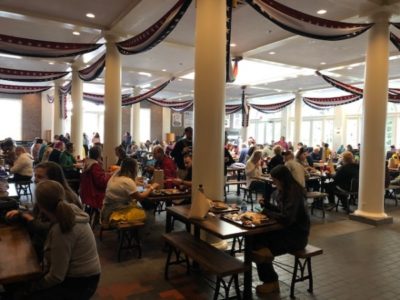 Was it worth the price?
Overall, we enjoyed our lunch at the Regal Eagle Smokehouse. It wasn't the most amazing BBQ we've ever had, but it was good, and a nice alternative to a burger. Definitely a step up from what was there previously! The prices were comparable to what you'd pay for lunch at any quick service on Disney property. My brisket sandwich came with one side and was $12.99. The rib platter was $15.99 and came with one side and garlic toast. As a quick service restaurant they were not offering Annual Pass or DVC discounts at this time.
It'll definitely go on our list of tasty gluten-free quick service options. If you're wondering what your allergy options are, or just want to see the menu online, I'd suggest looking it over before you go.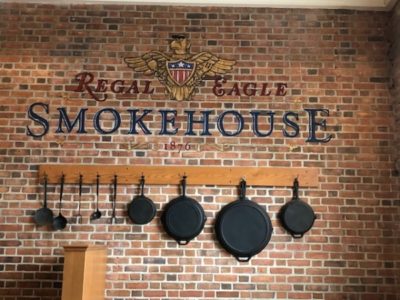 Are you looking forward to trying Regal Eagle Smokehouse? Let us know your thoughts in the comments, or on Facebook or Twitter!
Did you like this article? Make sure to share it with your friends! Check below for easy ways to share!  
Want to visit a Disney Destination? Contact The Magic for Less Travel for more information and a free, no-obligation quote.