This post may contains affiliate links for your convenience. If you make a purchase after clicking a link we may earn a small commission but it won't cost you a penny more! Read our full disclosure policy here.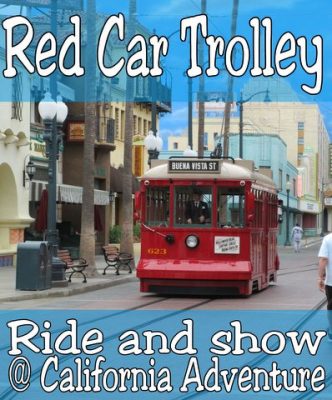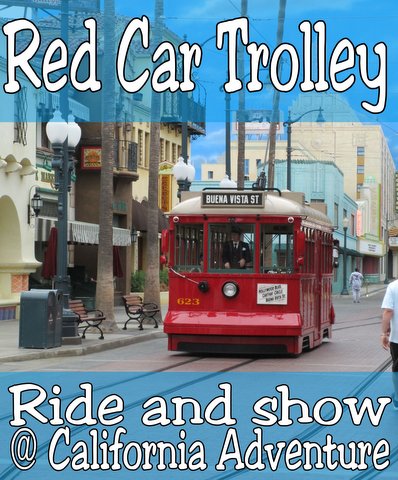 Our attraction at Disneyland is both a show and a ride. The Red Car Trolley in California Adventure mimics an old-fashioned trolley line from the 1930s, the era of the park's Buena Vista Street. Several times each day, the trolley hosts a compact show that is upbeat, easy to view, and entertaining for all ages. Consequently, It's one of my favorite little touches that makes the park atmosphere come alive.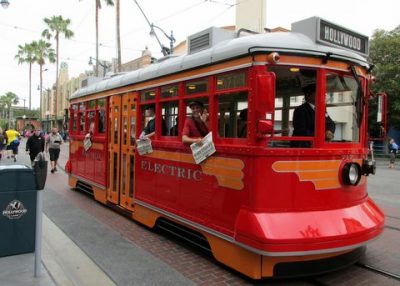 The show takes place several times each day in front of the Carthay Circle Restaurant. You can find the showtimes on the Disneyland app under "Entertainment." Unlike the Frozen show in Hollywood Land, you won't need to line up in advance or get a FastPass. Just look for the blue tape on the ground and ask a cast member where to stand. Also, it's easy to walk up just as the show is starting for a front-row view.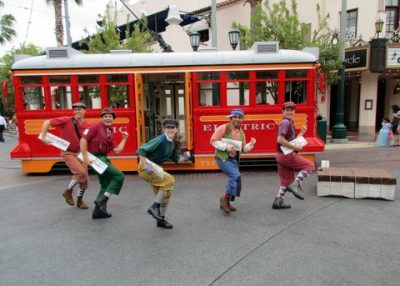 The News Boys arrive singing on the trolley and immediately start entertaining with peppy songs and dancing. Classic music like "Take Me Out to the Ballgame" and "Make 'Em Laugh" is swiftly paced and practically in your lap.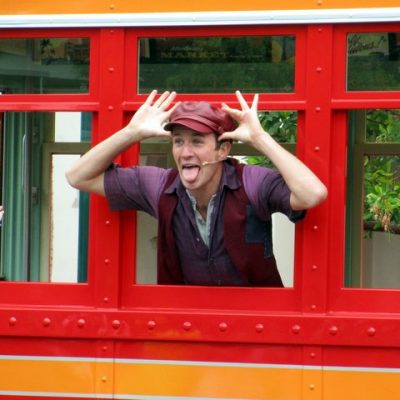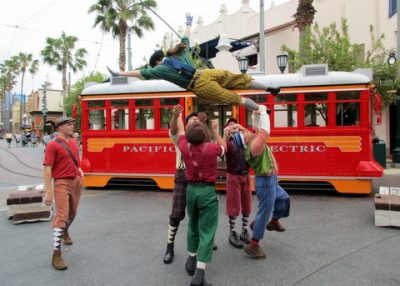 Dancing AND acrobatics
Spoiler alert: Partway through the show, keep your eye out for a special guest who arrives with "A Suitcase and a Dream." It's a young Mickey Mouse, newly in California looking for his big break in the movies. Hmm … I wonder if anyone knows a director who needs a talented mouse for his animation studio?
The News Boys trolley show wraps up in about 10 minutes. Mickey gets his call from a Mr. Walt Disney and the News Boys encourage him to "Seize the Day." They leave on the trolley, still singing.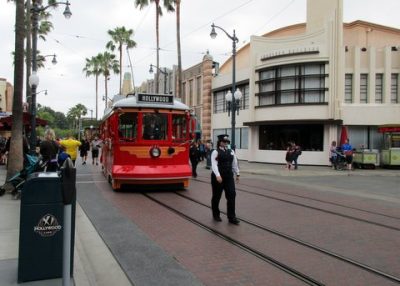 When the trolley isn't carrying News Boys and a show, it's a (slow moving) form of transportation around part of California Adventure. The line starts just inside the front gates, then travels past the Carthay Circle area where the show performs, and all the way back into Hollywood Land. Finally, the last stop is in front of the Tower of Terror.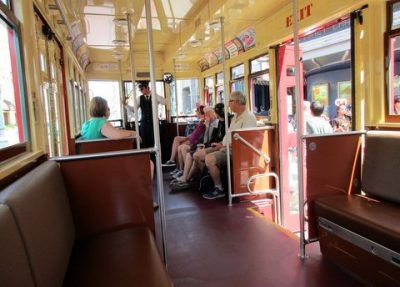 Onboard the Red Car Trolley, you'll find conductor Cast Members who really seem to love their job. On one ride, a conductor challenged us to recall all of the Disney animated movies with one-word titles. They also answer questions about the park and the attractions you are passing. While catching the trolley may not save you time crossing the park, it is a relaxing ride among friends.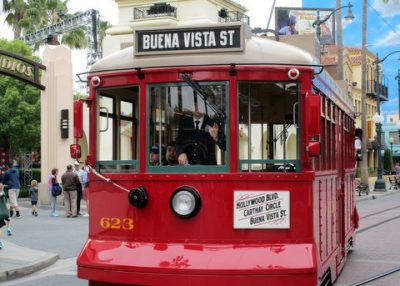 Even if you're not riding, be sure to wave to the conductor!
Have you seen the Red Car Trolley in California Adventure or the News Boys show? Would you like to see one in Disney Hollywood Studios in Florida?