This post may contains affiliate links for your convenience. If you make a purchase after clicking a link we may earn a small commission but it won't cost you a penny more! Read our full disclosure policy here.
The Mouse For Less will be featuring recipes from the restaurants of the Disney Dream all week long. Today enjoy Sesame-Flavored Shrimp and Caramelized Onion Cheesecake With Asian Barbecue Sauce from Animator's Palate .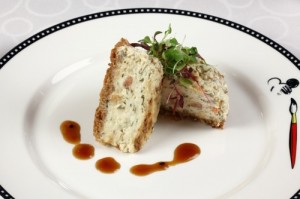 Sesame-Flavored Shrimp and Caramelized Onion Cheesecake With Asian Barbecue Sauce / Animator's Palate
Makes 1 (9-inch) cheesecake
Crust
1 1/2 cups panko (Japanese bread crumbs)
6 ounces freshly grated Parmesan cheese
6 tablespoons unsalted butter, melted
Shrimp Filling
1 tablespoon olive oil
1 onion
1 1/4 pounds raw shrimp, cleaned
2 teaspoons sesame seeds
28 ounces cream cheese
1 teaspoon coarse salt
1 teaspoon freshly ground black pepper
3/4 cup liquid eggs
1 1/4 cups heavy cream
1/2 cup shredded smoked Gouda
1/4 cup chopped fresh parsley
Micro greens, for garnish
Asian Barbeque Sauce
1 teaspoon vegetable oil
1 tablespoon minced shallot
1 tablespoon minced garlic
2 1/2 teaspoons Asian barbecue sauce*
1 teaspoon hot bean sauce*
1 tablespoon hoisin sauce*
1 tablespoon dry sherry
1 tablespoon soy sauce
1 teaspoon sugar
1/3 cup chicken stock
For the crust:

Preheat oven to 350°F.
Combine all ingredients in medium bowl, stirring until well blended. Press mixture into the bottom of a 9-inch spring form pan. Bake crust until golden brown, about 15 minutes.
Cool completely before filling.
For the shrimp cheesecake filling:

Heat 1 tablespoon oil in large skillet over medium-high heat. Add onion, and sauté until caramelized. Add shrimp, and sauté until just opaque. Stir in sesame seeds. Set aside to cool.
Combine cream cheese, salt and pepper in large bowl and beat with an electric mixer until fluffy. Beat in eggs 1 at a time; add cream, beating until well combined. Stir in smoked Gouda and chopped parsley.
Spoon filling into crust. Place cheesecake on a baking sheet. Bake until cake puffs and top browns, but the center wobbles just slightly when pan is shaken, about 1 1/2 hours. Transfer pan to rack and cool. (Cheesecake can be prepared 1 day ahead. Cover and refrigerate.)
Run a long, thin knife around pan sides to loosen cheesecake Carefully remove ring, and cut into 14 pieces.
Serve at room temperature with barbecue sauce and micro greens.
For the Asian barbeque sauce:

In a small saucepan over medium heat, combine vegetable oil, shallots and garlic. Sauté until fragrant, about 1 minute.
Add Asian barbecue sauce, hot bean sauce and hoisin sauce; cook for 3 minutes. Add sherry and cook for 1 minute. Add soy sauce, sugar and stock; cook for 5 minutes. Transfer mixture to a blender and process until liquefied. Let cool.
*Asian barbeque sauce, hot bean sauce and hoisin sauce are all typical condiments used in Asian cooking. They are available at Asian-foods stores, and in many grocery stores.
Look for Part 4 of Recipes from the Disney Dream Restaurants tomorrow on our Disney News Blog as we feature Smoked Bison with Melted Fennel and Leeks, Hearts of Palm Salad and Blood Orange-Tangerine Vinaigrette from Remy.