This post may contains affiliate links for your convenience. If you make a purchase after clicking a link we may earn a small commission but it won't cost you a penny more! Read our full disclosure policy here.
The Mouse For Less will be featuring recipes from the restaurants of the Disney Dream all week long. Today enjoy Chocolate Soufflé from Palo and Curried Carrot and Apple Soup from Enchanted Garden.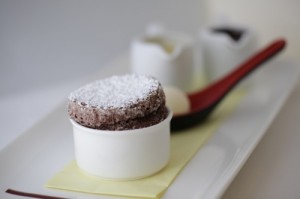 Chocolate Soufflé / Palo
Serves 6

3 tablespoons butter, plus more for greasing the soufflé cups
6 tablespoons sugar, plus more for dusting the soufflé cups
1 cup milk
3 tablespoons all-purpose flour
3 tablespoons Dutch-processed cocoa
2 ounces (2/3 cup) semisweet or bittersweet chocolate, melted
4 eggs, separated
Vanilla Sauce (recipe follows)
Preheat oven to 350°F.
Set a full kettle of water on to boil.
Butter six 4-ounce soufflé cups and coat with sugar; set aside.
Bring the milk to a boil in a small saucepan, meanwhile; melt the butter in a medium saucepan over medium heat. Add the flour and cocoa to the butter and beat with a whisk to a smooth, paste-like consistency. Reduce heat and cook for 1 minute.
Slowly add the hot milk, whisking until smooth, then blend in melted chocolate. Let cool for 5 minutes, then stir in egg yolks.
Beat egg whites in a separate bowl until frothy. Slowly add sugar, 1 tablespoon at a time, until stiff, glossy peaks form. Stir a heaping spoonful of egg whites into the chocolate, then fold in the remaining whites just until combined.
Pour the batter into prepared soufflé cups. Place cups in a large baking dish and add enough boiling water to reach halfway the sides of the soufflé cups.
Bake for 20 minutes. Serve immediately, with warm vanilla sauce.
Vanilla Sauce
1 1/4 cups heavy cream
1/4 vanilla bean, split lengthwise
3 tablespoons sugar
2 small egg yolks
Bring cream and vanilla bean to a low boil in saucepan over medium heat.
Combine sugar and egg yolks.
Add 2 spoonfuls of boiling cream to egg mixture and stir well, then pour back into the remaining cream and continue to cook over low heat, stirring constantly for 3 to 4 minutes, stirring constantly.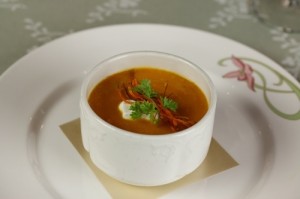 Curried Carrot and Apple Soup / Enchanted Garden
Serves 4
1/4 cup vegetable oil
1 tablespoon plus 1 teaspoon curry powder
1 cup diced carrots (about 4 medium carrots) plus 1 whole carrot, divided
1 medium onion, chopped
2 Granny Smith apples, peeled and chopped
4 cups vegetable broth
Coarse salt, to taste
Freshly ground black pepper, to taste
Plain yogurt, fresh parsley, for garnish
Heat the oil in a large, heavy bottomed pot over medium heat. Add curry powder and cook, stirring, for 2 to 3 minutes. Add diced carrots, onions and apple, and stir until coated with the curry powder. Sauté for 5 minutes. Add broth, stirring to combine.
Cover the pot. Simmer, stirring occasionally, until carrots and apples are very soft, about 20 to 25 minutes. Puree in a blender, or with a hand-held blender. Taste, and add salt and pepper, if desired.
While soup is cooking, preheat oven to 400°F. Peel remaining whole carrot and cut into very thin curls. Roast for 3 to 5 minutes, or until ends are browned and crisp.
Top each bowl of soup with yogurt, roasted carrot curls and fresh parsley. Serve warm.
Look for Part 3 of Recipes from the Disney Dream Restaurants tomorrow on our Disney News Blog as we feature Sesame-Flavored Shrimp and Caramelized Onion Cheesecake With Asian Barbecue Sauce from Animator's Palate.