This post may contains affiliate links for your convenience. If you make a purchase after clicking a link we may earn a small commission but it won't cost you a penny more! Read our full disclosure policy here.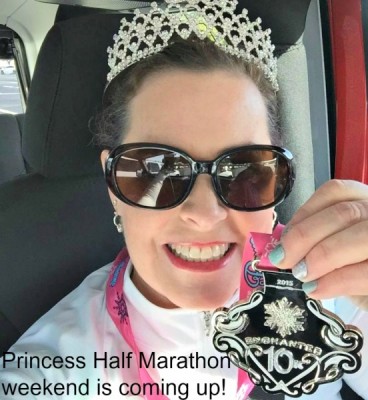 With the Princess Half Marathon Weekend coming up February 19th, do you have everything ready for the races?  Have you picked out and designed your costume?  Will you be wearing a special costume?  How has your training been?  Most importantly, are you on a running team? (May I suggest the Be Our Guest Lizards running team?)
The runDisney Princess Half Marathon weekend usually takes place during the third weekend in February and includes the Glass Slipper Challenge which began in 2014.  If you have never run the Princess Half Marathon or any of the races that take place during that weekend including a 5K, 10K and half marathon, you should consider it; it is a lot of fun.  This is primarily a women's race, but many men have been out there, even running in tutus!  Registration for this event opens in July of the previous year so you have to think about running it far in advance and wait at your computer right at 12:00 p.m. when registration opens, because just like most of the other runDisney races, these Princess Weekend races sell out quickly.
I am participating for my third year in a row in the Glass Slipper Challenge so that I hope to earn legacy status in 2018.  Legacy status means that you have participated in a challenge event from its inaugural year.  For previous years I have worn costumes including Elsa for the 10K, Cinderella for the half marathon, another Cinderella for the 10K last year, and I was representing the Mickey Milers for the half marathon.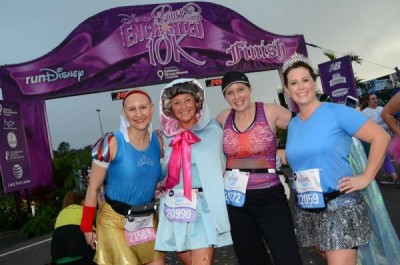 Princess Half Marathon 2014 10K with Kimberly Markey (left)
Gail Savidge (Fairy Godmother) and Rebecca Bastian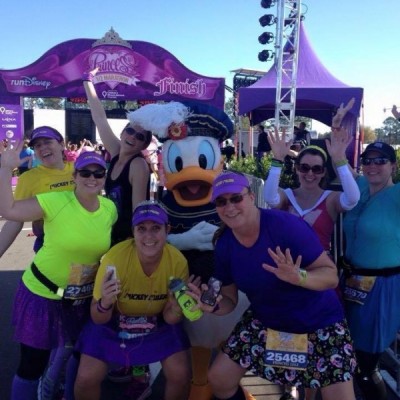 Princess Half Marathon 2015 Finish Line
I remember watching this race virtually via a live stream a few years ago and was so fascinated seeing all of the women running in their cute costumes and some men trickled here and there in the crowd.  They were running past the Transportation and Ticket Center heading towards the Magic Kingdom.  I was so excited seeing everyone that I knew I had to be a part of that race.
Of course the races are also about the fantastic bling that you earn from runDisney!  In fact, I think that is my second most important reason why I run these races.  The first being for the fact that we can run through the parks before they open and get photographs with characters.  My third reason is because of the friendships I have made throughout the years running these races.  I can now go to any race in any state and hook up with someone who is a runDisney runner!  It's fantastic!  I have also made great friends through this "hobby" of mine and I love who it has become it's own community.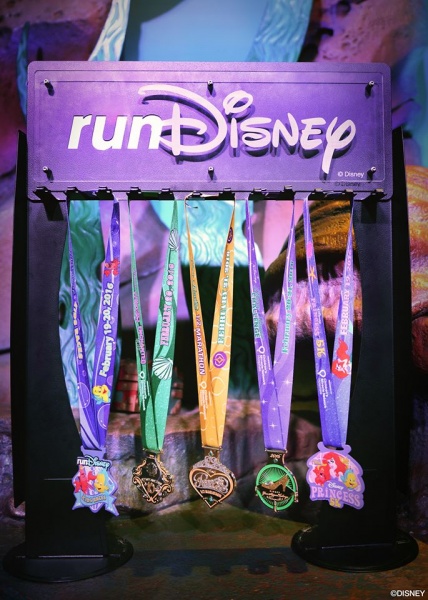 2016 runDisney medals. Photo by Disney
Are you a part of the Be Our Guest Podcast Lizards running team?  If not, sign up today!  They will motivate you, help you and cheer for you on and off the race course.  They are a supportive team of lovers of all things Disney and running.  Captain Mike Bankhead and everyone on the team really work hard to make everyone feel welcome and the spirit of the team is so strong, especially during runDisney events.  The Lizards' bright yellow/green shirts stand out in the crowd so that others will recognize you as a part of the running team and you may even get a shout out from Rudy and John or Carissa at the start line!  The team also has team swag you can purchase to stand out such as Bondi Bands, Shirts, Jamberry Nail Wraps, Sparkle Skirts, Sweaty Bands (coming soon), and compression sleeves (also coming soon). To join the team, just click the BOGP Lizards button.
Of course, there are many other great running teams also found throughout the Disney community. If you are looking to get into running, find a team that you like to help to motivate you.
Next year the Princess Half Marathon event weekend will take place February 23-26 with registration opening to the general public on July 16, 2017; but if you are an annual pass holder or DVC member you can register a week earlier.  Will you be there?
I hope to see you this year on the course or at one meets that occur during race weekends.
Are you running during the Princess Half Marathon Weekend?