This post may contains affiliate links for your convenience. If you make a purchase after clicking a link we may earn a small commission but it won't cost you a penny more! Read our full disclosure policy here.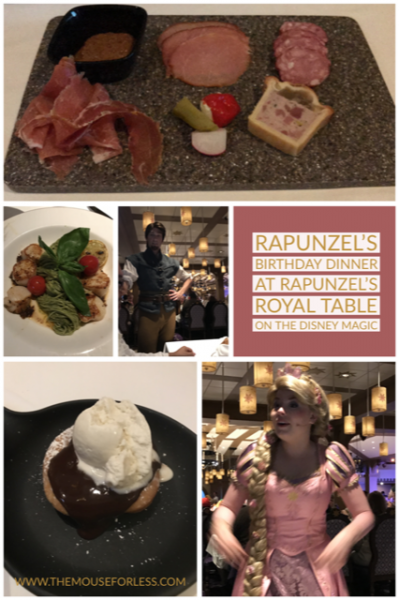 We've already dined at Rapunzel's Royal Table, but on this cruise on the Disney Magic, I was able to dine three times at this fantastic restaurant. Each one with a different menu and this particular evening's menu celebrated Rapunzel's birthday. As a reminder, Guests who step inside the restaurant, will see beautiful glowing lanterns and walls that are adorned with some of Rapunzel's colorful drawings. I love the great touches, including the bread basket with the sun design that's featured prominently in the film.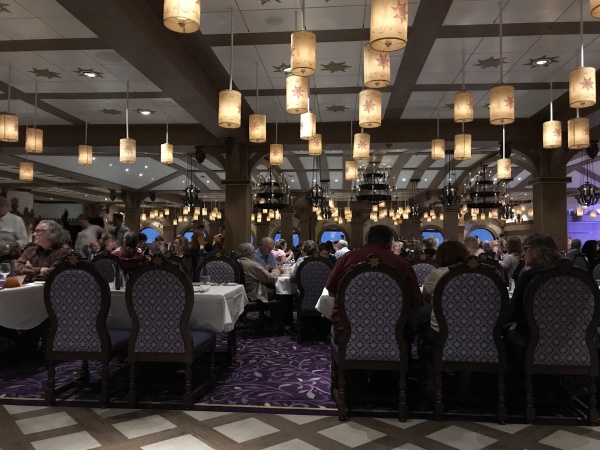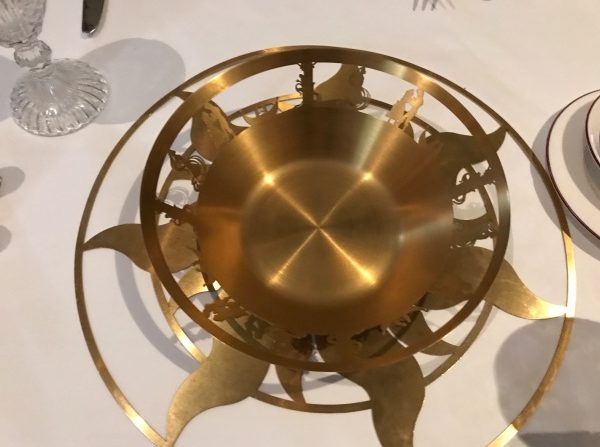 During the evening, Guests will be entertained by music, as well as singing. (Including Flynn and Rapunzel singing "I See the Light.") Guests also have the opportunity to meet Rapunzel and Flynn during this particular evening.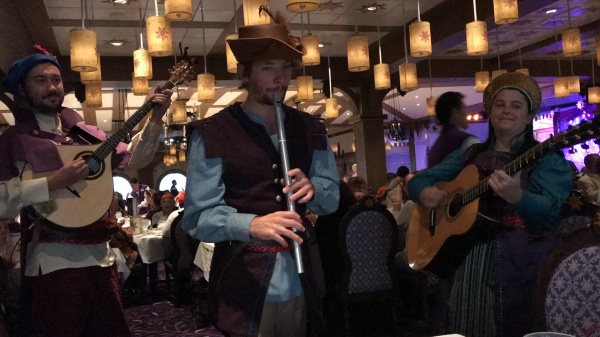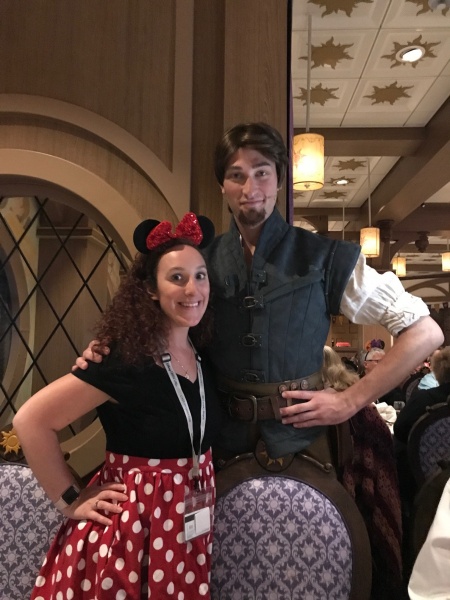 Each night, when Guests sit down to their table, they are served with a bread selection and tonight's was a fun one! It completely tied into the feel of Rapunzel's German-inspired dishes. Guests were able to enjoy pretzel bread with whole-grain mustard dip!
Here are the full menu options for Rapunzel's: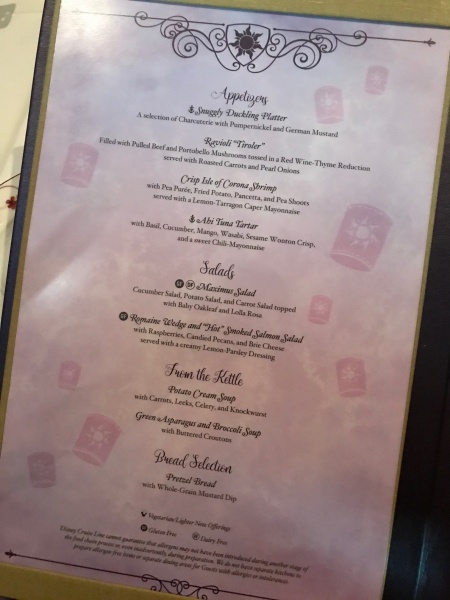 One of the appetizers that was enjoyed was the Crisp Isle of Corona Shrimp. It was served with pea puree, fried potato, panchetta, and pea shoots. This dish was fine. Nothing to really write home about. The single shrimp was large and had good coating, but overall, it didn't stand out.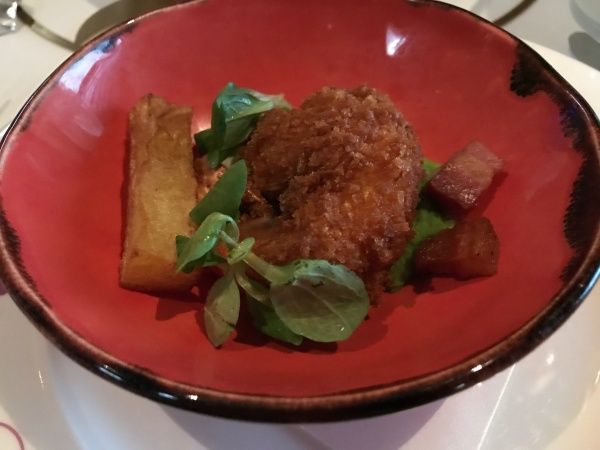 Also enjoyed was the Snuggly Duckling Patter, which was a selection of Charcuterie with Pumpernickel and German Mustard. Lots of great meat options were served.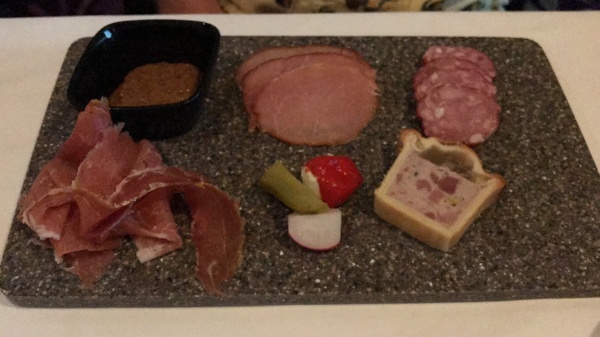 I also got the Potato Cream Soup which was served with carrots, leeks, celery, and knockwurst. The soup was creamy and yummy.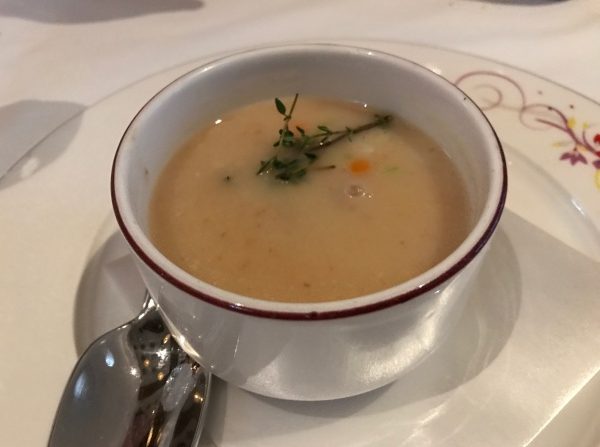 For my entree, I opted to get the Flynn Rider Platter, which was grilled smoked pork loin, served with roasted pork belly, bockwurst, red cabbage, and a fried potato dumpling. I did not really care for this dish much. I thought it was just ok again. Clearly a pattern with this menu and me.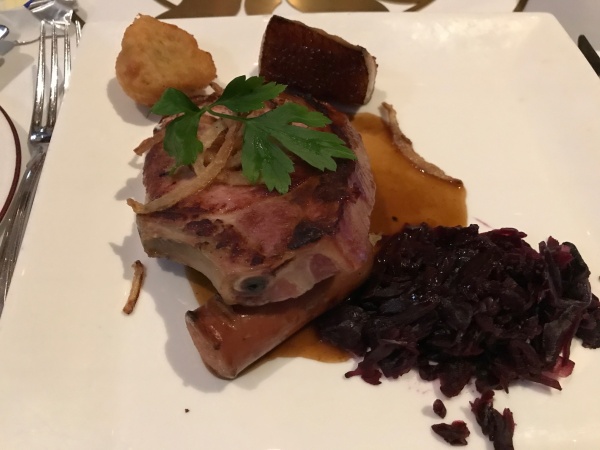 I also got a second entree, which was much better. I chose the Tangled Pasta. That was angel hair pasta in a basil-pesto sauce, served with sea scallops, and tomatoes. The scallops were really good and the pasta was pretty decent too.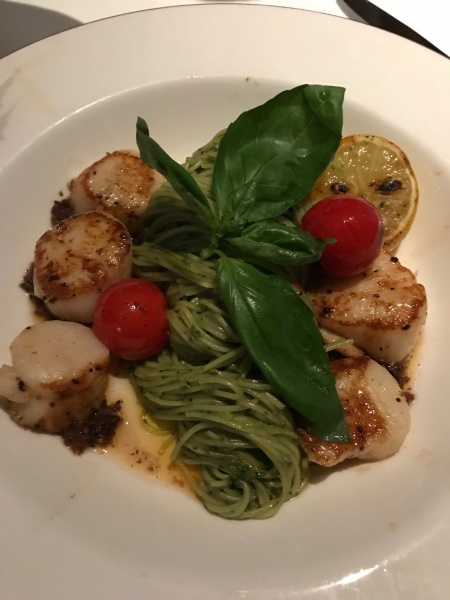 For dessert, I got two options. I enjoyed the creme brulee cheesecake, which was quite delicious.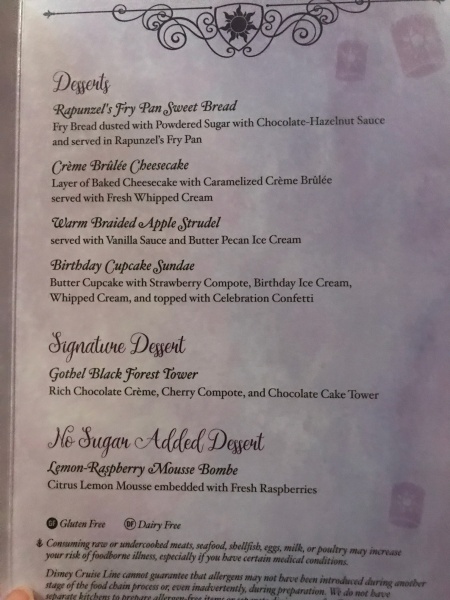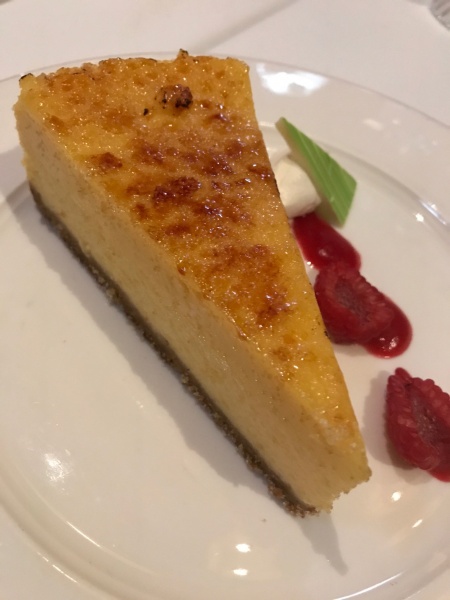 I also got the Warm Braided Apple Strudel which is served with vanilla sauce and butter pecan ice cream. I liked this very much.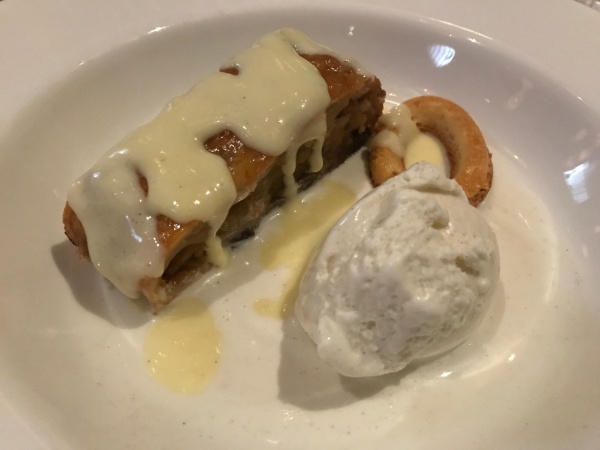 A table mate got Rapunzel's Fry Pan Sweet Bread, which is fry bread dusted with powdered sugar and a chocolate hazelnut sauce. And yes, it's served in Rapunzel's fry pan. This was very enjoyable too.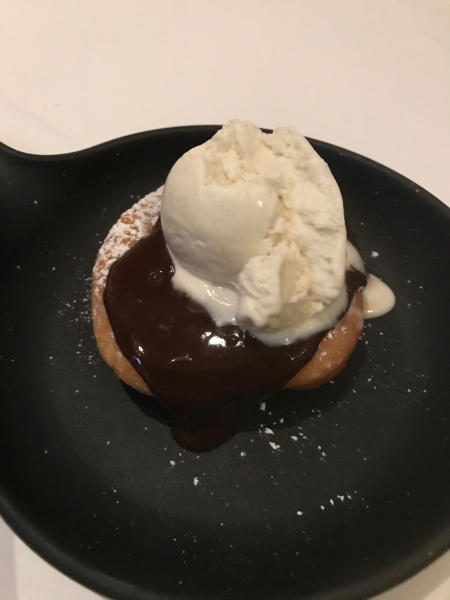 Overall though, I thought the second night of Rapunzel's Royal Table was ok. I wasn't in love with my meal overall and thought there were many more misses this evening than other nights. However, I'm certainly willing to give the restaurant's menu another chance someday, but I would choose some different options. Desserts are absolutely where it's at here though.
Have you tried this menu for Rapunzel's Royal Table? What did you think? Share in a comment below or on Facebook or Twitter.
Did you like this article? Make sure to share it with your friends! Check below for easy ways to share!
Want to sail on Disney Cruise Line? Contact The Magic for Less Travel for more information and a free, no-obligation quote.