This post may contains affiliate links for your convenience. If you make a purchase after clicking a link we may earn a small commission but it won't cost you a penny more! Read our full disclosure policy here.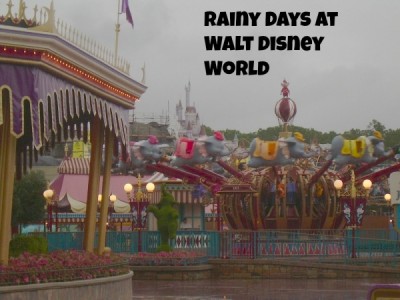 If you're heading to Walt Disney World during the summer or early fall, chances are it could rain on your 3:00 Parade.  Central Florida is well known for their rainy days, but a little preparation and a great attitude can go a long way in enjoying your vacation whether there is rain or shine!
I actually like a rainy afternoon or day while on vacation.  First, rain does tend to reduce the crowds.  If you like a less crowded park, a rainy day is good day to tour.  Second, if it's raining, then that means my skin is getting a break from the hot sun beating on it; it's refreshing!
If Conditions Are Stormy, Reschedule Swimming
Pay attention to the weather forecast during your trip. That way, you can be prepared if there is a good chance of rain on a particular day.  If you have a day at Blizzard Beach or Typhoon Lagoon planned and there is a high chance of thunderstorms, you may want to reconsider those plans and move your water park day to a different day with a sunny forecast.  We have been stuck at Blizzard Beach during a thunderstorm.  Rightfully so, everything shuts down and you have to decide to leave the water park or stick it out under shelter until the threat of lightning has ended.
If it's going to rain all day and you want to avoid the parks or not use a park ticket, Downtown Disney has some indoor options such as taking in a movie at the AMC Downtown Disney 24, going bowling at Splitsville, enjoying shopping, or playing games at Disney Quest.
 Keep Or Modify Your Current Plans
If we have anything other than a water park planned and rain or thunderstorms are in the forecast, we stick to our original plan and will tour whichever park we're supposed to be in that day.
Gift shops tend to get crowded during an afternoon rain, so we try to hop in line for an attraction that can take a while.  The Tiki Room, Carousel of Progress, or Hall of Presidents is where we'd go in the Magic Kingdom.  At Epcot, the Universe of Energy, any of the World Showcase movies, and The American Adventure are great escapes from the rain.  In Disney's Hollywood Studios or Disney's Animal Kingdom, we head to any show that is under shelter.   One Man's Dream is a dry place to retreat to at Hollywood Studios and at Animal Kingdom, consider seeing Finding Nemo-The Musical or Festival of the Lion King.
If it happens to be meal time, see if you can get a last minute reservation at a restaurant and enjoy a leisurely meal while waiting for the rain to stop.
 Rain Gear
Some people buy ponchos that are readily available in Disney gift shops or bring ponchos from home.  We have tried the ponchos, but I did not care for them.  It was too humid for me to wear plastic, and carrying them after the rain was no fun.  Although my family did not care for ponchos, they do seem to be a popular choice with most people.
Instead of ponchos, we prefer to bring light rain jackets from home and will use those only when the forecast calls for a heavy rain or an all day rain.  The jackets are comfortable and easy to tie around our waists after the rain.  If the forecast calls for a short rain, we will forgo jackets and will just get wet or take cover.  We haven't melted yet.  Once the rain clears, it usually feels as if the park crowds have cleared, too!
We choose to avoid umbrellas because we don't want to carry them, and they are not easy to use in a crowd of people.  Wearing our jackets and/or taking shelter during the rain works well for us.
We also try to wear rain-friendly shoes to prevent blisters and to have good traction on wet and potentially slippery surfaces.
Before your trip, make sure to think about what type of rain gear would work well for your family and pack accordingly, or budget for souvenir Walt Disney World ponchos.
Enjoy your Day!
If it rains, be flexible with your touring plans and enjoy your vacation day.  Rainy days at Walt Disney World are always better than sunny days at home or in the office!